Instagram models are the luxurious eye candy of the 21st century. Many have built their names mainly using social media while others have been in the game for a long time modelling for top brands like Marc Jacobs, Roberto Cavalli, Dolce & Gabanna, and more.
Here we've listed the top Instagram models to follow, starting from the lowest followers to the most, giving you some history on their work and any influencer deals they've done in the past!
---
HERE ARE THE TOP INSTAGRAM MODELS OF 2020
60. JESSIE ANDREWS – @JESSIEANDREW

From Adult film star to CEO, Jessie Andrews has gone from one extreme to the next! She has founded amazing brands such as Bagatiba, Basic Swim, Jeu Illimité, and Petiue! She has always been recognized for her beauty.
---
59. RAVEN LYN – @THERAVENLY

Raven Lyn was the Sports Illustrated Rookie of 2018 and now recognized as one of the top Instagram models because of it. Her Instagram profile is full of sexy images in her hottest looks and collaborations with various brands.
---
58. ALINA BAIKOVA – @ALINA_BAIKOVA

Working with teeth whitening brands as well as bikini and swimwear brands, Alina is a quality influencer and Instagram model. She promotes brands and products she uses for her beauty; authenticity!
---
57. BRIDGET MALCOLM – @BRIDGETMALCOLM

Bridget is an Australian model best known for appearing in two Victoria's Secret Fashion shows and walking in other fashion shows such as Ralph Lauren and Stella McCartney. Also, she has appeared in magazines such as Harper's Bazaar, Playboy, and Elle!
---
56. RAIN DOVE – @RAINDOVEMODEL

Rain is best known for their work as a gender-nonconforming model, posing both as male and female in photoshoots and runway shows. This got Dove named one of Elle Magazine's 12 Women Who Are Redefining Beauty in 2015!
---
55. ALEX KAUFMANN – @BAHAYOGI
Alex is a yoga Instructor most known on Instagram for her extreme yoga positions and eye-catching figure! She is one of the more popular yoga Instagram models on the scene!
---
54. DONNELL BLAYLOCK JR – @THEREALDONNYSAVAGE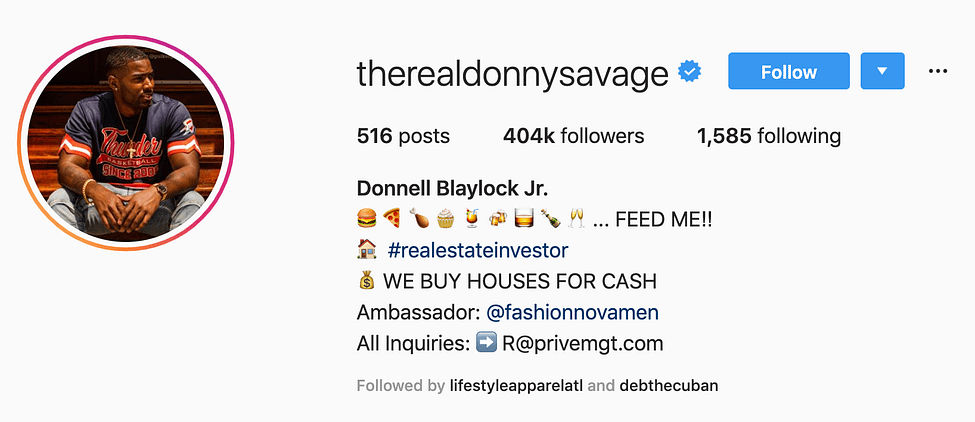 The handsome male fitness model is an ambassador for Fashion Nova and is often seen showing his latest fits and finger-lickin' meals!
---
53. BABETH LANDO – @YABABETH
The fitness and Instagram model from France is often seen showing off her regular work out routine and motivating her followers to follow their fitness and life goals!
---
52. NYAKIM GATWECH – @QUEENNYAKIMOFFICIAL
The model from Sudan overcame adversity when she was offered $10,000 to bleach her skin. She immediately refused the offer and continued her modelling career amassing almost 500k followers! Beauty models come in all colours, shapes, and sizes, and she was not afraid to say and show that. One of the most inspiring Instagram models to date!
---
51. FRIDA AASEN – @FRIDA_AASEN
The Norwegian is well known and highly respected for walking in the Victoria's Secret Fashion Show in 2017 and 2018. She has appeared in adverts and catalogues for Victoria's Secret, H&M, Dsquared and Saks Fifth Avenue. Also, Frida modelled the runways of Prada, Louis Vuitton, Fendi, Just Cavalli, Salvatore Ferragamo, DKNY, and Jeremy Scott.
---
50. CHANEL DELISSER – @XXCOCOCHANEL
Chanel is an athlete for BPI Sports, often seen with their branding in her Insta photos! She also has her Master's Degree working full-time as an Occupational Therapist; beauty and brains!
---
49. IMAN ABDULMAJID – @THE_REAL_IMAN
Iman is a Somali-American fashion model. Her first modelling gig was for Vogue Magazine in 1976. She became integral for many high-end designers, such as Gianni Versace, Calvin Klein, and Donna Karan. Yves Saint-Laurent once described her as his "dream woman."
---
48. ASHLEY SKY – @ASHLEYSKY
Ashley is seen wearing the latest streetwear apparel and coined the 'Insta model with the blue hair.'
---
47. MADI EDWARDS – @MADI_EDWARDS

The Australian Insta model is often seen sporting her latest outfits and on the beach in her sexy bikini outfits. She has been seen promoting the major London based brand Naked Wolfe.
---
46. MEGAN WILLIAMS – @MEGANMAYW
The British model signed by the modelling agency, The Lions, has walked runways for Dolce & Gabbana as well as Genny.
---
45. GABI – @GABIFRESH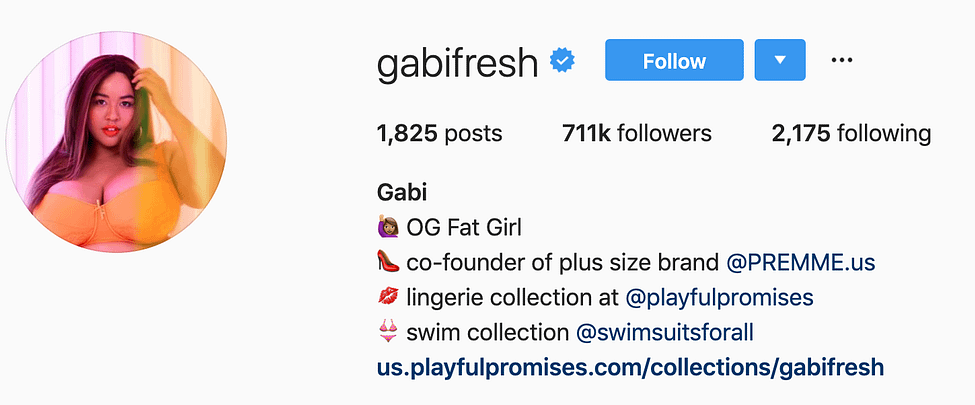 Gabi is one of the more popular plus-sized Instagram models on social media. She is the co-founder of her plus-sized brand PREMME and has collections with popular social media brands such as Playful Promises and Swim Suits for All.
---
44. IMAAN HAMMAM – @IMAANHAMMAM

The Dutch-Moroccan has appeared on the cover of Vogue Magazine a total of 3 times! Hammam has walked the runways for Alexander McQueen, Maison Margiela, Prada, Givenchy, Burberry, Marc Jacobs, Chanel, Michael Kors, Moschino, DKNY, and much more! She has appeared in advertising campaigns for Chanel, Revlon, Céline, DKNY, Coach, Giorgio Armani, Tiffany & Co., Calvin Klein, Givenchy, and a few others. She is one of the more famous Instagram models as she has more than just Insta fame under her belt!
---
43. ADWOA ABOAH – @ADWOAABOAH
Adwoa Aboah is a British fashion model. She appeared on the cover of British Vogue Magazine in December 2017. She has also been on the cover of Vogue Poland, Vogue Italia, and American Vogue!
---
42. CHRISTY TURLINGTON – @CTURLINGTON
Turlington is an American model who represented Calvin Klein's Eternity campaign in 1989 and 2014. Her illustrious modelling career has seen her been featured in advertising campaigns for and Maybelline, Calvin Klein, Valentino, Chanel, Yves Saint Laurent, Donna Karan, Prada, Versace, Louis Vuitton, Bally, Marc Jacobs, Jason Wu, and Michael Kors!
---
41. AUDREYANA MICHELLE – @AUDREYANAMICHELLE
Audreyana has been represented by modelling agencies Freedom Models Los Angeles, Agency AZ, Next Miami, Premier London, Premium Paris, and Monster Milan. She has modelled for labels such as Pac Sun, PRISM Boutique, Tobi, and LPA the label.
---
40. CINDY MELLO – @CINDYMELLO
Cindy, the Brazilian beauty, is represented by agencies Ford Models New York and Premier Models Los Angeles. She has been featured in magazines like Sports Illustrated, GQ, and Maxim.
---
39. LIZ TURNER – @ELIZABETHCTURNER

Elizabeth is represented by the Wilhelmina and Women 360 modelling agencies. She was seen on the Glitter Magazine March 2019 cover in Japan and in Guess' Lingerie 2017 campaign!
---
38. JENAH YAMAMOTO – @GYPSYONE
The Hawaiian model has collaborated with the likes of ADIDAS and has been featured in the Complex and Acclaim magazines. Jenah has her own clothing collab with Lurelly titled Lurelly x Gypsy One!
---
37. MIMI – @MIMIELASHIRY
The Egyptian Australian sensation that is Mimi is a fashion model, dancer, and creates pieces for Adidas AUS. She is represented by KULT Australia and Next New York. She is very active on Instagram and one of the only Instagram models to be creating clothes in accordance with such a major brand.
---
36. LISA-MARIE SCHIFFNER – @LISAMARIE_SCHIFFNER
The 18-year-old Austrian sensation artistic mindset and photography is very eye-catching for her youthful age! She's one of the very unique Instagram models on this list!
---
35. DEVIN BRUGMAN – @DEVINBRUGMAN
Devin is the co-creator of popular social media clothing brands A Bikini A Day and Monday Swimwear; a beautiful Instagram model and businesswoman!
---
34. JEREMY MEEKS – @JMEEKSOFFICIAL

Convict turned model is Jeremy Meeks. He was released from prison and become a model. His mugshot blew up on social media and it got him Insta famous! One of the more interesting stories.
---
33. ROCKY – @ROCKY_BARNES
Rocky is a brand ambassador for MAC and Amex. She is managed by the No Ties modelling agency and has featured in a Justin Bieber music video in 2013!
---
32. CAMILA MORRONE – @CAMILAMORRONE
In 2016, the Argentinan model appeared on the cover page of Vogue Turkey. Camila made her runway debut in 2017 modelling for Moschino's resort collection. She is represented by IMG Models and LA Model Management.
---
31. FRANCISCO LACHOWSKI – @CHICO_LACHOWSKI
The Brazilian male model was awarded a contract with Ford Models after winning Ford Men's Supermodel of the World in São Paulo in 2008. This opened up the doors for him having walked for Dior Homme, Versace, Dolce & Gabbana, DSquared, Gucci, Roberto Cavalli, Thierry Mugler, Armani, and more!
---
30. PIA MUEHLENBECK – @PIAMUEHLENBECK

The German-born Instagram model represented by 22 Management is the co-owner of Slinkii luxury apparel. She has been seen promoting brands such as Tommy Hilfiger, Diamond Engagement Rings, Shieke, Qantas Airlines, Mecca, and more!
---
29. NATASHA OAKLEY – @TASHOAKLEY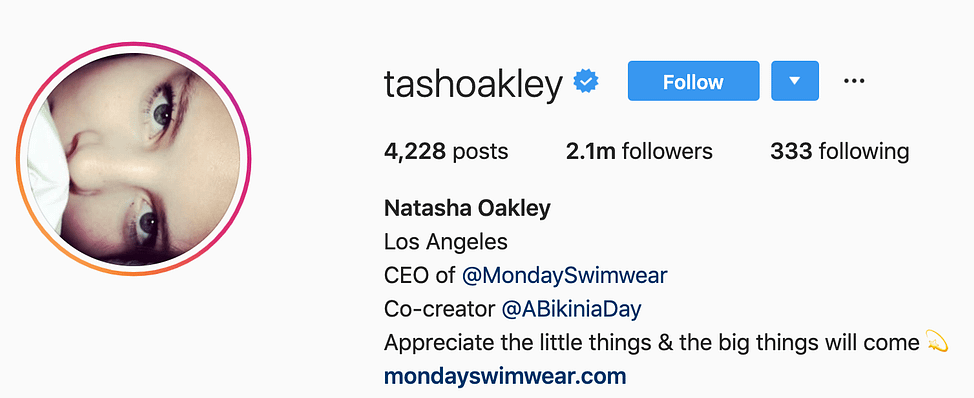 Natasha is a beautiful Instagram model and the CEO of Monday Swimwear while being the co-creator of A Bikini A Day; popular Instagram clothing brands.
---
28. JON KORTAJARENA – @KORTAJARENAJON
The Spanish model was apart of advertising campaigns for Just Cavalli, Versace, Giorgio Armani, Bally, Trussardi, Diesel, Mangano, and Lagerfeld. He was consecutively in campaigns for H&M, Zara, Guess and Tom Ford!
---
27. JOURDAN DUNN – @JOURDANDUNN
In February 2008, Jourdan Dunn was the first black model to walk a runway for Prada in over 12 years! Also, she was announced as the face of Maybelline New York in 2014. She has been in campaigns for Burberry, Balmain, Calvin Klein, Yves Saint Laurent, DKNY, Michael Kors, Victoria's Secret, Tommy Hilfiger, Topshop, Kate Spade, and Saks Fifth Avenue. Also, Jourdan was the face of Rihanna's collections for River Island.
---
26. PAMELA ALEXANDRA – @PAMELAALEXANDRA
This sexy curvy Swiss Brazilian that is Pamela has been seen in T.I.'s "No Mediocre" music video! She is always seen promoting the Fashion Nova Curve brand!
---
25. MATHILDE TANTOT – @MATHILDTANTOT
Mathilde is the owner of Khassani Swimwear and represented by the Sublime Talents modelling agency. Her revealing photos have been a hot take for many of her followers. She has been seen promoting her own brand as well as her recent promotion of Bali Body!
---
24. LUCKY BLUE SMITH – @LUCKYBSMITH
Lucky started his modelling career at the age of 10 and signed to an international agency 2 years later! He has been apart of advertising campaigns, walked runways, and appeared in editorals for large brands and companys such as Vogue, GQ, British Elle, Marie Claire, Fendi, Chanel, Roberto Cavalli, Moschino, Emporio Armani, DSquared2, Calvin Klein, Salvatore Ferragamo, Philipp Plein, Ralph Lauren, Balmain, Tom Ford, Marc Jacobs, Moncler, Tommy Hilfiger, H&M, Mavi, Penshoppe, Gap, and L'Oreal.
---
23. SIERRA SKYE EGAN – @SIERRAAASKYEE
Sierra is an Instagram model known for her hot body, bikini portraits, and sexy outfits! She often promotes the popular brands Fashion Nova and Pretty Little Thing!
---
22. KAIA GERBER – @KAIAGERBER
Kaia is a runway model and popular Instagram model with over 4million followers! She is the daughter of Cindy Crawford and Rande Gerber. Gerber has modelled for iconic magazines Vogue, Teen Vogue and Pop Magazine. In 2017, she made her runway debut for nortorious brands Raf Simons' and Calvin Klein Collection. Kaia then walked runway for Marc Jacobs, Burberry, Alexander Wang, Coach, Prada, Chanel, Fendi, Moschino, and Versace, alongside her mother, during 2018 Spring Fashion Week. Gerber appeared in Spring 2018 campaigns for Versace, Calvin Klein, Marc Jacobs and Omega and led the campaign for Marc Jacobs Daisy fragrance.
---
21. LIU WEN – @LIUWENLW
Liu is an Asian fashion model known for runway walking for the likes of Fendi, Givenchy, Valentino, Versace, and a host of others! She has been on the face of one of Chanel's 2019 poster campaigns and has been seen on Instagram promoting Chanel Watches!
---
20. CINDY KIMBERLY – @WOLFIECINDY
Wolfie Cindy is an Instagram fashion model who gained fame from a Justin Bieber "Who is this???" post. She made the cover for Cosmopolitan Espana for their August 2019 edition!
---
19. JOSEPHINE SKRIVER – @JOSEPHINESKRIVER

This Danish model is Victoria's Secret Angel having made her modelling debut in 2011 and walked over 300 runways! Just a few of the name's she has walked for include: Chanel, Oscar de la Renta, Dolce & Gabbana, Donna Karan, Giorgio Armani, Marc Jacobs, Diane von Fürstenberg, Michael Kors, Ralph Lauren, Versace, Tommy Hilfiger, Elie Saab, Vera Wang, and Balmain. Her unique makeup style gives her many plaudits, you can even say she is within the makeup models category!
---
18. TYRA BANKS – @TYRABANKS

One of the most popular models in the world, Tyra began her career as a model at the age of just 15. Most notably, she was the first African-American woman to be featured on the covers of GQ and the Sports Illustrated Swimsuit Issue. In 2003, she started and ran the very popular TV show, America's Next Top Model. Tyra has walked in fashion shows for Chanel, Oscar de la Renta, Yves Saint Laurent, Christian Dior, Donna Karan, Calvin Klein, Perry Ellis, Marc Jacobs, Givenchy, Valentino, Fendi, Giorgio Armani, and Michael Kors – that's just to name a few!
---
17. NAOMI CAMPBELL – @NAOMI
Naomi Campbell is one of the most well regarded models over the last 25 years. She was one of the most in-demand models in the 80's and 90's; she was 1 of 6 models dubbed a 'Super Model' during this time. Naomi has walked runways for and been in campaigns for almost every high-end brand in the world including the likes of Louis Vuitton, Givenchy, Dolce & Gabanna, Valentino, Roberto Cavalli. She is one of the more popular Instagram models in the 21st century due to her past success.
---
16. KARLIE KLOSS – @KARLIEKLOSS

At just 17, Karlie Kloss was declared by Vogue Paris as one of the top 30 models of the 2000s. She was a Victoria's Secret Angel from 2013 until 2015. Karlie the face of the Marc Jacobs fragrance Lola and has walked for numerous designers in New York, London, Milan, and Paris, including Calvin Klein, Karl Lagerfeld, Marc Jacobs, Givenchy, Gucci, Valentino, Louis Vuitton, Versace, and more!
---
15. ASHLEY GRAHAM – @ASHLEYGRAHAM

Ashley is a beautiful plus sized model well known for her curvy figure. She has appeared on the cover of fashion magazines such as Vogue, Harper's Bazaar, Glamour, Elle, and the Sports Illustrated Swimsuit Issue! Ashley was the first plus-sized model to appear in the Swimsuit Issue Sports Illustrated magazine appearing on the cover!
---
14. JORDYN WOODS – @JORDYNWOODS

Jordyn Woods is an Instagram model well known for being friends with the Kardashian family in the past. Her social media brand labelled SECNDNTURE is a collection of stylish sports bras, bodysuits, biker shorts, high waisted leggings and layering pieces including tops, jackets and much more.
---
13. MIRANDA KERR – @MIRANDAKERR

Kerr was the first Australian Victoria's Secret model. Since 2008, Kerr has always ranked on the Forbes list of highest earning models. Also, she launched her own brand of organic skincare products labelled KORA Organics.
---
12. ADRIANA LIMA – @ADRIANALIMA
Adriana is a Brazilian model known for being a Victoria Secret Angel for almost 20 years. Lima became a GUESS girl, appearing the 2000 fall ad campaign. She has walked on the runway for Fendi, Baby Phat, Giorgio Armani, Balmain, Vera Wang, Valentino, Givenchy, Versace, Marc Jacobs, Christian Dior, Victoria's Secret, Sean John, Prada, Louis Vuitton, Alexander McQueen, Ralph Lauren, and a host of others!
---
11. BARBARA PALVIN – @REALBARBARAPALVIN

Barbara Palvin made her runway debut in February 2010 for Prada during Milan Fashion Week. She has also walked for Louis Vuitton, and opened the pre-Fall 2011 Chanel show. She became the 2016 Sports Illustrated Swimsuit Issue Rookie of the Year and more recently became the first Hungarian to earn the title of Victoria's Secret Angel in 2019!
---
10. CANDICE SWANEPOEL – @ANGELCANDICES

Candice is well known for her work with Victoria Secret. in 2010, Swanepoel modeled for the Kardashians' swimwear line. In 2016, she was ranked at 8th on the Forbes top-earning models list. Candice has walked the runway and been in advertising campaigns for Fendi, Chanel, Tommy Hilfiger, Dolce and Gabbana, Michael Kors, Donna Karan, Jag & Bone, Oscar de la Renta, Givenchy, Christian Dior, Ralph Lauren, and many others!
---
9. GISELE BUNDCHEN – @GISELE

Since 2004, the Brazilian model has been among the highest-paid models in the world, and as of 2007 was the 16th richest woman in the entertainment industry. In 2012, she placed first on the Forbes top-earning models list. Her ability to walk in high heels on a slippery runway for Alexander McQueen's spring 1998 "rain" ready-to-wear show implemented herself in the fashion modelling world. That same year, she posed for Dolce & Gabbana, Valentino, Ralph Lauren, and Versace campaigns. She then made the cover of the French edition of Vogue!
---
8. HAILEY RHODE BIEBER – @HAILEYBIEBER

Fashion model and Instagram model senstation Hailey Bieber is the wife of Justin Bieber and daughter of actor Stephen Baldwin. Her first commercial campaign was for the clothing brand French Connection in the winter of 2014 then making her runway debut for Topshop soon after. She has walked and done campaigns for Moschino, Tommy Hilfiger, Ralph Lauren, GUESS, Dolce & Gabanna, H&M, and more.
---
7. SOMMER RAY – @SOMMERRAY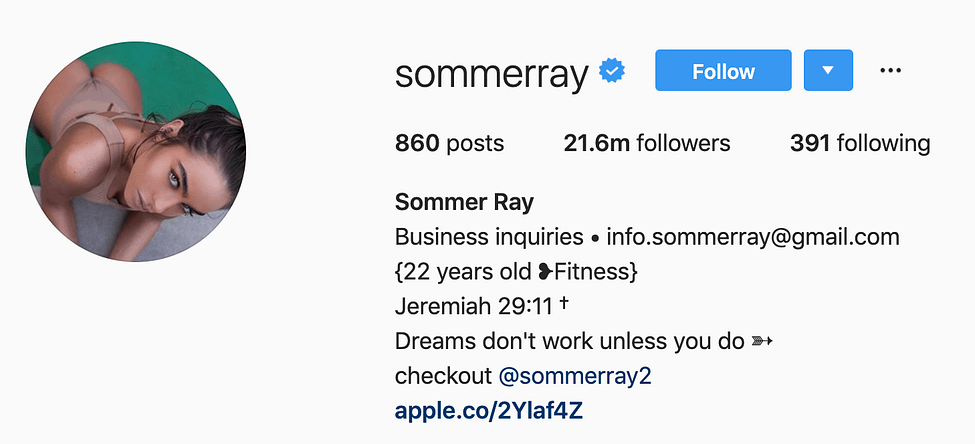 Sommer Ray is known for her sexy images and working out. She is one of several Instagram models who have made it as a big name just by leveraging Instagram. She now has her own Sommer Ray Collection which can be purchased online and often works for major brands out of LA.
---
6. EMILY RATAJKOWSKI – @EMRATA
Emily is an American model and actress. She joined the Ford Models agency at just 14 and went on to do teen print catalog modeling for Kohl's and Nordstrom! She is well known for her appearance in the 2013 music video, "Blurred Lines" by Robin Thicke, T.I., and Pharrell Williams. She has appeared in films such as Gone Girl, Entourage, and in a movie with Zach Efron titled "We Are Your Friends", as well as many others.
---
5. CHRISSY TEIGEN – @CHRISSYTEIGEN
Chrissy Teigen appeared on the Sports Illustrated Swimsuit Issue cover in 2014. She has been on America's Next Top Model and appeared in a few music videos for her husband, John Legend.
---
4. BELLA HADID – @BELLAHADID

Bella Hadid is one of the most popular Instagram models in the world. She signed to IMG models in 2014 and later, the Industry voted her "Model of the Year" for Model.com's Model of the Year 2016 Award. She has walked for Tom Ford, Jeremy Scott, Marc Jacobs, Tommy Hilfiger, Top Shop, Moschino, Balmain, Chanel, and more! Also, she has appeared at the London, New York, Paris, and Milan Fashion Weeks. She is well known for her past relationship with One Direction's Zayn Malik and most recent relationship with RnB singer The Weeknd.
---
3. CARA DELEVIGNE – @CARADELEVINGNE

Delevingne is well known for winning Model of the Year at the British Fashion Awards in 2012 and 2014. She had her first modelling job at the tender age of 10 in an editorial shoot for Vogue Italy. Cara's first catwalk appearance was at the February 2011 London Fashion Week, walking for the Burberry Prorsum A/W collection. Later that year, she opened and closed the Burberry Prorsum S/S 2012 collection. She appeared at all 4 big fashion weeks in 2012 on the runway for Donna Karan, Oscar de la Renta, Chanel, Stella McCartney, Fendi, Trussardi, Moschino, Blumarine, DSquared, and Dolce & Gabbana.
---
2. GIGI HADID – @GIGIHADID
Gigi is the older sister of Bella Hadid. In November 2014, Gigi made her debut in the Top 50 Models ranking at Models.com. In 2016, she was named International Model of the Year by the British Fashion Council. She was named in 2015 a Maybelline brand ambassador and by May of that year, she had walked for designers including Marc Jacobs, Chanel, Michael Kors, Jean-Paul Gaultier, and Max Mara. Hadid has appeared on all Vogue magazine covers worldwide including United States, Paris, Italy, Britain, Japan, Spain, Australia, Brazil, the Netherlands, Germany, Italy, and China!
---
1. KENDALL JENNER – @KENDALLJENNERz

Kendall Jenner is number 1! She is the sister of Kylie, Kourtney, Khloe, and Kim Kardashian. She has been apart of the New York, Paris, and Milan fashion weeks. Jenner has walked for Marc Jacobs, Giles Deacon, Givenchy, Chanel, Donna Karan, Tommy Hilfiger, Fendi, Dolce & Gabbana, and Balmain. She was a big figure in the Balmain x H&M collab. She is now a brand ambassador for Proactiv and is often seen promoting on her Instagram brands: Adidas Originals, Calvin Klein, Yeezy, Formawell Beauty, Tiffany and Co, Chanel, and many others. She is the ultimate Mega influencer for females on social media.