Last Updated: November 12th, 2023
ACTIVATE was initially founded in 2007 as BLOGLOVIN' before rebranding in 2014. Nowadays, it's an established influencer marketing platform. ACTIVATE serves as a bridge for brands and influencers to connect and collaborate, featuring a database of over 75,000 influencers. Users can leverage its features for influencer discovery, campaign management, and reporting to manage their marketing efforts.
Nevertheless, ACTIVATE falls short in terms of pricing transparency, and it notably lacks user reviews on reputable websites, which may pose obstacles for users and businesses looking to assess its performance and user experience. In addition to that, its database is somewhat limited and not as extensive as similar platforms.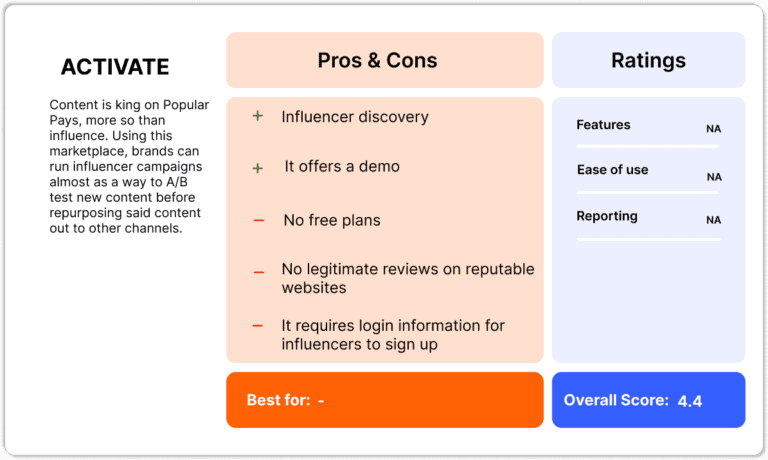 ACTIVATE Review in 2023: Pricing & Features + Best Alternative



Founded in 2014, ACTIVATE is an influencer marketing platform that helps brands and influencers to connect and collaborate. Its inception dates back to 2007 when it was known as BLOGLOVIN'. It helped creators and their fans to connect and create engaging content.
Now, this influencer marketplace has a database of over 75,000 influencers. Brands and agencies can use this platform to find influencers in their niche. 
In 2020, ACTIVATE was acquired by Impact and has worked alongside it since. This tool offers different features for brands to create, control, and manage their campaigns.
However, ACTIVATE is not free, and some businesses might find it hard to subscribe to it, especially when there are far better alternatives with lower costs and more features.
In this ACTIVATE review, we're gonna shed light on every detail you need to know about this tool to make an informed decision. As a bonus, we'll also introduce you to the best alternative in 2023. So, let's start!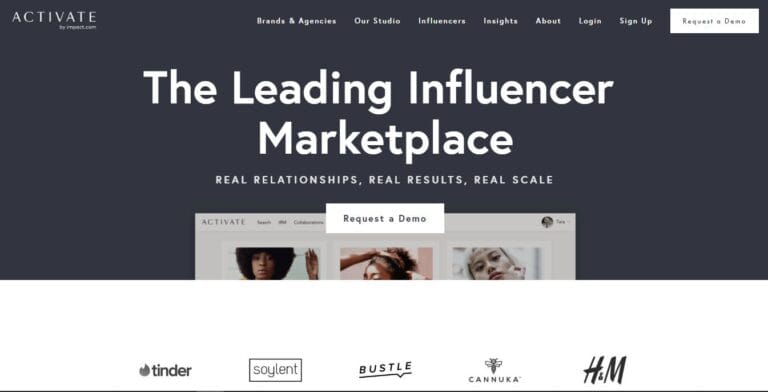 In order to better understand whether ACTIVATE is the right choice for your business, you need to have a clear understanding of its features and services. This tool offers a set of features for brands and agencies to create and manage their marketing campaigns.
Influencer discovery:

ACTIVATE allows brands to search through a database of over 75,000 social media influencers and find the ones that align with their goals. 
However, it should be noted that influencers need to share their login information with ACTIVATE and connect their profile to this platform in order to be able to use it, and many influencers refuse to do so as it can lead to potential threats.
Campaign management:

  ACTIVATE offers versatile usage rights, payment choices, and content review features to simplify content partnership management. Users can customize usage rights, select payment options, and maintain quality control for their content partnerships.

Reporting:

The reporting feature is designed to provide an analysis of individual content pieces and the overall performance of your campaign. It allows brands to examine audience sentiment, sales conversions, click-through rates, impressions, and other metrics.
Unfortunately, ACTIVATE doesn't provide any details about its pricing structure on its official website. Its failure to provide any pricing details on its website is a significant drawback for potential users. 
This lack of transparency not only frustrates and inconveniences visitors but also wastes their time as they must reach out to obtain basic pricing information.
One thing is certain though; there are no free plans available, and even though users can request a demo, it's not free of cost.
What Real Users Say About ACTIVATE
Even though ACTIVATE was launched in 2014 and is considered an established platform, it surprisingly lacks reviews on reputable websites such as G2. This absence creates a significant drawback as it leaves potential users without the valuable insights they need to form a clear understanding of the platform's performance and user experience. 
Reviews are essential for making informed decisions, and ACTIVATE's absence of them may hinder its potential growth and credibility.
What's the ideal solution here? Is there a platform that not only offers a wide range of advanced features but also comes at no cost, all while boasting an outstanding reputation? Keep reading to find out!
Ainfluncer:

Best Free Influencer Marketing Platform
Based on the reviews from customers who have used Affable.ai, it seems that their plans may be too expensive for small businesses. Additionally, the list of influencers provided by the platform may not be complete, and it can be challenging to find micro-influencers. Therefore, we aim to create a better tool that anyone, regardless of their budget, can benefit from.
Ainfluencer is a 100% free end-to-end influencer marketing platform focused on Instagram and TikTok. The marketplace is where brands can discover influencers by niche, country, gender, audience type, and many other criteria to invite for collaborations. Using Ainfluencer, in a few simple steps you quickly set up your campaign and get exposed to over 500,000 influencers on TikTok and Instagram. 
With this tool, you don't need to pay anything for finding influencers in your niche. As a brand, you can manage unlimited campaigns, get proposals from an unlimited number of influencers for as long as your campaign is still live in the marketplace, and get all the values and features of the platform literally for $0 fees.
Ainfluencer Features for Brands
Influencers List:

Discover over 500,000 influencers, ranging from micro to macro, and see our list grow by 10,000 new influencers every month.

Campaigns:

Create campaigns in a few easy steps and find the perfect influencers for your niche.

Content Creation:

Choose from multiple collaboration options, from content creation to promotional power.

No Limits:

Send invitations to as many influencers as you wish, and use smart filters to narrow down your search.

End-to-End Communication:

Use our built-in chat to negotiate, make payments, and discuss collaborations.
For Creators and Influencers
Ainfluencer is not just for brands. If you're a creator or influencer, our platform offers incredible benefits:
100% Free:

Our platform is free forever, with no hidden fees.

Unlimited Opportunities:

Reach out to as many paying brands as you want, and make unlimited offers.

End-to-End:

Negotiate directly with brands, close deals, and get rated—all within our platform.

Security:

Your social media account details are safe with Ainfluencer.

Stay Informed:

Receive weekly updates on your negotiations and manage your collaborations with ease.

AI-Driven Analytics:

Categorize campaigns based on your preferences and get paid regularly through our escrow system.

Inbox:

Streamline your collaboration cycle from A to Z in one convenient place.

Choice:

Decide what type of collaborations you want to do with brands, whether it's content creation, promotion, bartering, or all of the above.
Ainfluencer is the future of influencer marketing, connecting brands and influencers seamlessly. Join us now and start reaping the rewards of a vibrant community that values transparency, simplicity, and endless opportunities.
In conclusion, ACTIVATE, initially founded as BLOGLOVIN' in 2007, has evolved into an influencer marketing platform with a vast influencer database and a range of campaign management features. 
However, its lack of pricing transparency and the absence of user reviews on reputable platforms may deter potential users from exploring its offerings. In contrast, Ainfluencer emerges as a compelling alternative, offering a comprehensive, AI-driven marketplace connecting brands with over 500,000 influencers on TikTok and Instagram, all completely free of cost.
No, ACTIVATE is not a free influencer marketing platform. There is a demo, but brands need to reach out and get more information about their pricing structure and subscribe in order to be able to use ACTIVATE's features.
Yes, ACTIVATE is a legitimate influencer marketing platform that allows brands and influencers to connect and collaborate. However, there aren't many reviews from real users available to better understand its function, and there are better alternatives to this tool with more advanced features and lower costs. 
In addition to that, businesses might find ACTIVATE's database to be limited and not as extensive as similar platforms.