Last Updated: November 12th, 2023
Afluencer is an influencer marketing platform designed to connect brands and influencers by offering various features such as influencer discovery, direct messaging, and influencer relationship management. Its pricing structure includes both free and paid plans for influencers and brands. However, many users have highlighted limitations when using Afluencer, including difficulties in finding niche-specific influencers, limited opportunities for micro-influencers, and concerns about unresponsive customer support. So, if you want an all-in-one, free, and reliable solution, you might have to consider other tools.
Afluencer Review 2023: Features & Pricing + Best Alternative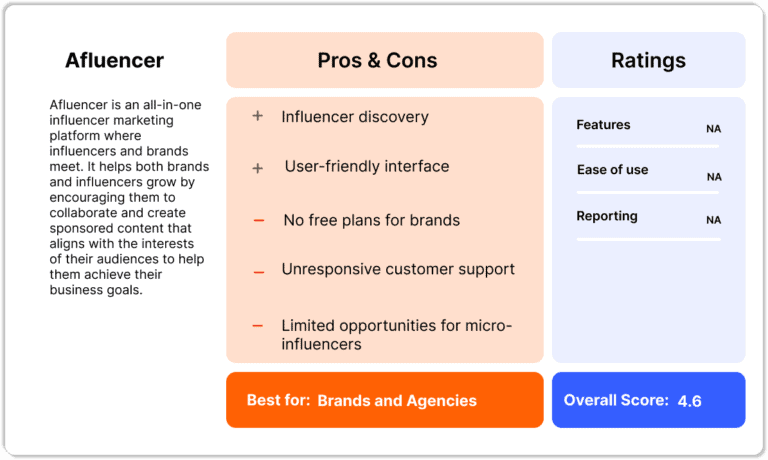 Afluencer is an influencer marketing platform that offers tools and services to help brands identify suitable influencers based on their niche, audience demographics, and engagement metrics. It serves as a middleman in this transaction, facilitating collaboration between brands and influencers.
Afluencer is also a campaign management software that facilitates the negotiation of partnerships and content creation. Brands typically start by creating a campaign brief on Afluencers. This brief outlines campaign goals, expectations, and budget. 
Influencers interested in collaborating with the brand can apply for the campaign. Brands then select the influencers they believe will best represent their product or service. Or, brands can search for influencers that match their goals and send them collaboration invitations.
In this article, we'll elaborate on this platform, explore real users' experiences with Afluencer, and introduce you to the best alternative in the market!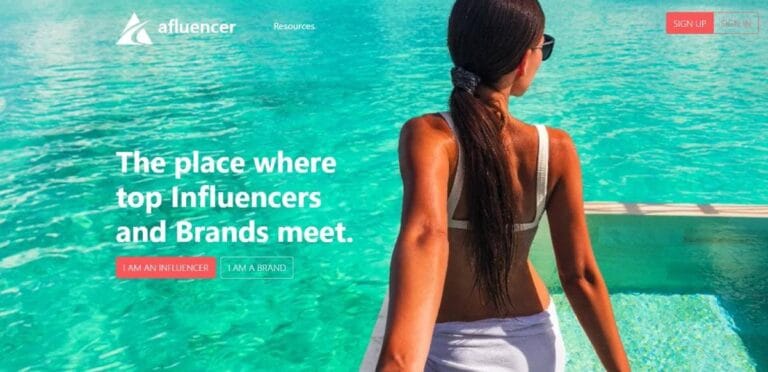 One of the primary aspects brands and influencers need to look out for when selecting an influencer marketing platform is its features. So, in order to help you make an informed decision, here are the key features of Afluencer:
Influencer Discovery:

once you sign up, you can access the influencer discovery and search through influencers to find your ideal partnership. You can filter, sort, and invite influencers in your niche to join your campaign.

Direct messaging:

Afluencer offers a new feature that allows brands and influencers to chat and connect on the platform.

Influencer relationship management:

brands can use this feature to keep track of their partnerships, invitations, payments, and more.

Audience analysis:

Afluencer provides consumer insights and helps businesses to have a clear understanding of their progress by offering reports on metrics such as reach, engagement rate, etc.
Now that you know what features Afluencer offers, it's time to see how much it costs to use them. WARNING: it's not cheap!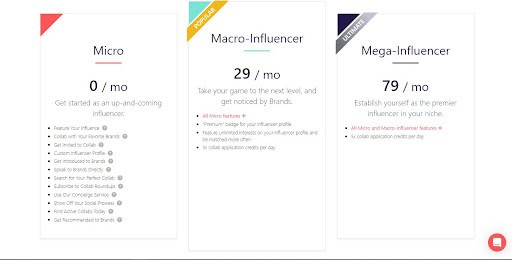 Micro:

As you can see,

micro-influencers

can sign up on Afluencer for free and connect with one brand per day. If you want to form more partnerships, you'll have to purchase more expensive plans.

Macro-Influencer:

This plan costs $29 per month and allows access to all Micro features in addition to providing a premium badge for the influencer's profile and more collaboration credits per day.

Mega-Influencer:

for $79 per month, influencers can purchase this plan and access all Afluencer's features.
As for the brands, Afluencer offers the following plans: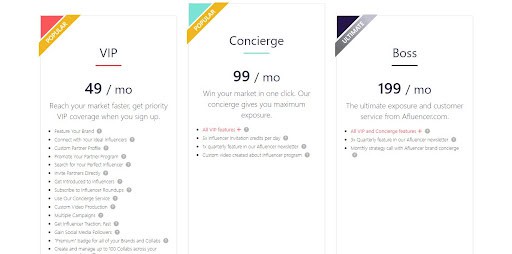 As you can see, there are no free plans whatsoever, and Afluencer's pricing can be expensive to some businesses. The VIP plan starts at $49 per month and allows users to feature their brand and connect with influencers. The Concierge plan costs $99 per month and offers all VIP features in addition to more influencer invitation credits per day. The same applies to the Boss plan, which costs $199 monthly.
What Real Users Say About Afluencer
Now that you're familiar with Afluencer's features and pricing, it's time to hear what real users have to say about their experience with this platform. After that, you can better decide whether this tool is worth investing in.

This user states that they were not able to find influencers in their niche, and their choices were really limited. Also, customer support didn't respond to any of their messages, which is a huge red flag as customer service is one of the most crucial aspects of any company.

Another issue with Afluencer is that micro-influencers are not able to find many opportunities to collaborate with brands. This user is also complaining about the same thing.

In addition to all that, Afluencrer doesn't allow influencers to connect with brands more than 1 time a day, unless they purchase a plan. And if the brand doesn't accept your invitation, you won't get your money back.
Don't give up on influencer marketing just yet! In the following paragraphs, we'll introduce you to a top-tier influencer marketplace that guarantees brands and influencers the opportunity to maximize their profits.
Ainfluencer: Best Afluencer Alternative
Ainfluencer is a revolutionary influencer marketing platform, and it's changing the game for both brands and influencers. This tool offers a unique solution by being a 100% free, Do-it-Yourself marketplace.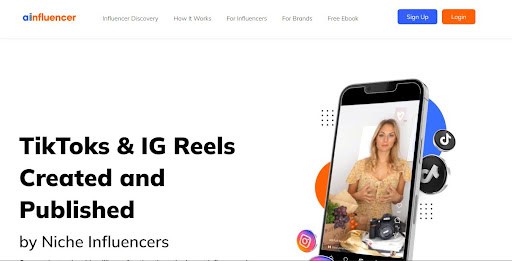 For brands, this means you can enjoy the full benefits of the platform without ever incurring any platform fees, making it the best option for budget-conscious marketers. The same applies to influencers; they can utilize Ainfluencer without worrying about hidden charges or limitations, making it a welcoming space for content creators.
One of the standout features of Ainfluencer is its commitment to providing unlimited access to the platform without any fees. Unlike other platforms that may restrict access or encourage you to pay fees, Ainfluencer ensures that both brands and influencers can benefit from their services indefinitely.
Ainfluencer seamlessly connects brands with thousands of influencers on Instagram and TikTok. The platform offers a wide array of features, including transparent communication with influencers, a straightforward DIY setup, an escrow system for secure transactions, ratings and reviews, and in-depth insights on influencers. These features empower brands to make informed decisions and build successful collaborations.
Whether you're a growing brand or a premium enterprise, Ainfluencer adapts to your specific needs, making it a must-have tool in the world of influencer marketing. 
So, why wait? Sign up on Ainfluencer today and start maximizing your revenue!
Afluencer is an influencer marketing platform that aims to bridge the gap between brands and influencers, offering a variety of features to facilitate collaboration. However, it comes with a price, and user experiences have shown limitations, particularly for micro-influencers who might find it challenging to connect with brands and have limited daily interaction opportunities.
The pricing structure of Afluencer, with its paid plans for both influencers and brands, might not be suitable for businesses with tight budgets. Additionally, there have been reports of unresponsive customer support, which can be a significant concern for users seeking assistance.
So, make sure to consider these downsides when choosing your marketing tool!
Brett Owens is the founder and QB of Afluencer. He also co-founded LeadDyno and Chrometa and serves as the Chief Investment Strategist at Contrarian Outlook, a research service dedicated to profitable dividend investing.
Influencer marketing is when brands partner with popular online personalities to promote their products to a wider audience. These influencers create content that showcases the brand, leveraging their credibility and reach to attract customers.