Last Updated: September 12th, 2023
As an influencer marketplace, Captiv8 has established itself as a well-known name in the industry. This platform helps brands and influencers to connect and form meaningful partnerships. It does so by offering features such as influencer discovery, campaign management, data analytics, and influencer lists. However, its pricing structure can be expensive, and some businesses might find it to be not worth it. In addition to that, many users have reported that Captiv8 has a learning curve, and lacks the necessary guidance to make the most out of it.
Also, some users have stated that Captiv8 failed to help them find the right influencer, which can be a huge drawback for an influencer marketing platform.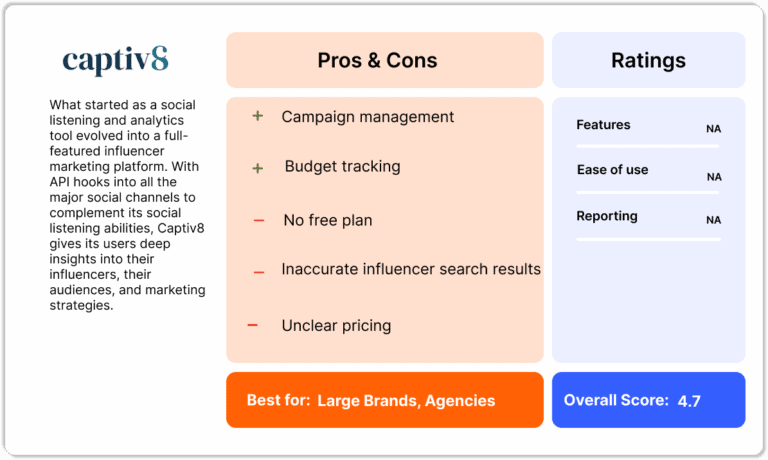 Captiv8 Review in 2023: Pricing & Features + Best Alternative



As new marketing methods continue to evolve, staying on top of the latest trends and tools is essential for success. Captiv8, a popular influencer marketing platform, has been making waves in the industry. 
Captiv8 is an influencer marketplace that enters the scene with promises of simplifying influencer marketing, automating campaigns, and delivering powerful insights. This tool helps brands and businesses connect with the right influencer.
In addition to that, Captiv8 also allows businesses to find influencers whose audience demographics align with their target market and to track the effectiveness of influencer marketing campaigns.
However, as with any tool or service, it's crucial to separate the hype from the reality. That's why in this honest Captiv8 review, we'll take a closer look at its features, performance, and users' experiences and let you decide whether it's the right choice for your business.
Captiv8 provides various tools for influencer marketing. It helps businesses find influencers, do affiliate marketing, keep track of their progress, and manage their campaigns.
Here are Captiv8's key features:
Influencer Discovery:

Captiv8 helps you find social media influencers who can promote your products or services. You can search for influencers based on your needs. You can organize influencers based on keywords, audience characteristics, and content topics.

Data Analytics:

Captiv8 provides data and statistics about influencers and their audiences, so you can make informed decisions about who to work with. Captiv8 also lets you check accounts, hashtags, and locations.

Campaign Management:

this tool offers brands the necessary features needed to create, schedule, and manage their influencer marketing campaigns on the platform.

Influencer Lists:

Captiv8 allows brands to create and manage lists of influencers. These lists help them organize and collaborate efficiently. If brands find a new influencer, they can add them to the list. 
Now that you know what features and services Captiv8 offers, it's time to see how much they cost, and whether it's worth it or not.
Captiv8's pricing structure is customizable, and clients and add their desired features to their plans. However, there is no clear information about their pricing on their website, and users need to reach out to them to get more insight. It's important to note that Captiv8 is not a free influencer marketing platform, and smaller businesses might find it to be expensive.
What Real Users Say About Captiv8
One of the glaring issues with Captiv8 is its complex interface. For newcomers, navigating the platform can be confusing, and this platform fails to provide the necessary guide:

Also, many users have complained about Captiv8's platform being glitchy and clunky. Here's what another unhappy user has to say:
Micro-influencers play a crucial role in influencer marketing by connecting brands with highly engaged, niche audiences, allowing for more authentic and relatable content that often leads to higher conversion rates. 
Unfortunately, many users have reported that Captiv8 fails to connect them with micro-influencers. Here's the statement:
In addition to that, some have reported that the influencer discovery feature doesn't meet the necessary requirements, and might become time consuming to find the influencers in specific niches:
Now that you're familiar with Captiv8's features, pricing structure, and authentic user feedback, you can make an informed decision regarding the suitability of this tool for your specific requirements.
If you're considering using another influencer marketing platform, we have the perfect solution for you! So, keep scrolling to find out!
Ainfluncer:

Best Free Influencer Marketing Platform
Ainfluencer is a 100% free, Do-it-Yourself marketplace set to redefine the game, offering both brands and influencers all the features they need to have a seamless collaboration.
If you're a brand that craves the freedom of conducting business without expensive fees, Ainfluencer is your savior! The same goes for influencers; here, you can reach your fullest potential, and have the freedom you need to flourish your creativity without hidden charges.
But what sets Ainfluencer apart from the rest? The answer lies in the absolute commitment to zero fees for unlimited usage of the platform. For brands, every deal struck with influencers incurs $0 in fees, a game-changer for businesses of all sizes.
This AI-powered platform matches your product or service with a vast network of influencers on Instagram and TikTok. Whether you're a brand seeking the perfect influencer match or an influencer looking to showcase your talents, Ainfluencer's promise is crystal clear: it's 100% free, forever.
With an intuitive interface, brands can easily discover influencers by niche, country, gender, and audience type, setting the stage for enticing collaborations. In just a few straightforward steps, you can create your campaign and reach out to a pool of over 500,000 influencers on TikTok and Instagram. 
On Ainfluencer, there are no limits; you can manage unlimited campaigns, receive proposals from an unlimited number of influencers as long as your campaign is active, and access all platform features without parting with a single dime.
Join the Ainfluencer community today and experience the difference for yourself!
Conclusion
Captiv8 is an influencer marketing platform that offers various tools for businesses seeking to engage with social media influencers. Its key features include influencer discovery, data analytics, campaign management, and influencer lists, which provide a comprehensive set of resources for influencer marketing campaigns.
However, it's essential to consider the potential drawbacks associated with Captiv8. Some users have reported issues with its complex interface, glitches, and difficulties in connecting with micro-influencers. Additionally, the lack of transparency in pricing may deter smaller businesses from utilizing the platform.
Yes, Captiv8 is a legitimate influencer marketing platform that allows brands and influencers to connect and collaborate. Yet, there are some disadvantages to this tool that users need to know of in order to make the best decision for their business.
Krishna Subramanian, the Co-Founder and CEO of Captiv8, previously held positions such as Chief Marketing Officer at Velti and was also a former Co-Founder of Burrp! and Mobclix.