Last Updated: September 12th, 2023
Dovetale, established in 2017, claims to assist businesses in influencer marketing, emphasizing accessibility for all. While it began as an all-in-one solution, it now leans towards analytics and e-commerce. 
However, it faces various drawbacks. Users report it as not user-friendly, possibly due to a steep learning curve and poor navigation. Technical glitches, including site crashes and joining issues, persist despite seeking customer service help. 
Furthermore, Dovetale lacks data on an influencer's audience interests, leaving users uninformed about their followers' preferences. Incomplete influencer profiles hinder assessing their online presence.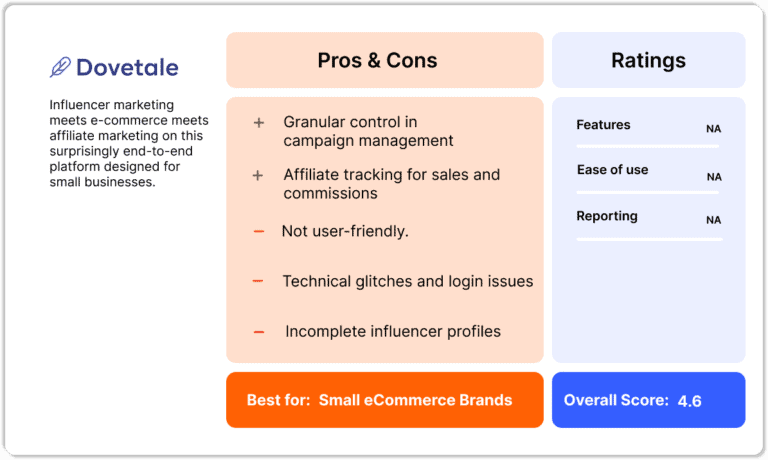 DoveTale Review in 2023: Pricing & Features + Best Alternative



Dovetale, founded in 2017, was created to help businesses with influencer marketing. Dovetale's goal is to make influencer marketing available to all businesses. 
DoveTale dubs itself as an influencer marketing platform that aims to support small businesses and online stores, a group often overlooked in influencer marketing. While it began as an all-in-one solution, it now focuses more on analytics and e-commerce.
 But how true is it? Is it as helpful as it describes? Well, go ahead and read this article to find the answer and the best DoveTale alternative. 
Ready? let's get started!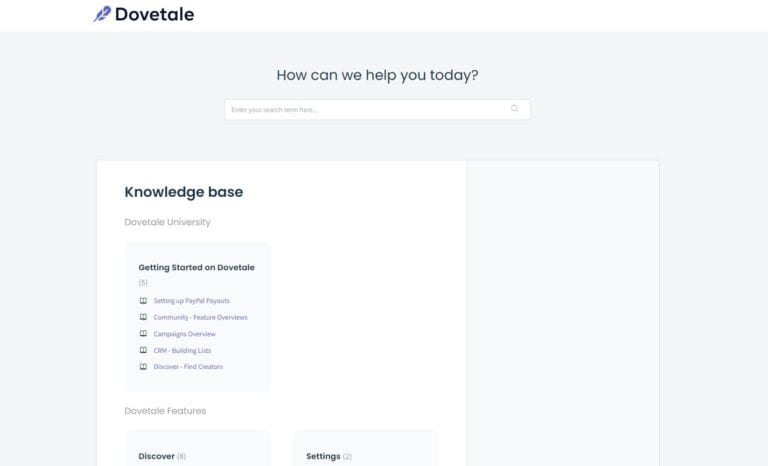 1. Discovery
Dovetale's Discovery feature offers an enhanced search function, allowing users to search for keywords, mentions, hashtags, and refine search criteria further. The platform provides in-depth influencer profile analysis, audience metrics, and audience analysis.
2. Campaign Management
The platform has improved its campaign management tools, offering granular control over tasks within campaigns. Users can assign tasks, negotiate fees, schedule content, and monitor influencer progress, all within the platform.
3. Performance Reporting
Dovetale collects and stores all types of content and provides detailed performance reporting, including reach, engagement, and user interactions. This allows users to calculate Social Media Value (Earned Media Value) and gain insights into ROI.
4. Affiliates Tracking
The DoveTale Affiliates feature offers a way to track referrals and commissions for creators who drive sales through the use of referral links generated on the Dovetale platform. 
Dovetale offers a comprehensive dashboard for tracking affiliate sales, including total sales, commissions owed, and commissions paid. It simplifies the process of paying influencers through PayPal and provides automatically-generated tax forms.
The most basic subscription level is free, and all you have to do to begin is link your Shopify store. This free tier is not a time-limited trial; instead, it comes with feature limitations. This strategy is designed to assist and enable small or startup Dovetale users to evolve into paying customers over time.
Based on the statement provided on Dovetale's official website, it appears that they have made their Community service accessible to all Shopify merchants by removing their pricing plans. 
This suggests that Dovetale has adopted a more inclusive approach, allowing all Shopify merchants to access their Community service without the need for specific pricing plans or subscription fees. 
But if you're not a Shopify merchant, you must contact them to be aware of its pricing plans based on your needs.
What Real Users Say About DoveTale
According to their user's experience, it isn't a user-friendly platform. This could imply that the platform may have a steeper learning curve or lack intuitive navigation, making it less accessible and efficient for some users. here's a comment that proves it:

Moreover, Dovetale suffers from technical glitches, including users being kicked off the site and difficulties with joining. Despite seeking assistance from customer service, these issues seem to persist, which can be a significant drawback for users trying to utilize the platform effectively.
In addition, Dovetale does not provide data on the interests of an influencer's audience. This means users might not have information about the specific topics or niches that the influencer's followers are interested in.
Plus, Some influencer profiles on Dovetale are incomplete. Users may encounter missing links to the influencer's YouTube channel or TikTok page, which can make it challenging to assess their complete online presence.
The need for DoveTale alternatives arises from a variety of factors, including a lack of interest-based audience insights, the absence of audience quality metrics, and technical issues. Exploring DoveTale alternative ensures you can find the influencer marketing solution that best suits their unique needs and circumstances.
Ainfluncer:

Best Free Influencer Marketing Platform
Ainfluencer is an End-to-End marketplace for brands looking to partner with influencers in various fields like fashion, beauty, and music. In today's digital world, where influencers have a big impact, Ainfluencer offers a free and easy way for brands to work with them.
Ainfluencer Features For Brands
No Costs: Ainfluencer is entirely free for brands. You won't have to pay anything to collaborate with influencers.

Smart Matching: It uses AI to match your products or services with Instagram and TikTok influencers, making collaborations more efficient.

Direct Communication: You can talk directly to influencers, manage campaigns, and negotiate deals all within the platform.

Smart Filters: Find the perfect influencers using filters like size, platform, and gender, and invite as many as you want.

End-to-End Solution: The built-in chat makes the entire collaboration process smooth, from offers to payments. It's a one-stop shop for influencer partnerships.

Safe Payments: Ainfluencer's Escrow system ensures your payments are secure, and influencers get paid.
Ainfluencer Features For Influencers
Free to Use: It's completely free for influencers, no matter how many followers you have.

Access to Campaigns: You can connect with various campaigns and earn money doing what you love.

Unlimited Offers: Make as many offers as you want, negotiate deals, and set your prices, all on Ainfluencer.

Safe and Convenient: You don't need to share your social media passwords, keeping your accounts secure.

Handy App: Stay updated on your negotiations and deals with the Ainfluencer app, always at your fingertips.

AI Analytics: Get help categorizing campaigns based on your preferences, making your influencer journey smoother.

Regular Payments: Ainfluencer ensures you get paid promptly for your hard work.
Ainfluencer's Values
Access to the Right Influencers: They have a huge database to help you find the perfect influencers for your brand.

In-depth Analytics: You can dive into influencers' niches, audiences, and past experiences.

Effective Campaign Management: You're able to easily run successful campaigns.

Limitless Walkthroughs: You will get all the guidance you need.

Secure and Convenient: It's a one-stop platform allowing you to make unlimited offers, negotiate, and make payments securely within the app.

DIY Campaigns: It sets preferences your way for maximum customization.

Boost Visibility: You can increase brand awareness effortlessly.

Responsive Support: It expect top-notch customer support whenever you need it.
No matter your industry, whether it's fashion, beauty, music, or something else, Ainfluencer makes it easy for brands to find the right influencers. They verify influencer authenticity, provide collaboration history, and ensure secure payments until your campaign terms are met.
DoveTale claims to be great for influencer marketing, but according to its users, it's not quite that perfect. People have faced issues that make them think about switching to an alternative.

If you're looking for a DoveTale alternative, consider using Ainfluencer to find the best influencers, and collaborate with them efficiently.
Dovetale works as an influencer marketing tool by helping businesses, both big and small, manage their influencer collaborations more efficiently. It claims to keep track of things like what needs to be done, what has been received, and how much money has been spent on these partnerships.
On April 11, 2022, Shopify made a significant move in the creator and influencer marketing space by acquiring a software startup called Dovetale. Dovetale specializes in assisting brands in the management of their influencer marketing initiatives. 
Unfortunately, the specific amount Shopify paid for this acquisition was not publicly disclosed. This acquisition represents a notable investment by Shopify in the realm of influencer marketing and demonstrates their commitment to expanding their services in this area.