Last Updated: September 12th, 2023
Influence.co is an influencer marketing platform that provides an opportunity for brands and influencers to connect and collaborate. As a relatively well-known name among other tools, Influence.co offers features such as campaign management, influencer discovery, etc. But you should know that there are many reports that show influencers on this platform lack the authenticity needed for influencer marketing, and the free plan is also too limited. So, many businesses find Influence.co to not be a very good option.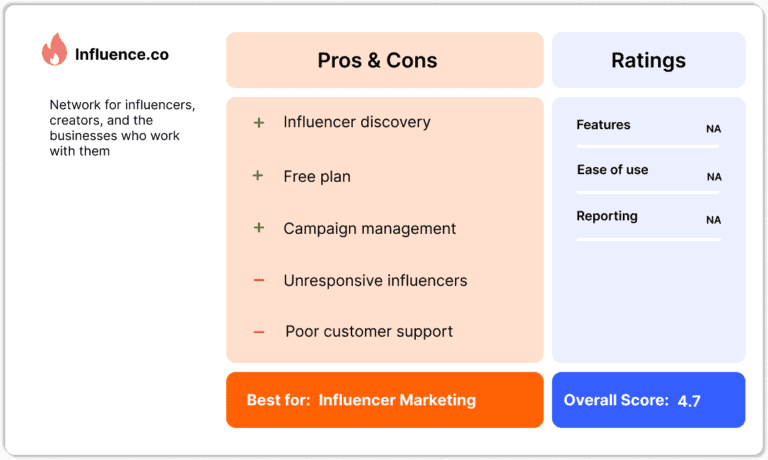 Influence.co Review in 2023: Pricing & Features + Best Alternative



Influence.co is a well-known name among influencer marketing platforms. It provides a digital space for brands and influencers to connect and collaborate. 
Influence.co serves as a marketplace where influencers, content creators, and brands can connect, negotiate partnerships, and execute marketing campaigns. While this platform offers opportunities for influencer marketing, it's definitely not the best option.
Disappointed? Don't be! In this article, we'll introduce one of the best free influencer marketing platforms that will revolutionize everything you know about influencer marketing. So, keep reading!  
Choosing the right influencer marketplace is essential for both influencers and brands. Doing so requires a good understanding of the features and services each platform offers.
By comparing these attributes, brands, and businesses can pinpoint the ideal tool that not only aligns with their objectives but also accommodates their budget constraints.
For that matter, here are the key features of Influence.co:
Profile Creation and Management: Influence.co allows influencers and content creators to create comprehensive profiles that showcase their work, interests, and niches. 
Users can add their bio, portfolio, and social media links, providing a centralized hub for potential collaborations and brand partnerships.
Influencer discovery: Influence.co allows brands to find influencers based on criteria like niche, location, follower count, and engagement rate. while functional, this feature lacks depth. 
The filtering options may not always yield precise results. It makes the influencer discovery process a hit-or-miss experience, especially for those seeking specific influencer collaborations.
Campaign management: For brands and marketers, Influence.co offers a campaign management system. Users can create and manage influencer marketing campaigns, from setting objectives to tracking performance metrics.

Verified Profiles: Influence.co claims to offer verified influencers. Influencers who purchase the Pro plan will have a special badge next to their name. But how accurate is that? We'll get to it later in the article.
When it comes to influencer marketing, pricing is an important factor. Brands have a set budget dedicated to marketing, and most of the time, influencer marketing platforms can get too expensive. 
The same goes for Influence.co. even though they offer a freemium plan, it's too limited. Both brands and influencers will eventually have to purchase a plan if they want their marketing strategies to work.
For brands, Influence.co offers 2 plans: Business Basics and Business Pro.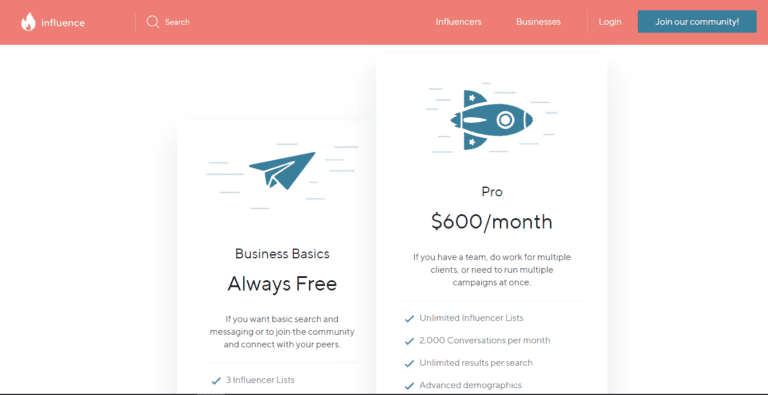 With the Basic plan which costs $0, brands can do basic searches with up to 20 results per month, which can be pretty limiting. They can also organize these results into up to 3 lists. With this plan, brands can only message with up to 12 influencers.
As for the Pro plan which will cost $600, you'll get unlimited access to these features. But many businesses find it to be too expensive. 
Influence.co also offers 2 plans for influencers: the Basic plan and the Pro plan.
With the basic plan, which is the free one, influencers on the free plan are limited in their capabilities. They can only create a basic profile on the site, and their communication is severely restricted, with a paltry allowance of just 5 interactions with other members per week. 
They're also restricted to applying for a meager 5 brand campaigns weekly. Search results are restricted to a mere 50, and they can barely curate 3 lists of influencers, brands, or agencies. The only consolation is limited access to their Instagram followers' demographics.
With the Pro plan which is $4 per month, influencers get 30 brand campaigns per month, 30 member contacts per month, and unlimited results and lists. They can also see who viewed their profile.
What Real Users Say About Influence.co
Nothing provides us with more insight than hearing what real users have to say about any platform. The same goes for Influence.co; that's why we've decided to write this Influence.co review. So, let's continue.
Influence.co offers both free and premium plans for users. While the free plan provides essential features, several users have complained about the pricing and value offered by the premium plans. 
Some find it expensive, especially when compared to other influencer marketing platforms that offer similar services at lower rates. This pricing issue can be a significant drawback for influencers, particularly those with smaller budgets.
Another issue with this platform is the unresponsive influencers. Take a look at this review left by an unhappy user on Reddit: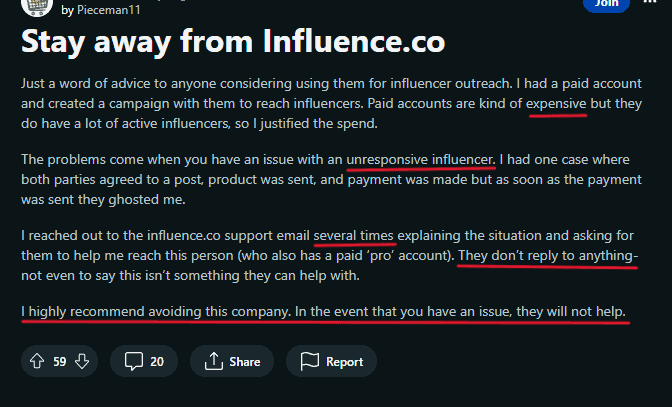 As you can see, Influence.co consistently falls short in addressing these critical concerns, leaving brands without any means to ensure a flawless payment process.
Also, Influence.co has received mixed reviews when it comes to customer suppport. Some users have expressed frustration with the platform's customer support response time, citing delays in resolving issues or answering inquiries. 
Quick and efficient support is essential for maintaining a positive user experience, and this area is one where Influence.co may need improvement.
So, what's the best alternative? How can users ensure the flawless execution of their influencer marketing strategy? That's what we're here to tell you! So, keep scrolling.
Ainfluncer:

Best Free Influencer Marketing Platform
Are you a brand looking for a seamless and cost-effective way to harness the potential of influencer marketing? Or are you an influencer seeking a platform that maximizes your earnings while simplifying your workflow? 
Look no further than Ainfluencer, the 100% free, Do-it-Yourself marketplace that's revolutionizing influencer marketing for both brands and influencers.
Why Choose Ainfluencer?
At Ainfluencer, we believe in providing limitless opportunities without charging any platform fees. Whether you're a brand or an influencer, here's why Ainfluencer is the perfect fit for you:
For Brands
Unlimited Access to Influencers: With over 500,000 influencers on TikTok and Instagram, Ainfluencer offers an extensive influencer list catering to brands of all sizes and niches. 
Plus, 10,000 new influencers join us each month, ensuring you have a constantly growing pool to choose from.
Effortless Campaign Creation: Ainfluencer's intuitive platform allows you to create influencer campaigns in just a few easy steps. Define your influencer criteria, set your goals, and watch as the platform matches you with the perfect influencers for your brand.

Diverse Collaboration Options: Choose from four collaboration options based on your brand's needs. Whether you want influencers to create content, publish it on their platforms, boost your existing content, or engage in barter collaborations, Ainfluencer has you covered.

No Limits: Enjoy unlimited access to all Ainfluencer features, including creating offers, campaigns, and inviting influencers. Smart filters and invites based on your campaign targeting ensure you connect with the right influencers effortlessly.

End-to-End Communication: Ainfluencer's built-in chat inbox streamlines your collaboration process. From receiving offers and evaluating influencer portfolios to making payments and leaving reviews, everything happens within the platform.

In-Depth Insights: Gain access to influencers' past collaborations, reviews, and audience insights. Make informed decisions when selecting influencers for your campaigns.

Secure Payments: Our Escrow system ensures secure and prompt payments for both brands and influencers, eliminating the risk of fraud.

Reviews and Ratings: Leave honest reviews and ratings after each collaboration, fostering a culture of excellence and trust within the influencer community.

Past Collaborations Track Record: Get a glimpse of an influencer's track record with other brands, ensuring alignment with your goals and values.
For Creators and Influencers
Free-to-Use: Ainfluencer is 100% free, allowing creators and influencers to maximize their earnings without platform fees.

Access to Paying Campaigns: Explore over 30,000 global paying campaigns, giving you the opportunity to monetize your Instagram and TikTok.

End-to-End Control: Make unlimited offers, negotiate directly with brands, close deals, deliver, and get rated – all within the platform.

Data Security: Ainfluencer keeps your sensitive information safe; you never need to share social media account passwords or other sensitive data.

AI-Driven Analytics: Utilize AI-driven analytics to categorize campaigns based on your preferences, making it easier to find the right collaborations.

Escrow for Security: The Escrow system provides peace of mind, ensuring you get paid for your work. You can receive your payouts quickly and consistently, thanks to Ainfluencer's reliable payment system.

Streamlined Communication: Ainfluencer's inbox helps you manage your entire collaboration cycle from start to finish.

Custom Collaboration Options: Choose the collaboration types that suit you best, from content creation to promotion and bartering.
Don't miss out on unlimited opportunities, transparency, and unbeatable value. Whether you're a brand or an influencer, your journey to influencer marketing success starts here. 
In the world of influencer marketing, there are various options available for both influencers and brands. In order to choose the best one, you need to do a thorough research. 
That's why we've provided this Influence.co review; to give you insight into this platform so that you can make the best decision for your business.
No, Influence.co is not the only influencer marketing platform available. While it is a well-known platform, there are several other alternatives to consider. Each platform comes with its own set of features, pricing structures, and user experiences. 
In this article, we've introduced Ainfluencer as one such alternative that offers unique advantages like no platform fees, a growing pool of influencers, and seamless collaboration options. 
It's essential to research and compare various influencer marketing platforms to find the one that best suits your specific needs and budget.
In this article, we've introduced Ainfluencer as one such alternative that offers unique advantages like no platform fees, a growing pool of influencers, and seamless collaboration options. 
It's essential to research and compare various influencer marketing platforms to find the one that best suits your specific needs and budget.
Ainfluencer utilizes an Escrow system to ensure secure and prompt payments for both brands and influencers. 
Here's how it works: When a collaboration is agreed upon, the brand places the agreed-upon payment amount into an Escrow account. The influencer then carries out the campaign as per the agreement. 
Once the influencer successfully completes the campaign and meets the criteria, the payment is released from Escrow and transferred to the influencer.
This system provides a level of security and trust for both parties involved, as payments are only released when the agreed-upon work is delivered, minimizing the risk of fraud or non-payment. 
It's a reliable way to ensure that influencers are compensated fairly for their work and that brands get the results they expect.