Last Updated: September 12th, 2023
Influencity was founded in 2014 and helps brands connect and collaborate with TikTok, Instagram, and YouTube influencers. Initially, Influencity only supported Twitter, but nowadays, it has expanded its database to include other social media platforms. Using this platform can be costly since there are no free plans available. 
According to various reports from real users, the authenticity of the influencers is questionable. Additionally, there are many influencers with zero posts or who haven't posted in years. Sifting through these influencers can be time-consuming and may lead to further inconveniences.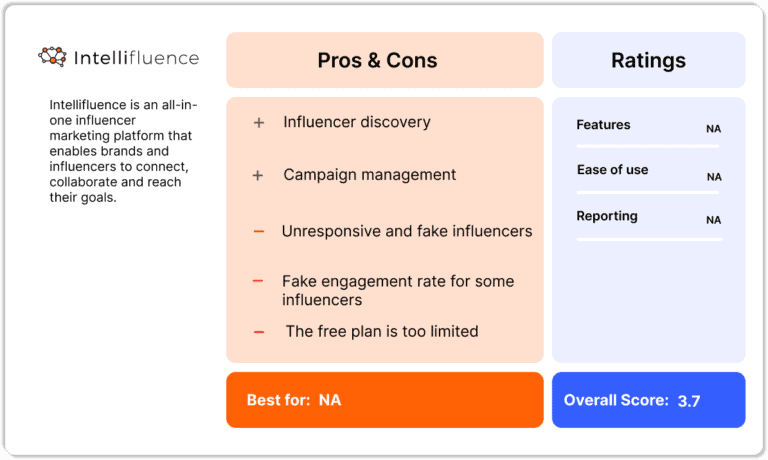 Intellifluence Review in 2023: Pricing & Features + Best Alternative



Whether you're an influencer, a brand, or a business familiar with influencer marketing, you've probably heard about Intellifluence. But even though it's a well-known name, the question still remains: is this platform truly worth it? 
This influencer marketing platform was founded in 2016 and promises to connect brands to a diverse range of influencers, from micro-influencers to celebrities. The platform supports different social media channels such as TikTok, Instagram, YouTube, and more. 
So, is Intellifluence a good investment? Probably not. Especially when there is a far better option: a free influencer marketing platform with advanced features and zero costs. The choice is yours.
Therefore, keep up with us as we explore Intellifluence, discover its features and pricing, and introduce you to the best alternative that can make all your problems go away. Let's get started.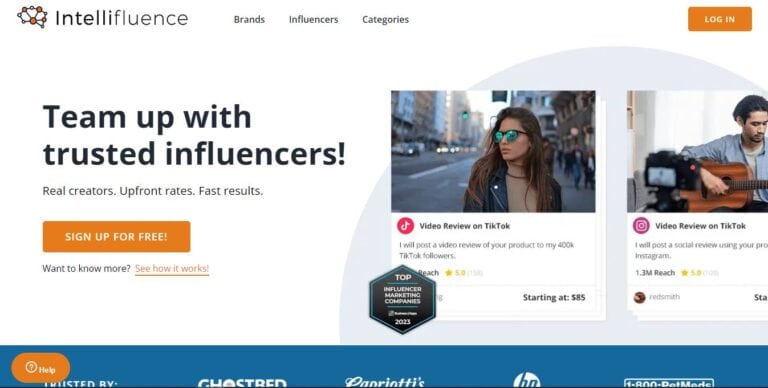 One of the touted features of Intellifluence is its extensive influencer database. While it's true that they have a large number of influencers in their network, the quality of these influencers can be questionable. 
Many of them may not have a genuine following or engagement with their audience. This can lead to ineffective partnerships and a waste of your marketing budget.
Intellifluence also claims to offer advanced search and filtering options to help you find the perfect influencers for your brand. While they do provide some basic search filters, they fall short in terms of the depth and precision needed to truly identify the right influencers. 

This influencer marketplace allows users to build and control their campaigns. But apparently, the reports are not really helpful as they don't provide brands with many details.

It also offers bulk messaging, which allows brands to message multiple influencers in a campaign at the same time. 
Intellifluence offers 4 pricing models:
The Free Plan: Intellifluence is not a free influencer marketing platform in nature, and its "free" plan is highly limited. While you can find influencers with this tool, it only allows for 1 active user, 1 campaign, and 5 influencer pitches. 

The Starter Plan: this plan is $99 per month and allows brands to check their campaign's health 2 times, have 10 active campaigns, and receive 500 influencer pitches. 

The Regular Plan: for $249 monthly, brands can purchase this plan. It allows for 10 active campaigns, yet only 100 influencers can apply to each of your campaigns in total. 

The Advanced Plan: This plan costs brands $599 per month which can be a huge amount for most. It grants access to all the features Intellifluence offers but at a high cost. 
With all that being said, one might wonder:' Isn't there a better solution with more advanced features and lower costs?'. Good news, my friend. There is, and we're about to introduce it to you. But first, let's see what real users say about Intellifluence.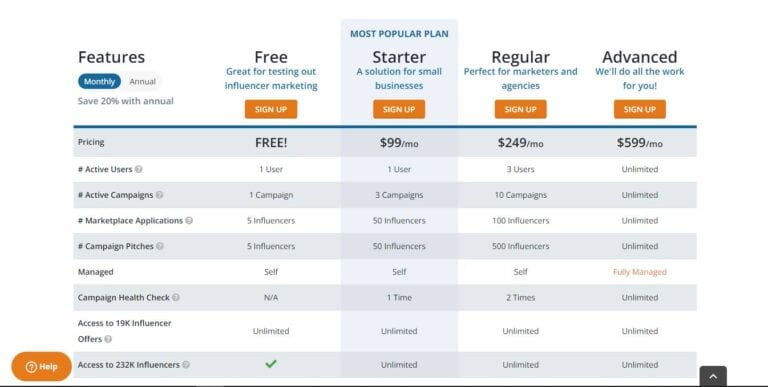 What Real Users Say About Intellifluence
According to our research, the number of fake and unresponsive influencers on Intellifluence is alarming. It has led to users losing their time, money, and resources. Take a look at this review left by an unhappy user on Trust Pilot:

As you can see, this user got ghosted by the influencer they wanted to work with, and lost their money without any results. The worst part is, that said influencer was approved by Intellifluence. So, how are brands to know which influencer they can trust?
This is a serious issue to which Intellifluence fails to address. Unfortunately, this user is not the only one. Here is another user sharing their experience with this platform on G2: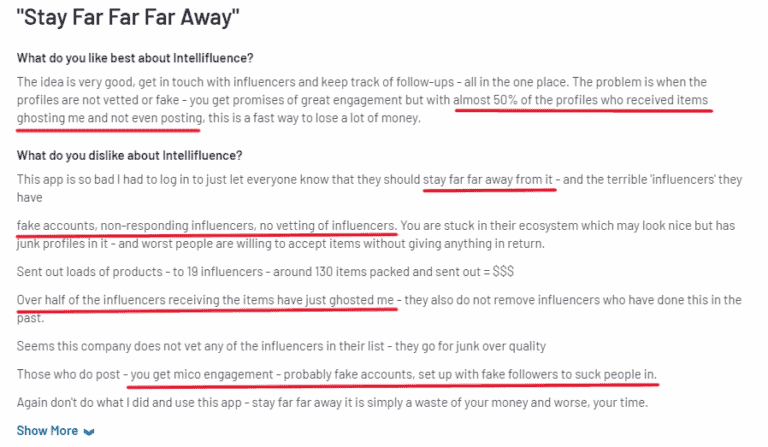 This user warns people to stay away from Intellifluence, and they have a good reason for it. Imagine sending your products to influencers in hopes of an effective partnership, but in return, you get ghosted. It's the worst thing that can happen to any business. And apparently, it happens a lot with Intellifluence.
The authenticity of the influencers is a crucial factor when it comes to influencer marketing, and platforms such as Intellifluence fail to adhere to it.
But wait! Don't give up on influencer marketing just yet! Allow us to introduce you to the best Intellifluence alternative: Ainfluencer. But how does this platform differ from Intellifluence? Well, see for yourself.
Ainfluncer:

Best Free Influencer Marketing Platform
Ainfluencer is a groundbreaking platform that is changing the game in the world of influencer marketing. This 100% free, DIY marketplace is simplifying influencer marketing for both brands and influencers. 
In a nutshell, if you're a brand that despises paying platform fees throughout your journey, Ainfluencer is for you. The same goes for influencers. The standout feature of Ainfluencer, among many others, is that it never charges you for unlimited platform usage, forever. 
In addition to that, there are no hidden fees waiting to ambush you down the road. 
What Sets Ainfluencer Apart
Ainfluencer is a comprehensive end-to-end marketplace powered by AI, designed to connect your products and services with thousands of influencers on Instagram and TikTok, indefinitely. Here are some key highlights that make Ainfluencer stand out:
Transparency: Ainfluencer fosters direct communication between brands and influencers, promoting transparency in every collaboration.

Simplicity (DIY): It offers a user-friendly, do-it-yourself approach, making it easy for both brands and influencers to navigate the platform.

Escrow System: Ainfluencer incorporates a robust escrow system to ensure secure and timely payments, providing peace of mind in an industry plagued by fraud.

Rating and Reviews: Gain insights into influencers through ratings and reviews, helping you make informed decisions about collaborations. This way, you can make sure that you're working with authentic, real, and responsive influencers.

Detailed Insights: Access comprehensive insights about influencers, their audience demographics, and performance metrics.
For Brands
Ainfluencer is a haven for brands of all sizes and from all corners of the world. Here's what it offers:
Influencers List: Access a growing list of over 500,000 influencers on TikTok and Instagram, ranging from those with 5,000 to 10 million followers. The list continues to expand, with 10,000 new influencers joining every month.

Campaigns: Create campaigns with ease, specifying your influencer requirements, and get matched with suitable influencers in your niche.

No Limits: Enjoy unlimited usage, with no restrictions on offers, campaign creation, or invitations to influencers.

Smart Filters: Narrow down your influencer search using various filters such as influencer size, platform, gender, and country.

Smart Invitations: Ainfluencer's AI engine sends intelligent invitations based on your campaign targeting.

End-to-End Communication: Utilize the built-in chat inbox for seamless communication with influencers. Review their past collaborations, profiles, and audience insights. The escrow system ensures secure transactions.
For Creators and Influencers
Ainfluencer empowers influencers of all sizes, from micro to mega, with a range of benefits:
Free-to-Use: It's entirely free, forever, for influencers.

End-to-End Negotiation: Make unlimited offers, negotiate directly with brands, close deals, deliver content, and receive ratings—all within the platform.

Privacy: No need to divulge your social account passwords or sensitive information.

Notifications: Stay updated on your negotiations with weekly digests of new deals.

AI-Driven Analytics: Categorize campaigns based on your preferences with AI-driven analytics.

Payouts: Receive regular and prompt payouts through the platform.

Inbox: Streamline your collaboration cycle with brands from start to finish using the platform's inbox.

Collaboration Choice: Decide on the types of collaborations you want to engage in with brands.
Ainfluencer is changing the landscape of influencer marketing, offering an unparalleled platform for both brands and influencers to thrive without the burden of fees and with the power of AI at their fingertips.
Intellifluence, while well-known, presents significant challenges, including questionable influencer quality and pricing that may not align with your budget. The authenticity of influencers is crucial, and Intellifluence seems to struggle in ensuring it.
But fear not! Ainfluencer is here to change everything for you. This revolutionary platform, entirely free and powered by AI, redefines influencer marketing. Whether you're a brand seeking transparent, cost-effective collaborations or an influencer aiming for unlimited platform usage without hidden fees, Ainfluencer has you covered.
When assessing an influencer marketing platform, there are several crucial factors to consider:
Influencer Quality:

Look for platforms that have a rigorous vetting process to ensure influencers have genuine followings and engagement with their audience.

Pricing:

Evaluate the platform's pricing structure and whether it aligns with your budget and objectives. Be aware of hidden fees.

Features:

Consider the features the platform offers, including influencer discovery, campaign management, analytics, and communication tools.

Transparency:

Assess the platform's transparency in terms of influencer metrics, past collaborations, and payment processes.

User Reviews:

Research user reviews and testimonials to gauge the experiences of brands and influencers who have used the platform.
According to several reviews left on legitimate websites, there are too many fake and unresponsive influencers on this platform. This can lead to a loss of money, resources, and most importantly, time.