Last Updated: November 12th, 2023
NeoReach dubs itself as an all-in-one influencer marketing software designed to simplify influencer campaigns. Their database and analytics promise effective campaign monitoring. However, its reliability and efficiency are in question, and they mainly target larger corporations, excluding small businesses. The influencer discovery tool offers niche influencers, but results may vary. Campaign management services, while functional, lack innovation. The reporting tool offers detailed data but can be complex and uses a unique ROI calculation method. Paid media amplification is part of their offerings, but ROI verification is essential. Their custom pricing model creates uncertainty, and users report limitations in their influencer database and data sourcing efficiency.
NeoReach Review in 2023: Pricing & Features + Best Alternative

NeoReach describes itself as all-in-one influencer marketing software designed to simplify and enhance your influencer marketing campaigns. 
According to their claims, with this influencer marketing platform's database, search, and filtering capabilities, and in-depth analytics, NeoReach empowers you to monitor the impact of your influencer campaigns effectively. But when considering a tool as crucial as this, trust is paramount.
In this article, we'll provide you with a comprehensive review of NeoReach and also introduce you to the best alternative platform available. So, you can make an informed decision for your influencer marketing strategy.
Let's get started!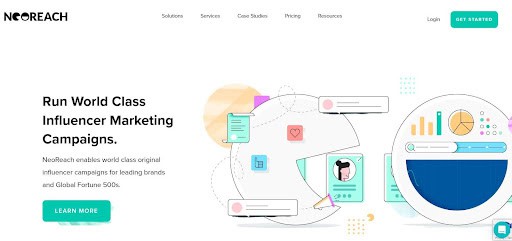 NeoReach claims to offer a full-service influencer marketing solution, but how true is it? while NeoReach presents an array of influencer marketing services, it's crucial to thoroughly assess the effectiveness and reliability of these services based on your specific needs and objectives.
 In this section, we'll give you a complete overview of NeoReach features. 
#1 Influencer Discovery
NeoReach offers an influencer discovery tool to help you find influencers within your niche who have a substantial following. NeoReach positions itself as having a top-tier influencer marketing team, emphasizing proactive communication and data-driven campaigns. 
While they claim to reverse engineer strategies based on data, competitor analysis, and audience demographics, the actual results may vary in terms of delivering on these promises.
Their promise to source top-performing niche creators may sound appealing, but the extent of their industry connections and relationship depth with influencers should be taken with caution. The effectiveness of their influencer selection process should be assessed independently.
#2 Campaign Management
NeoReach also offers campaign management services, including influencer introduction, contract negotiation, and logistics. It's worth evaluating the efficiency and reliability of these services in practice.
The platform serves as a communication hub, but it doesn't streamline influencer relationship management as effectively as claimed. The campaign management features are functional but need more innovation.
#3 Reporting
NeoReach's reporting tool allows you to monitor the performance of your influencer marketing efforts. When it comes to reporting, NeoReach does provide detailed data, but it's often buried under layers of complexity. Their unique ROI calculation method, Influencer Media Value (IMV), is far from being universally accepted and may not be relevant for most businesses.
#4 Paid Media Amplification
They mention paid media amplification as one of their offerings, claiming expertise in defining ad strategies and budgets for ROI across various ad channels. However, verifying the actual return on investment should be a priority.
NeoReach's pricing model can be quite frustrating. Instead of offering clear and standardized subscription plans like Small, Medium, and Large, they opt for custom pricing based on various factors, making it impossible to provide specific cost details. This approach creates an air of uncertainty and complexity around their pricing structure.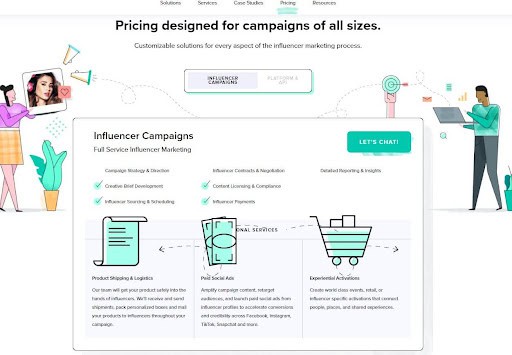 Moreover, NeoReach primarily targets large corporations with extensive marketing departments, essentially excluding small and medium-sized businesses from utilizing their platform. This restricts access for a significant portion of potential users, making it far from an inclusive option.
It's reasonable to disclose the experiences of its clients. Ready? Let's go!
NeoReach Review: What Real Clients Say?
NeoReach falls short in several key areas, making it a less than ideal choice for influencer marketing. Here are some significant cons that may convince potential users that it's not worth the investment:
According to its users' experiences, NeoReach isn't the best fit for smaller businesses like ours. It's mainly geared towards big brands, which means some of its resources just aren't useful for us. 
Here's a comment in this regard:

One of the major drawbacks of NeoReach is its limited influencer database. While it claims to encompass both micro and macro influencers, many users report that it predominantly features larger, macro influencers. This discrepancy can severely limit your options when seeking out relevant influencers for your campaigns.
In addition, the tool's promise of pulling data from Instagram usernames doesn't align with the reality experienced by users. Numerous influencers had to be manually uploaded, which not only consumes valuable time but also fails to deliver the promised convenience. This inconsistency in results and statistics can be frustrating and unreliable for users.
Now, read the following comment from one of their real clients:

Can you trust your money and time with this tool? If not, check out an ideal NeoReach alternative!
Ainfluencer: Best NeoReach Alternative

Ainfluencer is a game-changer in the world of influencer marketing, and the best part? It won't cost you a dime as platform fees. Here's why you should give it a try:
Ainfluencer Features For Brands
No Limits, No Charges:

With

Ainfluencer

, brands enjoy the freedom to connect with influencers, create campaigns, and make offers without any restrictions or platform fees.

Effortless Discovery:

Our extensive database of TikTok and Instagram influencers makes it a breeze for brands to find the perfect match.

Simple Campaign Creation:

Creating campaigns is a snap, with options to specify your influencer preferences and brand image. Ainfluencer connects you with the ideal influencers effortlessly.

Diverse Collaboration:

Choose from four collaboration options to create engaging videos and captivating imagery with influencers.

Smart Tools:

Intelligent tools help you identify the right influencers quickly.

Ratings and Reviews:

Check ratings and reviews to gauge influencers' performance and reputation.

Past Collaborations:

Gain insights into an influencer's past work to ensure alignment with your brand's values and goals.

Effortless Communication:

Stay in touch with influencers easily through our chat features, from negotiating offers to handling payments.

Learn from Influencers:

Access valuable insights about influencers' previous collaborations and their follower demographics.

Secure Payments:

We ensure payments remain secure until influencers fulfill their obligations.

Issue Resolution:

In case of disputes, we provide a dedicated space for conflict resolution.
Ainfluencer Features For Creators and Influencers
Completely Free:

Enjoy

Ainfluencer

's services at no cost and access numerous paying campaigns.

End-to-End Control:

Initiate offers, negotiate deals, and receive ratings—all without sharing your social media credentials.

Stay Informed:

We keep you updated about new offers and opportunities to ensure you never miss potential collaborations.

Smart Insights:

Receive valuable insights to choose campaigns that align with your audience and style.

Prompt Payments:

We prioritize timely payments to ensure you're treated fairly and professionally.

Efficient Inbox:

Keep all your messages and communication organized in one place for easy influencer management.

Versatile Collaboration:

Choose your preferred collaboration methods, whether it's content creation, sharing, promoting products, or a mix of these.
Why wait? Sign up for FREE on Ainfluencer today and unlock endless possibilities for both brands and influencers!
In conclusion, while NeoReach may offer a range of features and pricing options, the feedback from clients suggests it may not be the best choice for influencer marketing. The limitations in influencer discovery, inaccurate search results, and complex pricing structures can hinder the effectiveness of campaigns. It's essential to consider these drawbacks when evaluating NeoReach as a solution.
Instead, we recommend exploring Ainfluencer as a superior alternative. Ainfluencer's user-friendly platform and comprehensive influencer database make it a more practical and efficient choice for both brands and influencers.
However, it's essential to consider the potential drawbacks associated with Captiv8. Some users have reported issues with its complex interface, glitches, and difficulties in connecting with micro-influencers. Additionally, the lack of transparency in pricing may deter smaller businesses from utilizing the platform.
NeoReach operates in various ways. Firstly, companies can collaborate with their managed service teams to launch large-scale influencer marketing campaigns smoothly. Secondly, individuals and teams have the option to use their self-service platform to manage your influencer relationships and execute user-generated content campaigns independently. 
Lastly, enterprise applications can integrate NeoReach through their API solution, enabling them to power cross-channel social, consumer, and brand insights.
To use NeoReach, you'll need to purchase an annual subscription. However, their pricing model isn't conventional, as it doesn't follow standard small, medium, or large subscription plans. Instead, every client receives custom pricing based on factors such as the number of users and specific requirements.
NeoReach may not be suitable for small and medium-sized businesses due to its pricing structure. However, this doesn't imply that NeoReach is unsuccessful. Instead, they have chosen to focus on serving a select group of businesses and have successfully met the needs of this niche market.