Last Updated: November 15th, 2023
Octoly is now available with a new name, Skeeprs,  and is an influencer marketing platform that connects brands with influencers and helps them grow together.  The platform has a community of over 50,000 influencers and 200,000 collaborations per year and claims to be one of the top influencer marketing tools. However, like many other platforms, it comes with some pros and cons.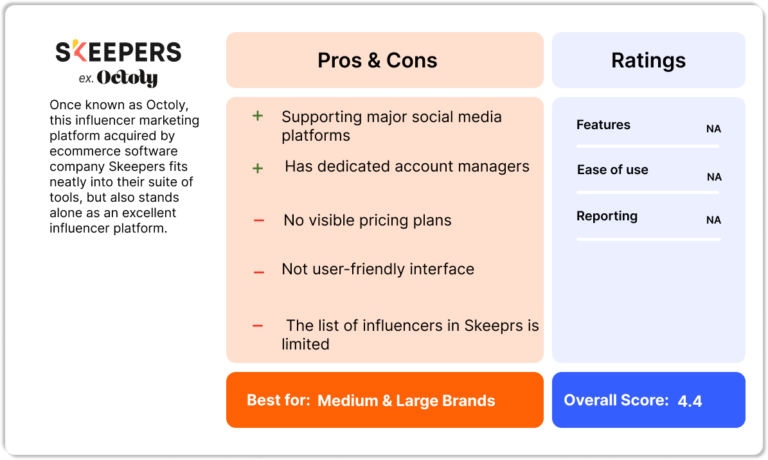 Octoly Review in 2023: Pricing & Features + Best Alternative



Previously known as Octoly, Skeeprs is now an influencer marketing platform that connects brands and influencers and helps them grow together. Brands can increase their visibility and brand awareness through partnering with micro to mega influencers. On the other hand, these collaborations are an effective opportunity for influencers to earn money from their talent. 
Octoly claims to be a top influencer marketing tool with a community of over 50,000 influencers and 200,000 collaborations per year, gaining a new name and the opportunity to invest. The first product this company launched was 'Verified Reviews' in 2012, allowing brands to engage with their customers, collect reviews, and use them for marketing purposes. 
Till 2017, this platform was focused on fashion, beauty, and wellness influencers, but now you can find them across all niches. That's why we've decided to write this complete review
If you don't have much time to manage your collaborations and campaigns as a brand, don't worry! Octoly team of influencer marketing experts provides service and insights to help you optimize and analyze your campaigns.
1. Influencer Marketing
Anyone who wants to join Octoly as an influencer needs to get verified on the platform first by having some requirements. You need to have at least 1,000 followers ( 75% percent of them should be real accounts) and a 2% engagement rate on your last 15 posts. Then, their team will manually check your page and let you join the platform if everything is okay.
Brands can search and view your profile and contact you for collaborations inside the app. There are now hundreds of Instagram, YouTube, and TikTok creators on Octoly and you can join them.
2. Campaign Management
If you are a brand that wants to create influencer-based campaigns, Octoly provides campaign management features such as messaging, product shipping, reporting, etc. Run all your campaigns in one single tool, from targeting to briefing, messaging, product shipping and reporting. You don't need to discover influencers in the first place; you can create your campaigns and define the kind of influencer or consumer you want to target. The Octoly team will suggest creators that fit your requirements.
3. Dedicated Account Managers
If you don't have much time to manage your collaborations and campaigns, Octoly has a solution, for you. Their team of influencer marketing experts provides service and insights to help you optimize and analyze your campaigns.
Unfortunately, Skeeprs doesn't provide any packages or visible pricing plans on their website. You need to request a demo on their website, talk with their team, and ask for the package that suits your needs. 
What Real Users Say About Octoly
To find out if Skeeper is working properly or not, it's better to check customers' reviews. There are different reviewing websites we can check such as G2, Trustpilot, etc. Let's see what people say online about this service:
According to customer reviews, Octoly's interface is not user-friendly and it's hard to work with. Also, there needs to be a help or FAQ page on their website or instructions on how to use this service.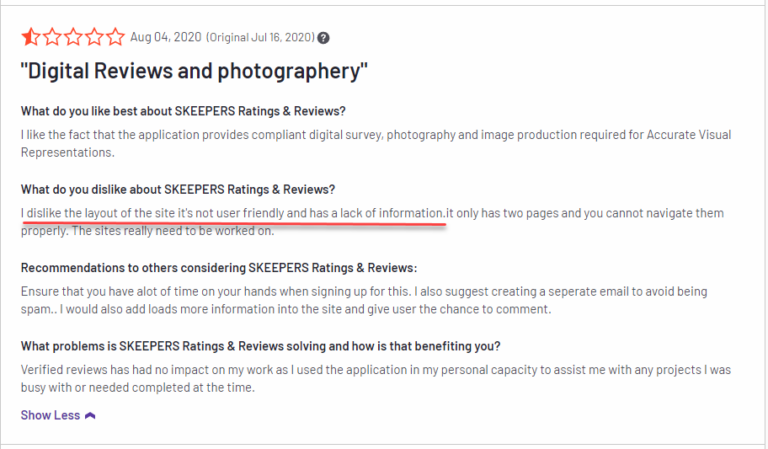 In another review, we can see a small business owner is also warning about non-friendly and is full of glitches. Also, their support team is not available most of the time and their tips are not helpful.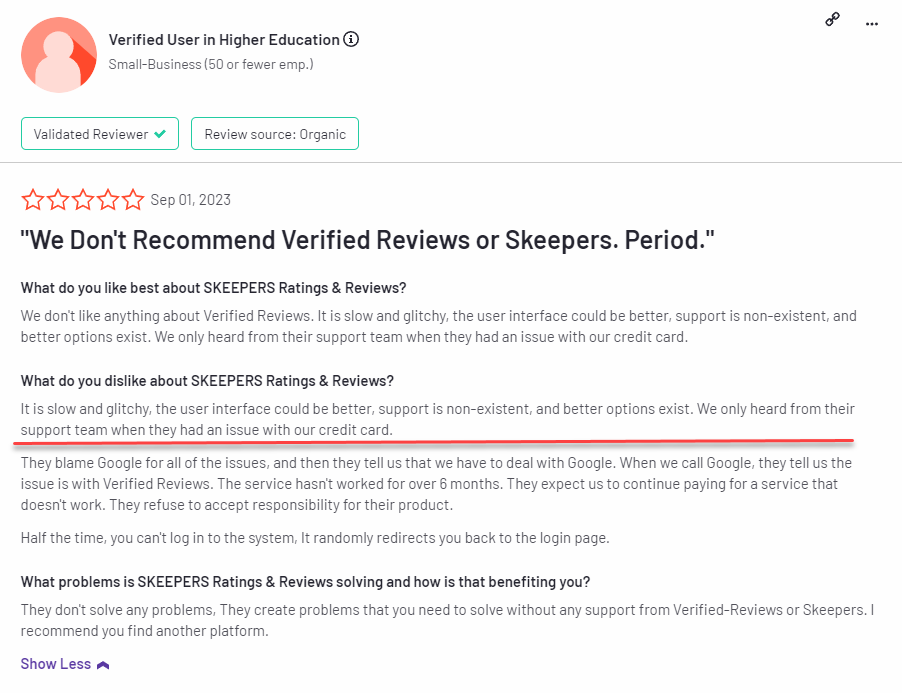 Another problem with Skeepers is that the list of influencers in it is very limited and there are still thousands of creators in each niche that aren't in the app.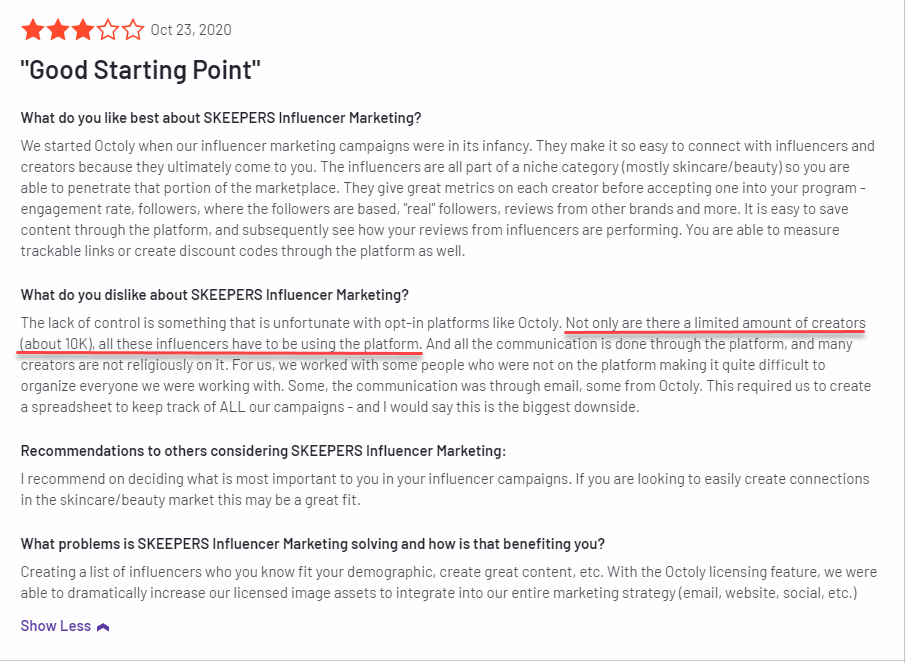 Besides these primary problems, there are still issues with traffic tools, limited insights, and details on influencers' profiles.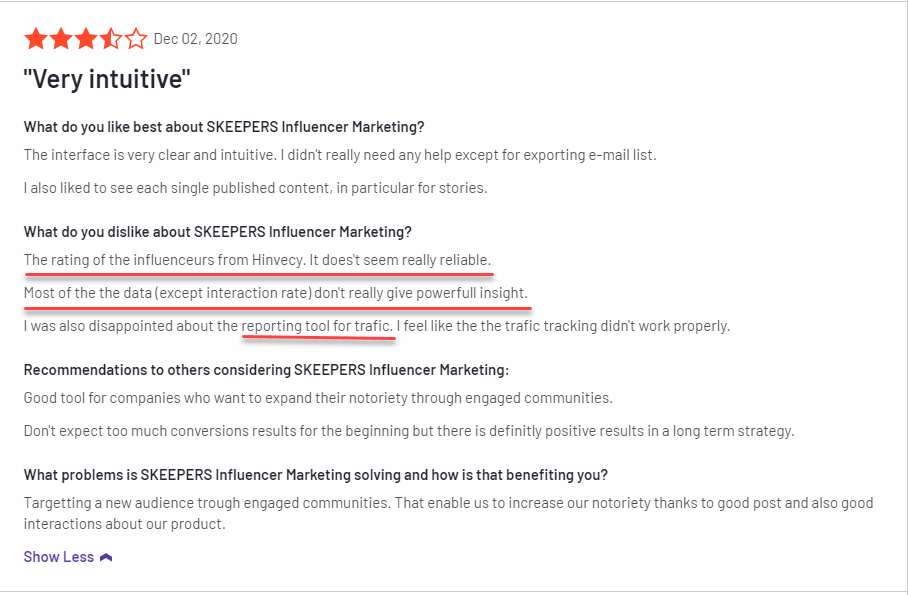 Ainfluncer:

Best Free Influencer Marketing Platform
Even though Octoly helps you find active influencers with real followers, it's only supporting Instagram and there are only 50,000 creators in it. So, it's not easy to find influencers in your niche to work with. That's why we want to introduce you to a better alternative, Ainfluencer. 
Ainfluencer is a full-fledged end-to-end marketplace powered by AI to match your product and service with thousands of influencers on Instagram and TikTok forever. No matter if you join as a brand or influencer, you can close deals with $0 fees. 
As a brand, you can manage unlimited campaigns, get proposals from an unlimited number of influencers for as long as your campaign is still live in the marketplace, and get all the values and features of the platform literally for $0 fees. Let's see what features it offers. 
Ainfluencer Features
Now, let's take a look at some of its features.
1. Influencers list
As we are writing this article, Ainfluencer has a list of over 500,000 influencers on TikTok and Instagram. Influencers with followers ranging from 5000 to 10 million people.
2. Campaigns
Brands can create a campaign in a few simple steps and launch their presence and quest for influencers in the Ainfluencer marketplace. The type of influencers they are looking for and all of their criteria are set in the campaign so they get matched with proper influencers in their niche.
3. Influencers Invites
Brands can send invitations even to all influencers for free. You have no limit in terms of discovering, and evaluating the influencers in your niche and sending invites. You can search for influencers using a great set of filters such as the size of influencers, their platform, gender, country, and more than 20 other criteria. 
4. Chat 
Brands and influencers use the built-in chat inbox within the marketplace to receive offers, negotiate them, make payments, and discuss any matters related to their collaborations. This inbox is well-designed, allowing you to streamline the entire process, from receiving offers and evaluating influencers' past work to making payments and leaving reviews.
5. Influencers Past
As a brand, you can view influencers' past collaborations, the brands they've worked with, reviews they've received, and insights about their social media audience. You can access this information either on their profile pages or directly within the chat inbox.
So if you are ready to access more than 500,000 creators and find your best influencer match, try Ainfluencer for free now!
Finding creators and influencers to work with is not difficult anymore. Octoly is one of the influencer marketing tools that connects brands and influencers across different niches. However, there are only 50k creators on this platform and there are some bugs and glitches while using this tool. That's why we introduced you to Ainfluencer where you have access to over 500,000 creators across Instagram and TikTok. 
It's not hard for creators to join Octoly as an influencer. The only requirements to join as a YouTube or TikTok influencer are having at least 1000 followers or subscribers and an average of 1000 video views per video in 30 days. However, if you are an Instagram influencer, you need to have at least 10k followers.
In Octoly's term of service, it's mentioned that you need to be over 16 if you are in Europe and above 13 if you are in the U.S. to use this service.
This platform is designed to help content creators across different social media channels and brands find each other and run collaborations. There are more than 50k influencers across different niches that you can find and work with based on budget and business goals.