Last Updated: November 13th, 2023
Promoty is an influencer management tool that helps brands and agencies collaborate with influencers to boost brand awareness. With features such as influencer discovery, campaign management, and analytics, Promoty helps brands reach their marketing goal. However, there are downsides that users might not be aware of when choosing this software. 
For example, Promoty doesn't offer a free plan, and smaller brands might find it to be too expensive. Additionally, based on user reviews, this platform has a learning curve and is less intuitive than other similar tools. If you're a brand and are looking for an all-in-one platform, Promoty may not align with your requirements, as its feature set is somewhat limited.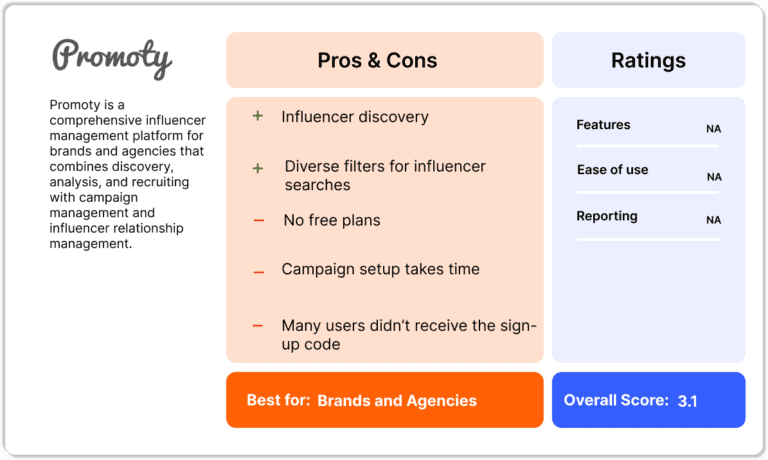 Promoty Review in 2023: Pricing & Features + Best Alternative



The world of influencer marketing is vast and diverse, with hundreds of tools claiming to be the best in the market. One name you might have heard of is Promoty. It's an influencer management tool designed for brands and agencies to manage their influencer partnerships. But is this platform legit? Well, let's see.
Promoty was founded in 2017 to help brands and agencies enhance their influencer marketing strategies and establish straightforward partnerships with their target influencers. But, whether this tool fulfills its promise or not remains controversial.
In this comprehensive Promoty review, we'll delve into different aspects of this platform, go over its features and pricing, and hear about real users' experiences with it. In the end, we'll introduce you to the best alternative that will blow your mind!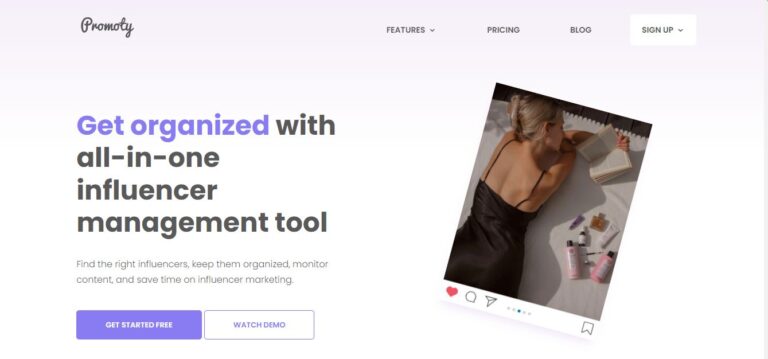 One of the main aspects you need to consider when choosing the right influencer marketing platform for your business is its features. The perfect influencer marketing tool should be reliable, have an extensive database, and meet all your needs so that you don't have to turn to another third-party app.
So, does Promoty include all these features? The short answer is no; Promoty features are too limited, and if you want an all-in-one solution, it's not a great option.
Let's take a closer look:
#1 Influencer Discovery
Promoty claims to have a database of over 250 million influencers from TikTok and Instagram. Brands can search through them by using filters such as age, follower count, location, etc to find influencers that match their goals.
#2 Influencer Management
As a CRM tool, Promoty offers an influencer management service. By using it, brands and agencies can create boards, add labels and notes, attach contracts and files, and chat with influencers through an in-app chat box or email. 
In addition to that, Promoty provides a campaign management feature that allows brands to take control of their campaigns and keep track of their progress.
#3 Analytics
Brands can access reports on influencers about their engagement rate, audience demographics, follower credibility, etc. Brands can also track their ROI so that they know whether their efforts are paying off.
As you can see, the features of this platform are relatively limited for brands, and there are far better options with more features and less costs. But we'll get to that later!
For now, let's see how much Promoty costs for brands and influencers.
Just like most influencer marketing platforms, Promoty is free for influencers to sign up and apply for campaigns. But that's not the case for brands. In fact, their pricing can be expensive for smaller businesses, and frankly, not worth it.  Even though they offer a demo, there are no free plans for brands and agencies.
Promoty offers 3 plans for brands and agencies:
Promoty Premium –

for $95 per month, brands can access the following features: 300 credits for influencer discovery and analytics, add 100 influencers in CRM, and track 1 hashtag.
Promoty Professional –

brands can access the Premium features in addition to downloading influencer reports in PDF for $145 per month. The credit will also rise to 450.

Promoty Expert –

for $245 per month, Promoty offers all the above features in addition to the ability to track Instagram stories. The credit will also increase to 1350 for influencer discovery and analytics.
What Real Users Say About Promoty
If you have any doubts about whether to use Promoty for your influencer marketing campaigns, here are some reviews left by real users who have used Promoty themselves. 

As you can see, this unsatisfied user states that they had a hard time trying to figure out how this platform works. This issue arises from poor UX design and the absence of comprehensive guides.
Here's another review left on the Play Store website:
According to this review, Promoty asks users to mention a code in their stories in order to give them access to the app. Aside from being troublesome, it can lead to potential viruses and threats.
Considering that Promoty started in 2017, there aren't many reviews about this platform on reliable websites, which can be a huge red flag. So, make sure to consider these details when choosing this tool.
Now, as promised, we're gonna introduce you to the best Promoty alternative with various features and zero costs!
Ainfluncer:

Best Free Influencer Marketing Platform
Are you a brand looking to conquer the realm of influencer marketing without the burden of platform fees? Or perhaps you're an influencer seeking to connect with brands without the added costs? 
Look no further, because Ainfluencer is your one-stop, fee-free, Do-it-Yourself marketplace, revolutionizing the world of influencer marketing for both brands and influencers alike.  
The Perks of Using Ainfluencer
Zero Platform Fees Forever:

At Ainfluencer, we promise you one thing: You'll never be charged for unlimited usage of our platform. No catches, no hidden fees, no strings attached. It's yours, forever.

No Charges for Brands:

Close deals with influencers and pay absolutely $0 in fees. This is a game-changer for brands and businesses of all sizes.

AI-Powered Matching:

Our full-fledged marketplace employs cutting-edge AI technology to seamlessly match your products and services with thousands of influencers on Instagram and TikTok, ensuring the perfect collaboration.

Transparency and Direct Communication:

Experience direct and transparent communication with influencers. No intermediaries, just pure connection and collaboration.

Simplicity (DIY):

Our platform is designed for easy and intuitive use, allowing you to manage campaigns and connect with influencers effortlessly.

Escrow System:

Trust and security are paramount. Ainfluencer employs an escrow system to ensure a fair and secure process for all parties involved.

Rating and Reviews:

Gain insights into an influencer's performance through ratings and reviews, helping you make informed decisions.

Detailed Influencer Insights:

Access comprehensive data and insights on influencers, making it easier to find the perfect match for your brand.

Unlimited Potential:

There are no limits for influencers or businesses on Ainfluencer. Manage unlimited campaigns, receive proposals from an unlimited number of influencers, and enjoy all the features of our platform at absolutely no cost.

Breaking the Paywall Barrier:

Unlike other platforms in the market, we don't surprise you with subscription fees or force payments to unlock essential features. Ainfluencer empowers you to explore influencer marketing without constraints.
Ready to revolutionize your influencer marketing game? Join Ainfluencer today and seize the limitless opportunities that await. It's your platform, forever free.
In the ever-changing world of influencer marketing, Promoty offers a CRM tool for brands and agencies to find, manage, and collaborate with influencers. Now that you're well-acquainted with this platform, you can make a more informed decision about whether it's the right choice for your business.
But, if you want a cost-free, all-in-one solution, we recommend using Ainfluencer. With comprehensive features and an extensive database of influencers, it's guaranteed to meet all your needs.
An influencer marketing software allows brands and influencers to connect and collaborate. Using this software, brands can find influencers in their niche, contact them, form partnerships, and manage their campaigns.
Influencers can also use influencer marketing platforms to create content that resonates with their audience and make money doing what they love.
To find influencers to collaborate with for free, brands can use a free influencer marketing platform. One of the best free tools is Ainfluencer. Using this platform, brands and agencies can find their target influencers by searching through a vast database of micro and macro influencers. 
Users can apply various filters offered by Ainfluencer to find the perfect influencers in their niche in no time, without spending a penny.