Last Updated: November 12th, 2023
TrendHERO is an influencer marketing platform founded in 2016. It allows brands and Instagram influencers to connect and form partnerships. With that being said, there are some disadvantages to this platform that businesses need to know about before using it. For instance, the only way to reach out to influencers is through email, and there are some concerns about the accuracy of reports and search results. Also, even though they offer a 'free' plan, it's so limited that users will need to purchase more expensive plans. The reports also take too long to generate.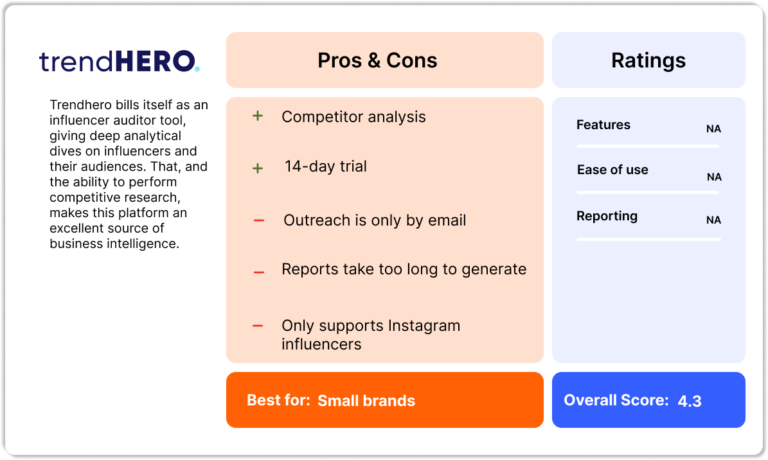 TrendHERO Review: Features & Pricing + Best Alternative in 2023
As marketing strategies grow and competition intensifies, more and more businesses turn to influencer marketing to increase their brand awareness and promote their brand. One of these influencer marketing tools is TrendHERO.
Founded in 2016, TrendHERO became a well-known platform for Instagram influencer marketing and campaign management. This tool offers features such as influencer discovery, audience analytics, competitor analysis, etc. However, there are some disadvantages that brands need to know of before using this platform.
That's why we've decided to write this TrendHERO review, providing you with the insights you need to maximize your influencer marketing efforts. As a bonus, we'll also introduce you to the best TrendHERO alternative which, unlike other platforms, is completely free! 
Without further ado, let's start.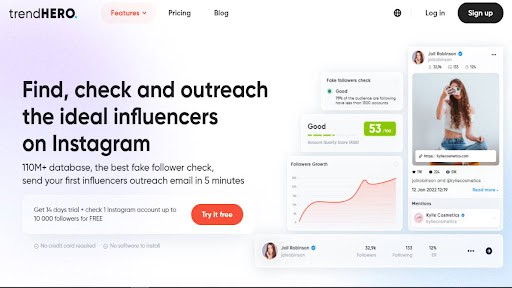 This tool offers a set of features for brands and influencers to use. But, keep in mind that using these features won't be cheap. We'll take a closer look at TrendHERO's pricing later. For now, let's go over it's features:
Influencer Discovery:

TrendHERO offers an influencer discovery feature that enables brands and businesses to locate influencers in their niche. However, despite providing multiple filtering options, users often face challenges in finding their target influencers. We'll examine this issue in more detail later.

Analytics Reports:

TrendHERO offers users reports on various metrics, including engagement rate, competitor analysis, and followers' demographics. 
However, the accuracy of these reports is in question, as many users have reported receiving inaccurate information. Additionally, TrendHERO has a long report generation time, which can take several hours. 
This delay prevents users from accessing their reports quickly and conveniently, representing a significant disadvantage.
Outreach:

Businesses can initiate contact with influencers through email and engage in negotiations to solidify collaboration. While this approach can yield favorable results, it's important to note that not every influencer regularly checks their email, potentially leading to your outreach efforts remaining unnoticed.
Track Instagram Followers: influencers can use this feature to keep track of their follower growth, determine the best time to post on Instagram, and assess the effectiveness of their advertisements, among other things.
TrendHERO offers 4 plans: Free, Lite, Pro, and Advanced. Users can also get a 14-day trial. However, TrendHERO is not a free influencer marketing platform, and users have to buy expensive plans to use the features. Let's take a closer look: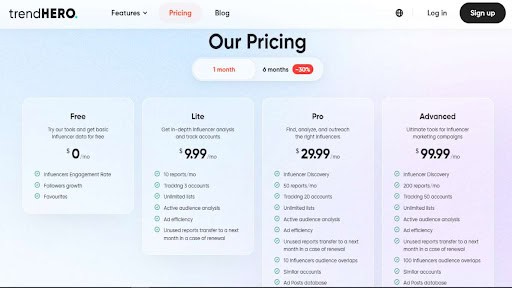 Free Plan:

This plan is extremely limited and users can only use it to access influencers' engagement rate and follower growth. Keep in mind that you won't be able to search for influencers with this plan.

Lite Plan:

for $9.99 per month, users can purchase this plan and get 10 monthly reports, activate audience analysis, and track 3 accounts. You still won't be able to initiate influencer discovery.

Pro Plan:

with this plan, you can start influencer discovery, get 50 monthly reports, reach out to influencers, and access similar accounts. This plan costs $29.99 per month.

Advanced Plan:

by paying $99.99 per month, users can access all the TrendHERO's features. But it won't be a great deal, especially for smaller businesses, as there are superior alternatives offering more features at no cost.
Real User's Reviews About TrendHERO
Here are what real users say about TrendHERO:

As you can see, this user also mentions the tool's slow performance and expresses dissatisfaction with the inaccuracy of their search results. They also highlight another drawback of TrendHERO, which is its exclusive focus on Instagram influencers.

This user also mentions the long time it takes for the reports to be generated, and there will be a huge gap in your progress if you want to access the reports. They also state that their software is clunky.

This user is so unsatisfied with this platform that led them to leave a one-star on Trust Pilot. These kinds of reviews are not so uncommon. Let's move on to another one:

This user is also unhappy with the long report generation time, and states that they had to wait for up to 6 hours to access the reports! 
So what's the solution? Is there a better alternative to TrendHERO with all the amazing features, zero costs, and more? Well, there is! Let us introduce you to the best influencer marketing platform in the market!
Ainfluencer: Best TrendHERO Alternative
Are you frustrated with the mounting platform fees that eat into your influencer marketing budget? Then, allow us to introduce you to Ainfluencer, a revolutionary marketplace that's transforming influencer marketing for both brands and influencers alike.
Ainfluencer is the marketplace that redefines the game. It's 100% free for brands and influencers, providing transparent access to its platform without any hidden fees. In a world where every penny counts, Ainfluencer offers lifelong, unrestricted access, ensuring you never encounter surprise charges.
Beyond being fee-free, Ainfluencer boasts the power of artificial intelligence, seamlessly connecting your products and services with thousands of Instagram and TikTok influencers. With sophisticated AI algorithms, you can match your brand with the ideal influencers who resonate with your niche and target audience.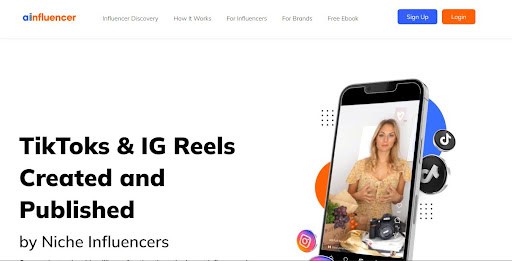 One of the standout features of Ainfluencer is its emphasis on direct communication. It simplifies the process of setting up campaigns through a DIY approach. You can reach out to over 500,000 influencers on TikTok and Instagram, sit back, and watch offers and proposals roll in. It's influencer marketing made easy.
Unlike other platforms in the market that often have subscription fees and essential feature unlocks, Ainfluencer sets itself apart. It imposes no limits and no fees. 
Brands can manage unlimited campaigns, receive proposals from an unlimited number of influencers, and access all the platform's features without spending a dime. It's a stark contrast to industry norms and a breath of fresh air in influencer marketing.
Don't miss out on fee-free influencer marketing opportunities. Join Ainfluencer today and supercharge your brand's success!
TrendHERO is a well-known platform for Instagram influencer marketing and campaign management, offering various features such as influencer discovery, analytics reports, and outreach capabilities. However, it has been met with mixed reviews due to challenges with influencer discovery, questionable report accuracy, and slow report generation times.
Furthermore, TrendHERO's pricing structure includes limited free options and progressively expensive plans for more access, which may not be the most cost-effective choice for all businesses. Real user reviews highlight these issues, and the platform's exclusive focus on Instagram influencers is a limitation.
As an alternative, Ainfluencer emerges as a promising solution, addressing the concerns associated with TrendHERO. It offers a fee-free approach for both brands and influencers, with transparent access to its platform.
Don't wait! Join Ainfluencer now to revolutionize your influencer marketing strategy and boost your brand's success.
TrendHERO is situated in Grand Cayman, specifically within Midland, Cayman Islands.
TrendHERO's AI employs more than 1,000 data points to assess and contrast profiles, subsequently providing you with profiles that share similarities, accompanied by a quantified measure of their likeness.