Last Updated: September 12th, 2023
Upfluence is an influencer marketing and campaign management tool that helps you to find influencers across major platforms including Instagram, Twitter, TikTok, Pinterest, YouTube, Twitch, and WordPress. With this tool, you can find your partner for collaborations in a couple of minutes. However, it comes with some downsides such as limited access to the free tool (you can only view influencers' profiles) and high pricing.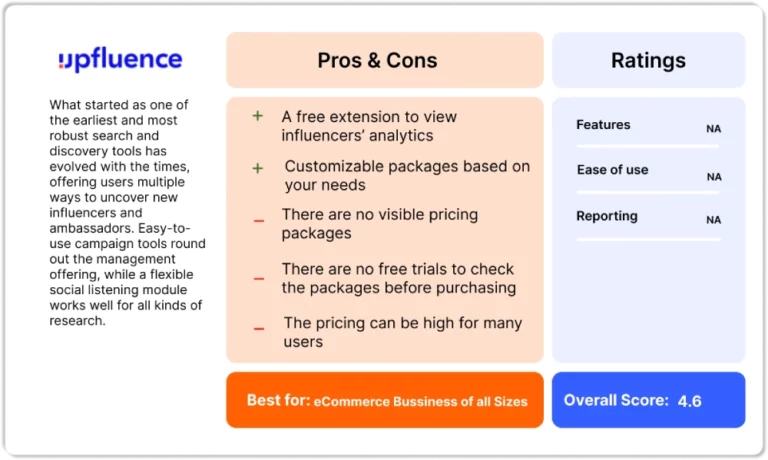 Upfluence Review in 2023: Pricing & Features + Best Alternative



According to their website, Upfluence is the all-in-one affiliate and influencer marketing platform using an AI/ ChatGPT for e-commerce and direct-to-consumer brands. This platform started its work in 2013 in Los Angeles and today has more than 100 employees. 
With more than 18+ nationalities and experts from different fields, this influencer marketing platform claims to make influencer marketing better for everyone. Their team includes different personalities, backgrounds, skill sets, and talents allowing them to focus on every aspect of influencer marketing.
The main focus of this platform is helping brands and influencers find each other collaborations. In this review, we're going to discuss its features, pricing, and what people say about it, then introduce you to the best alternative in the market. 
1. Influencer Marketplace
This service allows you to find creators to collaborate with using powerful search filters such as platform, niche, gender, location, audience, etc. The automated budget management tool helps you set how much money you have and find the best match based on it. 
If you work with multiple creators at once, you can manage them all in a single dashboard and keep track of each influencer. Keep track of how many creators have been invited to collaborate, which ones replied yes, and where your price negotiations stand.
To reach out to influencers, you can use the Upfluence email and contract templates to save time while looking professional. Also after the post-launch, measure your influencer marketing ROI automatically with links and sales tracking. By post, by the creator, by the campaign, and overall, measure everything to make data-driven decisions.
2. Campaign Management
After finding the influencers, you can use the campaign management tools to run social media campaigns. With this service, you can organize influencers into campaigns, scale your initial outreach, negotiate compensation, automate product seeding, track influencer content, and keep a ledger of influencer payments.
You can turn on the email notifications to stay updated with your campaign details. 
3. Workflow And Outreach With ChatGPT
Automate everything you need for writing your social media captions, posting ideas, inviting emails and messages, etc with the help of ChatGPT. Effortlessly handle budget management, track ROI, streamline workflows, and establish seamless connections with content creators by using ChatGPT.
One of the main cons of Upfluence is that it doesn't provide any visible prices or trials. To know about the cost of their plans, you need to set a time and talk with one of their team members. However, we know they offer three different plans: 
Growth:

Manage influencer campaigns – 1 Seat: Influencer Search

Scale:

Boost your sales with affiliates – 5 Seats: Influencer Matching

Enterprise:

Unlock brand ambassadors' full potential – 25 Seats: Tech Dedicated Set up
Other than these plans, Upfluence offers a free Chrome extension that allows you to access influencer profile analytics & contact them directly from your browser with the Upfluence plugin. This extension is free and you can install it from their website. 
What Real Users Say About Upfluence
The best way to find how Upfluence is performing is by checking and reading customers' reviews. Here is a summary of what they say:
In a recent review on G2, we can see that Chris, a small business owner, says Upfluence hasn't done anything! Even though he has been using this service for over three months, the tool didn't help him find the right influencer for collaboration!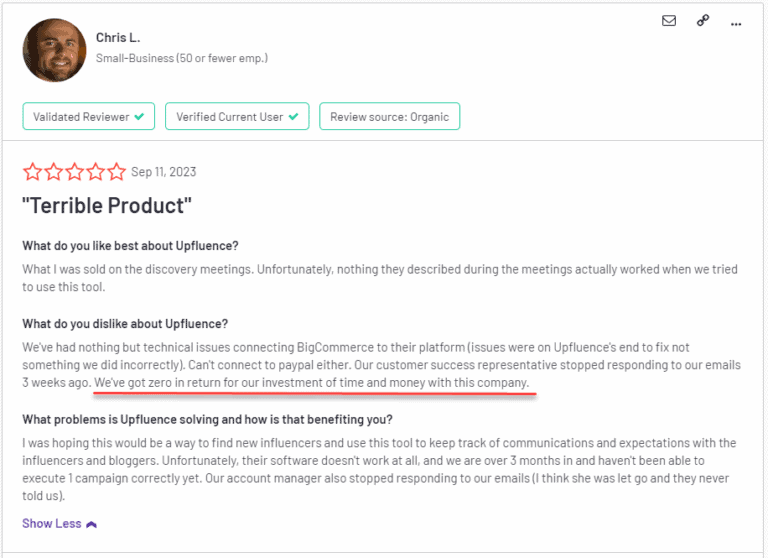 David also says this tool hasn't helped his small business, But that's only part of it! He says that the Upfluence team has tricked him into signing a yearly contract without telling him!
Checking the reviews, we can see people are not happy with the price of plans and say it's not worth the money!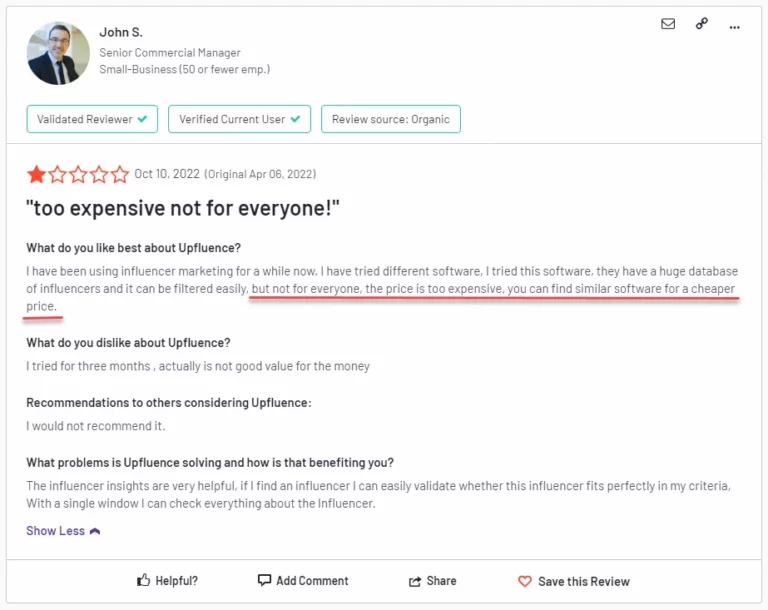 Ainfluncer:

Best Free Influencer Marketing Platform
As we see in the previous sections, Upfluence not only doesn't provide what it promises to help brands run collaborations but also costs a lot and it's not the best choice. That's why we want to introduce you to a better tool that is perfect for businesses of all sizes. 
Ainfluencer is a 100% free end-to-end influencer marketing platform focused on Instagram and TikTok. It has a marketplace where brands can discover influencers based on various criteria like niche, country, gender, audience type, and more, to invite them for collaborations. With Ainfluencer, setting up your campaign is easy, and you get exposed to over 500,000 influencers on TikTok and Instagram in a few simple steps. 
Ainfluencer does not limit the number of influencers or campaigns for both businesses and influencers sides. As a brand, you can manage unlimited campaigns, receive requests and proposals from an unlimited number of influencers, and get access to all the platform's features and benefits for free, without any hidden costs.
Ainfluencer Features
Influencers List:

With Ainfluencer, you can access to more than 500,000 influencers ranging from 5,000 to 10 million followers across Instagram and TikTok.With the help of powerful targeting tools, you can find your best influencer match in a few minutes. 

Campaigns:

Brands can effortlessly create campaigns, defining their influencer criteria and niche preferences. The platform's matching algorithm connects them with the most suitable influencers, streamlining the quest for the perfect partnership.

Content Creation:

Ainfluencer offers brands four distinct avenues for collaboration with influencers. They can engage influencers for content creation, utilizing their creativity to craft captivating videos and images. 

No Limits:

Ainfluencer places no limits on offers, campaign creation, or invitations to influencers. Also, you can use all these tools without paying a penny.

End-to-End Communication:

Built-in chat features allow seamless communication between brands and influencers. From receiving offers and evaluating past work to making payments and leaving reviews, everything happens within this well-designed inbox.

Influencer Insights:

Brands gain access to influencers' past collaborations, reviews, and audience insights. 
So, if you want to run effective collaboration with creators in your niche, sign up on Ainfluencer for free now and have access to a vast network of more than 500,000 creators.
Different platforms are helping you connect with your niche influencers and grow your audience through collaborations and Upfluence is one of them. In this article, we took a look at Upfluence features, pricing, and customer reviews. Also, we introduced you to a better tool that is free and everyone can use it. Ainfluencer is a 100% free end-to-end influencer marketing platform focused on Instagram and TikTok.
If you want to collaborate with social media influencers or run influencer-based campaigns, Upfluence can help you. Upfluence uses AI to help you find creators in your niche, collaborate, make payments, and analyze the results in the app. 
This platform doesn't provide any free plans (However there is a free extension that helps you view the profile details of influencers). Based on your needs, you can talk with their team and choose a plan. These plans differ in the number of active influencers in a campaign. 
There are over 3 million influencer profiles on Upfluence with a collective reach of 82 billion followers. However, not all of these creators are active and you might find many accounts that you can't reach out to.