Last Updated: September 12th, 2023
IMAI, a self-proclaimed innovative influencer marketing platform, claims to assist businesses with influencer marketing. It offers influencer discovery, campaign management, and ROI evaluation. However, its effectiveness raises concerns.The search and analyze creator feature intends to simplify influencer selection, but the actual functionality of its filters is questionable. It may not consistently deliver the expected results and can suffer from response time issues. 
IMAI offers real-time sales tracking, but internal bugs have disrupted operations, questioning its reliability. Campaign tracking assures accuracy but comes at a significant cost. Moreover, user reviews highlight persistent bugs in features, affecting the tool's usability. Sluggish search functionality and missing features like Twitch tracking contribute to its drawbacks.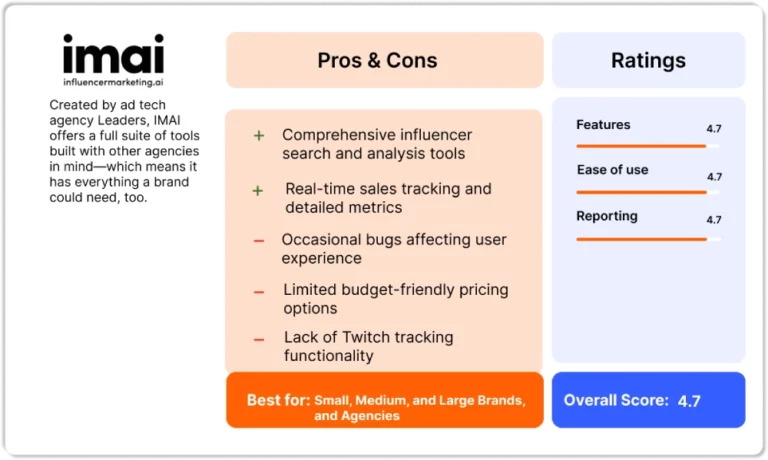 IMAI Review in 2023: Pricing & Features + Best Alternative



In the ever-evolving world of marketing, where influencer collaborations and audience targeting play a pivotal role, IMAI dubs itself as a distinct and innovative tool. 
IMAI is an influencer marketing platform that claims to offer a suite of tools designed to aid businesses in their influencer marketing efforts. It allows you to discover influencers, manage campaigns, and evaluate ROI efficiently.
But how can you trust it without knowing all its aspects? To figure out if this service will meet your expectations, go ahead and read the IMAI reviews and find the best alternative to it!
Let's get started!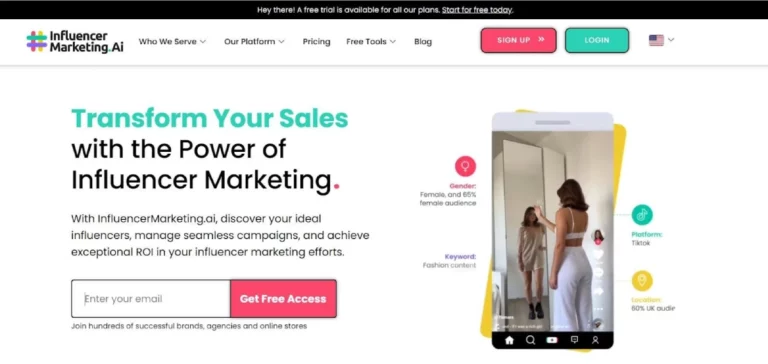 Here, we will shine a light on all the features that IMAI provides to you. The more you learn, the better you can decide whether to purchase it or not. Ready?! Let's go!
#1 Search & Analyze Creators
IMAI's search and analyze creator feature offers a way to find influencers for your campaigns, but it's important to assess its functionality objectively. This tool allows you to filter through a vast pool of influencers. 
The filters are designed to narrow down the options based on audience characteristics, engagements, keywords, and interests. While this might sound impressive, the actual effectiveness of these filters may vary.
One claimed benefit is the ability to curate lists of branded creators for easier influencer management. This feature suggests a more organized approach to handling influencers, but the extent to which it simplifies the process is uncertain.
According to some users' experience, there may be instances where the search feature experiences a slower response time. While we continuously work to optimize performance, there might be occasions when you encounter delays in retrieving influencer information.
#2 Track & Measure Sales
IMAI offers a toolset for real-time sales reporting, allowing users to assess their campaigns effectively. Within this feature, users can access detailed metrics such as clicks, sales, ROI, and conversion rates to conduct a comprehensive performance analysis.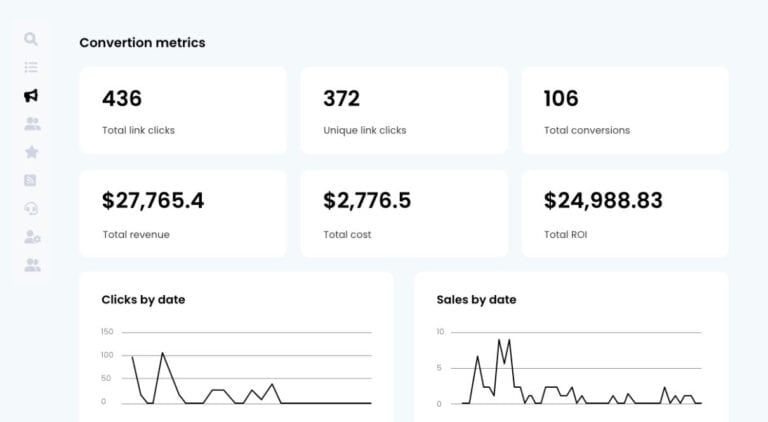 The platform's intuitive interface simplifies the complexities of data, facilitating data-driven decision-making for refining marketing strategies.
It's fair to share that, IMAI on certain occasions, encountered internal bugs that temporarily disrupted your operations. This may raise concerns about its reliability and effectiveness for your needs.
#3 Track Influencer Campaign
The 'IMAI campaign tracking' offers a tracking solution that claims to provide accuracy in monitoring various aspects of influencer marketing campaigns. It asserts its ability to accurately track clicks, conversions, and sales generated by influencers, with the promise of not missing a single conversion.
Additionally, this feature claims to provide comprehensive monitoring options, allowing users to track code-based links or coupon codes. This is suggested to provide detailed insights into the performance of influencer campaigns.
While IMAI offers a range of features and services, the cost of entry and the subsequent monthly fees may be a downside for those looking for more budget-friendly influencer marketing solutions.
Now, you may be wondering:
When it comes to pricing, the 'IMAI feature' offers three different plans to cater to various needs. While there is a 'Start Free Trial' option, there is no mention of a permanently free plan, which could be a disadvantage for smaller businesses or individuals looking for a more affordable entry point.
Here are IMAI pricing plans:
For individuals and small brands, there is the

'INDIVIDUALS'

plan priced at $99 per month. 

The

'GROWTH'

plan, priced at $499 per month, is designed for growing agencies and brands. 

For established agencies and large brands, there is the

'SCALE'

plan at $1,200 per month.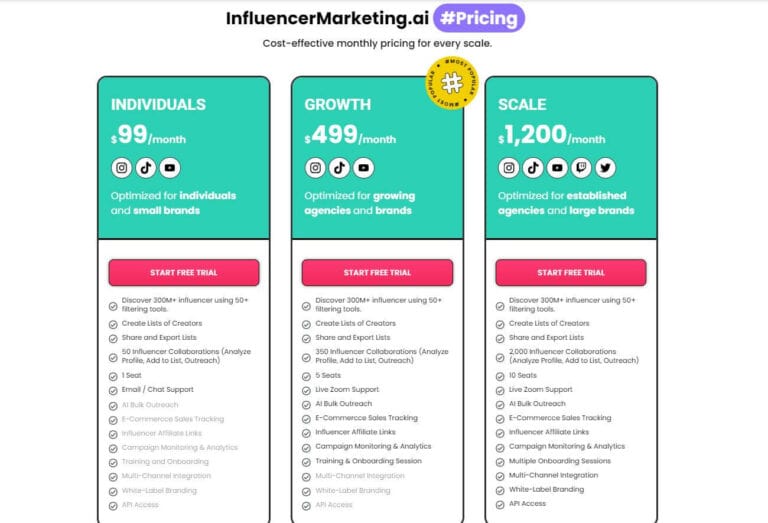 Unfortunately, IMAI's pricing structure is that it might not be budget-friendly for everyone. The pricing tiers, starting at $99 per month for individuals and small brands, can be relatively expensive for those on a tight budget or just starting with influencer marketing.
Moreover, even in the highest-tier 'Growth' and 'Scale' plans, the number of influencer collaborations offered (350 and 2,000, respectively) might be insufficient for some agencies or brands with extensive influencer marketing needs. This limitation could hinder the ability to work with a wide range of influencers.
We've discussed all the features and pricing. By now, you must have figured out that IMAI might not be a good solution for you. Now let's jump into what IMAI's real users have experienced, shall we?!
What Real Users Say About IMAI
One of the best ways to find out if a service is working great or not is by checking what its customers say on trusted reviewing websites such as G2. Let's read some of the Affable.ai reviews on G2:
According to the reviews, unfortunately, some users have issues finding influencers using this tool. For example, this user has recently shared a review that he can not find and collaborate with the influencers he wants. Also, there are some glitches in the app.

This recurring bug could be frustrating and disruptive to your influencer marketing efforts, potentially making IMAI less than ideal for your needs.
Here's another user's comment regarding this matter:
According to the above reviews, there are several bugs when using the search feature, particularly when applying multiple tags for searching. While our support team has been responsive in addressing these issues, it's worth noting that these bugs can disrupt your user experience.
Here's another review:
Moreover, users have reported that the search function can be quite sluggish. Waiting for results can be frustrating when you need information quickly.
Here's some feedback about IMAI speed:
Now, read the following comment:
While it's promised to be coming soon, the absence of Twitch tracking is a limitation for those looking to work with influencers on that platform. It's important to consider if this missing feature is a deal-breaker for your influencer marketing needs.
Considering the drawbacks that users have encountered with IMAI, it might be time to explore alternative influencer marketing tools that offer a smoother experience. One such alternative that stands out as a strong contender is 'Ainfluencer.'
Ainfluncer:

Best Free Influencer Marketing Platform
Ainfluencer, a game-changing platform, is revolutionizing this landscape by offering a 100% free end-to-end influencer marketing experience, with a primary focus on Instagram and TikTok. Whether you're a small brand, a nano-influencer, or a mega brand, Ainfluencer provides an inclusive marketplace for everyone.
Ainfluencer Features For Brands
Discover and Collaborate:

With over 500,000 influencers actively participating in

Ainfluencer

, brands can explore a diverse range of content creators. The platform's user base continually expands, with 10,000 new influencers joining every month.

Campaign Creation:

Setting up a campaign is a breeze on Ainfluencer. Brands can effortlessly launch their presence and connect with influencers who match their criteria within the marketplace.

Limitless Invitations:

There are no restrictions when it comes to reaching out to influencers. Brands can send unlimited invitations, allowing them to explore and evaluate potential collaborators in their niche freely.

Smart Filters:

Ainfluencer's smart filters enable brands to narrow down their influencer search by factors such as influencer size, platform, gender, and location.

Endless Possibilities:

Ainfluencer offers brands unlimited access to its features, ensuring they can make the most of the platform without any subscription fees or hidden charges.

Smart Invitations:

Ainfluencer employs AI-driven smart invitations that match your campaign targeting, increasing the likelihood of influencers noticing your collaboration offers.

Seamless Collaboration:

The built-in chat inbox simplifies the entire collaboration process. Brands and influencers can use it to receive offers, negotiate terms, make payments, and discuss all aspects of their partnerships efficiently.

In-Depth Insights:

Brands gain valuable insights into an influencer's past collaborations, the brands they've worked with, the reviews they've received, and details about their social media audience. This information is readily accessible on influencer profile pages and within the chat inbox.

Payments, Transparency, Democratization:

Ainfluencer incorporates an Escrow system to ensure secure payments to influencers. It also offers a Resolution Centre, along with a system for reviews, ratings, and insights into past collaborations.
Ainfluencer Features For Creators and Influencers
Free-to-Use Platform: Ainfluencer

empowers influencers of all sizes, from micro to mega, with a free-to-use marketplace where they can explore a vast array of collaboration opportunities.

Access to Campaigns:

Influencers can tap into an extensive database of campaigns, giving them the chance to collaborate and earn income in a user-friendly environment.

End-to-End Platform:

Ainfluencer is the only platform that allows influencers to make unlimited offers, negotiate deals, handle delivery, and set prices directly with brands and businesses.

Security:

Ainfluencer prioritizes account security, with a no social media password policy to keep influencer accounts safe.

Mobile Accessibility:

The Ainfluencer app keeps influencers informed and engaged, providing easy access to negotiations and deal updates.

AI-Driven Analytics:

Influencers benefit from AI-driven analytics that help them categorize campaigns based on their preferences, streamlining the search for ideal collaborations.

Regular Payouts:

Ainfluencer ensures timely payouts, allowing influencers to focus on their content and collaborations with peace of mind.
Why are you Waiting then? Sign Up For Free and take full advantage!
IMAI describes itself as an excellent solution for social media marketing, but it is not true! Based on its users' feedback and experiences, there are drawbacks like highlighted bugs and slow search results that make every user reconsider and replace it with an alternative.
If you're looking for an IMAI alternative, consider using Ainfluencer to collaborate with reliable influencers and increase your brand awareness!
IMAI, or Influencer Marketing Analytics and Insights, is a tool that helps businesses work with social media influencers more effectively. It works by allowing users to create lists of influencers they find promising. But these lists aren't just for organization; they serve a more significant purpose.
When you add an influencer to a list in IMAI, the tool collects all sorts of data about them. This data includes things like their follower count, engagement rates, and other metrics that show how influential they are. IMAI then crunches all this information and presents it to you in one clear overview.
IMAI actually isn't free; it has three different pricing options ranging from $99 to $1,200. However, they do offer a free trial so you can try it out before committing to one of the paid plans.