Last Updated: September 12th, 2023
AspireIQ is a tool for businesses that helps them work with social media influencers. They claim to have a big database with over 6 million influencers. AspireIQ can connect businesses with these influencers and track how well their marketing campaigns are doing, but it's not clear how well it really works. 
With AspireIQ, businesses can talk to influencers and ask them to work together. They can also watch how their marketing campaigns are going and keep an eye on what influencers are doing. But, they might not have complete control over everything. AspireIQ says it can be used with popular online shopping platforms like Shopify, WooCommerce, and Klaviyo, but it's not clear how good this connection is.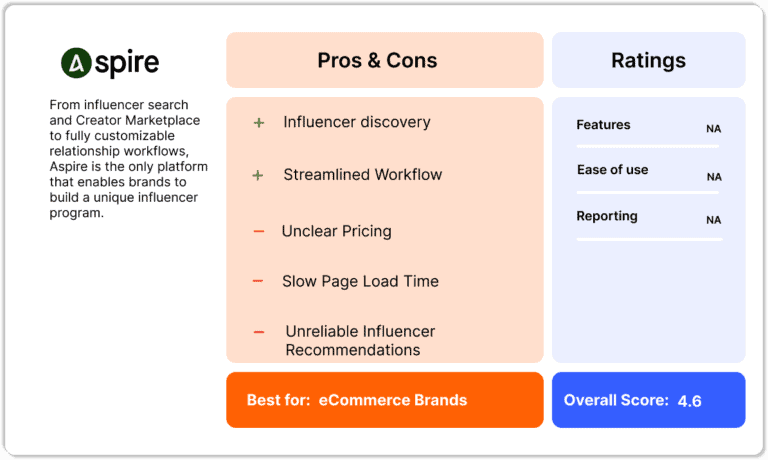 Aspire Review in 2023: Pricing & Features + Best Alternative



Are you looking for a solution to boost your influencer marketing? Well, there are many influencer platforms available, and AspireIQ is one of them. How do you know if it's the right choice for you?
Based on their statements, it is one of the influencer marketing platforms that provides access to a vast influencer database and facilitates collaborations with businesses. It claims to allow businesses to send invitations for potential influencer partnerships and provides metrics for campaign performance. However, the actual effectiveness of these interactions and the reliability of these measurements are open to scrutiny.
In this article, you'll find a detailed breakdown of AspireIQ and go through all its unignorable drawbacks!
Let's get started!
To make an informed decision about whether an influencer marketing platform aligns with your business objectives, it's essential to have a thorough understanding of Aspire's features and offerings.
Aspire( formerly AspireIQ) claims to offer various features, including:
1. Influencer Search
This feature allows you to connect with influencers from various social media platforms, such as Instagram, Pinterest, TikTok, Meta (formerly Facebook), and YouTube. It offers tools like Influencer Insights and Advanced Filters to help you find the right influencers for your brand.
Keep in mind that, relying on the data provided by the platform may lead to misleading decisions, as it might not always reflect an influencer's true impact or audience engagement.
2. Creator Marketplace
It lets you list your campaign on their Creator Marketplace and receive applications from potential influencers. They claim you won't need to worry about fees or commissions.
3. Campaign Management
This feature helps track influencer campaign progress, showing which phase influencers are in and offering automated email reminders for various campaign steps.
4. Relationships Management
This feature enables users to centralize communication across teams. It offers integration with Outlook or Gmail to ensure visibility for influencer updates, even when team members are unavailable.
5. Content Management
 AspireIQ focuses on brand safety, allowing you to review and promote content that aligns with guidelines. It also helps you organize content and find similar creators.
6. Sales Generation
AspireIQ claims to support influencer-related sales activities through affiliate links and promo codes, allowing you to track earnings from sales.
7. Measurement & Reporting
It offers comprehensive measurement and tracking features, including Campaign Analytics to assess ROI and influencer performance.
AspireIQ's pricing is not very flexible, and it requires you to commit for a whole year. They offer three service options:
Starter: This is for small brands starting with influencer marketing. You get limited access to features and support.

Pro: For bigger influencer programs. It offers more collaborators and unlimited access to features.

Premium: Aimed at companies with multiple teams. It has the highest collaborator limit and full access to features.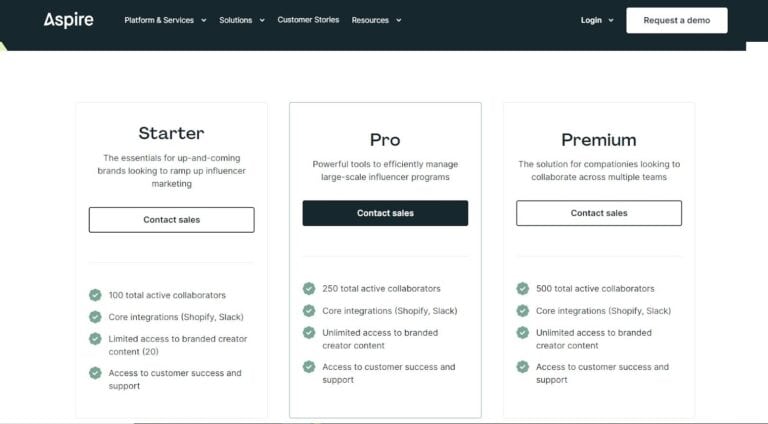 AspireIQ's pricing model presents several notable drawbacks. Firstly, their Starter plan limits users to just 100 active collaborators, which could pose a significant challenge for larger influencer marketing campaigns. This restriction may hinder the scalability and reach of such initiatives.
Secondly, within the Starter plan, there is limited access to branded creator content, capped at only 20 pieces. This limitation can prove to be a significant impediment to content marketing efforts, potentially hampering the variety and frequency of content creation.
Moreover, AspireIQ's lack of transparent pricing is another significant concern. Potential customers are required to contact the sales team for pricing details, which can be frustrating for those who prefer upfront and easily accessible pricing information.
What Real Users Say About AspireIQ
AspireIQ's search feature may seem enticing at first glance, but it comes with several limitations and drawbacks that should be considered before choosing it as your influencer marketing platform. Here's a closer look at its capabilities, or lack thereof according to its real clients' feedback:
The problem is, that AspireIQ doesn't do a good job of making sure influencers and brands stick to their agreements. This means brands can't rely on influencers to do their part.
Here's one of Aspire's user reviews in this regard: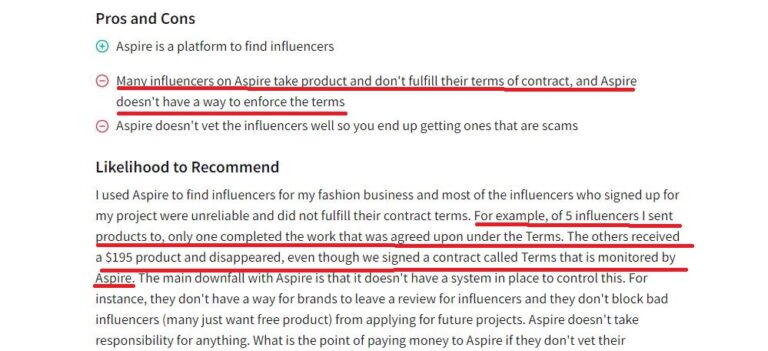 According to the other clients, AspireIQ is not a great option for those who want to save money. Plus, when you compared it to other options, AspireIQ didn't perform as well.
You might think we're exaggerating, but we're not! Here's another review of AspireIQ's pricing:

By now, If you're having doubts about trusting your money with this platform, it might be a good idea to explore a suitable alternative to AspireIQ.

Ainfluncer:

Best Free Influencer Marketing Platform
Ainfluencer is an end-to-end influencer marketing platform that helps both brands and influencers. It's completely free and easy to use, and it works well for businesses of all sizes, whether they're small or mega-brands.
Here's why you might want to use Ainfluencer:
Ainfluencer Features For Brands
Find Influencers Easily: Ainfluencer has a big list of TikTok and Instagram influencers, making it simple for brands to find the right fit.

Create Campaigns Easily: Brands can make campaigns effortlessly. They can say what kind of influencer they want and what they're about, and Ainfluencer will connect them with the right influencers.

Make Great Content: Ainfluencer has four ways for brands to work with influencers. They can get influencers to make cool videos and pictures.

No Limits, No Platform Fees: Ainfluencer doesn't stop brands from making offers, creating campaigns, or inviting influencers. It's all free and without limits.

Smart Tools: Ainfluencer has smart tools to find the right influencers quickly.

Easy Talk: The platform has chat features, so brands and influencers can talk easily, from making offers to payments.

Learn from Influencers: Brands can see what influencers did before, what others say about them, and what their followers are like. This helps brands make smart choices.

Safe Payments: Ainfluencer keeps your payments safe until the influencers do their job, so you know your money is secure.

Solving Problems: If there's an issue, Ainfluencer has a place to work things out.

Ratings and Reviews: You can see what others say about influencers and their past work.

Past collaborations: You can also check out who influencers worked with before, so you know they're a good fit for your stuff.
Ainfluencer Features For Creators and Influencers
Totally Free: Influencers can use Ainfluencer for free. There are lots of paying campaigns to pick from.

End-to-End Control: Influencers can make offers, talk to brands, make deals, and get rated, all on Ainfluencer. They don't have to share their social media passwords.

Stay Updated: Ainfluencer's app keeps influencers in the loop about offers and new deals every week.

Smart Insights: Influencers get helpful info to choose the right campaigns for them.

Get Paid Quickly: Ainfluencer makes sure influencers get paid on time.

Safe Payments: Ainfluencer has a safe payment system, so influencers know they'll be treated fairly.

Easy Inbox: All messages are in one place, making it easy for influencers to manage their work with brands.

Many Ways to Work: Influencers can pick how they want to work, whether it's making content, sharing it, promoting things, or a mix of all of those.

Click on the big blue button below to sign up on their website for FREE, and start your influencer marketing journey.
In conclusion, while AspireIQ presents itself as an influencer marketing platform, it faces notable challenges in areas such as influencer reliability, contract enforcement, and pricing. These concerns may impact the effectiveness of influencer collaborations and overall user satisfaction. 
To achieve more dependable results in influencer marketing, it's advisable to consider alternative solutions like Ainfluencer that better address these issues.