Last Updated: November 12th, 2023
Grin is a famous influencer marketing platform that offers a range of tools and features aimed at helping brands and agencies manage their influencer marketing campaigns. However, several key issues have been raised by users.
One significant concern is the reliability of Grin's Creator Search feature, which has been unexpectedly removed in the past, causing disruptions in influencer marketing efforts and frustration among users. The lack of responsiveness from Grin's support team and the absence of refunds for affected users further compound these issues. Additionally, an unfriendly interface and technical glitches have negatively impacted user experiences and campaign performance.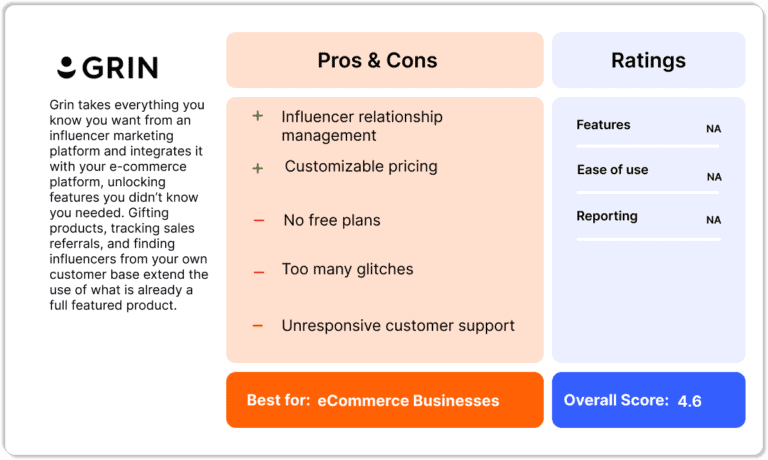 Grin Review 2023: Features & Pricing + Best Alternative
Founded in 2014, Grin is a well-known name among influencer marketing platforms. It offers various features and tools that might be helpful for brands and agencies to boost their marketing game.
Grin is an influencer marketplace that focuses on influencer marketing. It claims to help businesses manage and optimize their influencer marketing campaigns. Grin provides tools for identifying potential influencers, reaching out to them, and tracking the performance of influencer-driven marketing efforts.
It offers features for managing influencer relationships, including negotiation and contract management. Additionally, Grin provides analytics and reporting tools to assess the impact and effectiveness of influencer campaigns.
However, that's just the surface. It's a given that businesses and brands need to conduct thorough research in order to choose the best platform. That's why we've decided to write this Grin review: to tell you everything you need to know about this software and let you decide for yourself.
So, without further ado, let's start!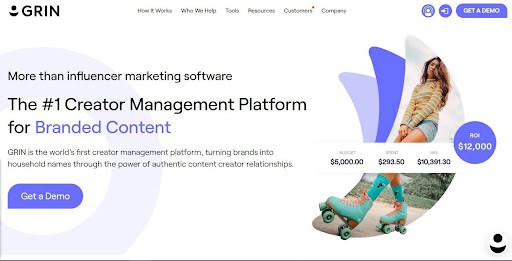 As we mentioned earlier, Grin is a platform that promises to help brands streamline their influencer marketing campaigns by offering a range of features. Whether it has succeeded in doing so is a topic we will discuss in more detail later.
In this section, we'll take a closer look at some of Grin's features without bias, highlighting both their strengths and areas where users have reported issues.
Creator Search:

Grin's Creator Search feature is designed to help users identify potential influencers who align with their brand. While this tool offers an extensive database of influencers, it's important to note that many users have reported that this feature was unexpectedly removed in the past, causing disruptions in their influencer marketing efforts. 
The worst part is, that Grin never agreed to refund these users, resulting in them suffering a loss in their return on investment (ROI). Although it has since been reinstated, Grin's reliability has been called into question, as users can't be certain when similar issues might happen again.
Content Management:

Grin provides a content management tool to help users organize and track their content. Brands can store, search, and filter each piece of creator content in the platform. 

Reporting:

Grin's reporting analytics tool allows brands to measure their ROI and keep track of their progress. Users can measure key metrics like reach, engagement, and ROI, helping them assess the effectiveness of their influencer marketing efforts.

Relationship Management:

Grin offers tools for managing relationships with influencers. Users can communicate with influencers, negotiate contracts, and track interactions through the platform.
Grin takes a rather frustrating approach when it comes to disclosing its pricing on its website. Unlike many other service providers who offer transparent pricing details, Grin chooses to keep its pricing information hidden. Instead, users are required to reach out to the company directly to learn more about their pricing structure.
Moreover, the prices offered by Grin are typically customized to meet the specific needs and requirements of each business, which can make it challenging for potential users to gauge the cost of using their services.
But one thing is certain: using Grin can be expensive. Before deciding whether you want to continue with Grin or change to another alternative, let's see what real users say about their experience with Grin.
What Real Users Say About Grin
To have a clear understanding of how Grin works and whether it's worth your money or not, we went through many reviews to see how users express their experience with this tool. And this is what we found.
According to many reviews left on legitimate websites such as G2 and TrustPilot, there have been many issues with one of the key features of Grin: Creator search.

Many users have reported that the creator discovery feature was removed from the platform without any prior notice. This sudden change has led to frustration and a decline in their ability to find and engage with new content creators, ultimately affecting their overall user experience on the platform.
Here's another one: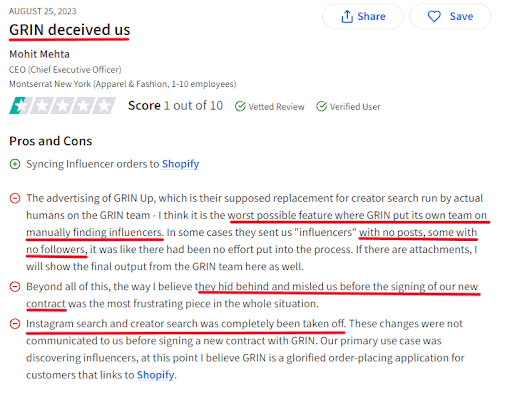 The worst part is, that the support team didn't respond to any of the complaints, and the users didn't manage to get a refund. Some were even charged for a feature that didn't even exist.
Another drawback with Grin is the unfriendly interface. This user shares their view on this issue:

Having an unfriendly interface can negatively impact brands by making it more challenging for marketers to effectively collaborate with influencers, access critical data, and execute campaigns efficiently. 
This can lead to decreased campaign performance, missed opportunities, and a frustrating user experience for both brands and influencers. As a result, it can question the platform's effectiveness in connecting brands with their target audiences.
In addition to all that, many users have highlighted that Grin's platform is underdeveloped and has too many glitches:

Here's another review highlighting this issue:

This user also states that the support team failed to address the issues,  and the problem remained unsolved for too long.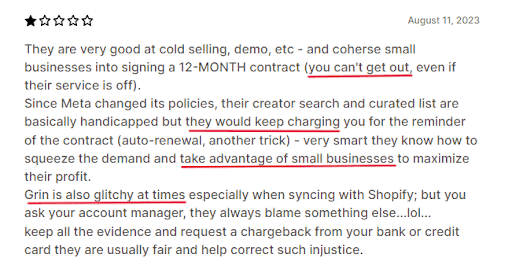 This review is self-explanatory. This user was charged for a feature that didn't work as expected, and they weren't able to cancel their subscription.
If you're looking for an influencer marketing platform that has more features, fewer drawbacks, and zero costs, we've got you covered! So keep scrolling and get ready to be amazed!
Ainfluencer: Best Grin Alternative
In a world where every brand and influencer is in pursuit of a platform that's not only efficient but also budget-friendly, Ainfluencer emerges as a game-changer. If you're a brand that cares about your ROI, or an influencer searching for opportunities without the expensive prices, then Ainfluencer is the answer you've been waiting for.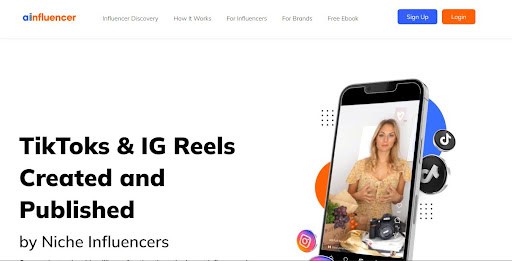 The key feature of Ainfluencer, among many others, is its promise of unlimited usage of the platform, forever, without ever reaching for your wallet. Yes, you heard that right! At no point will Ainfluencer interrupt your journey with payment requests. 
For brands, this means that when you seal deals with influencers, you pay a total of $0 in fees. This is a massive relief for countless businesses and brands, making Ainfluencer a remarkable choice in the influencer marketing world.
Ainfluencer is not just another influencer platform; it's a full-fledged, end-to-end marketplace that harnesses the power of AI to seamlessly connect your products and services with thousands of influencers on Instagram and TikTok. 
Don't miss this opportunity. Sign up on Ainfluencer today and surpass all your competitors with just a few clicks!
In conclusion, Grin is a well-known influencer marketing platform that offers different features for brands and agencies. However, it has faced criticism due to issues with its Creator Search feature, sudden changes, and a lack of transparency regarding pricing. 
Real users have reported challenges with discovering and engaging with content creators, unfriendly interface, and ongoing glitches. While Grin has its merits, these drawbacks have raised concerns about its effectiveness in connecting brands with their target audiences.
Now that you have a better understanding of the details and potential challenges associated with Grin, you can make an informed decision for your business. Good luck!
No, Grin is not a free influencer marketing platform. Even though they offer a demo for users, there are no free plans available. For more information about their pricing structure, users need to reach out to Grin's team directly.
Grin is an influencer marketing platform that facilitates collaboration between brands and social media influencers. It provides tools and features to help businesses identify, connect with, and manage influencer partnerships for marketing campaigns.