Last Updated: September 12th, 2023
HypeAuditor is a marketplace that provides brands and businesses with the necessary tools for influencer marketing. This software offers features such as influencer discovery, campaign management, analytics, and fraud detection. However, there are some disadvantages that businesses need to know about. 
For instance, the customer support of HypeAuditor is known to be unresponsive, and many users have complained about it. In addition to that, the search results are not always accurate, and brands might fail to get their desired influencers. HypeAuditor can also be expensive, and there are no free plans whatsoever.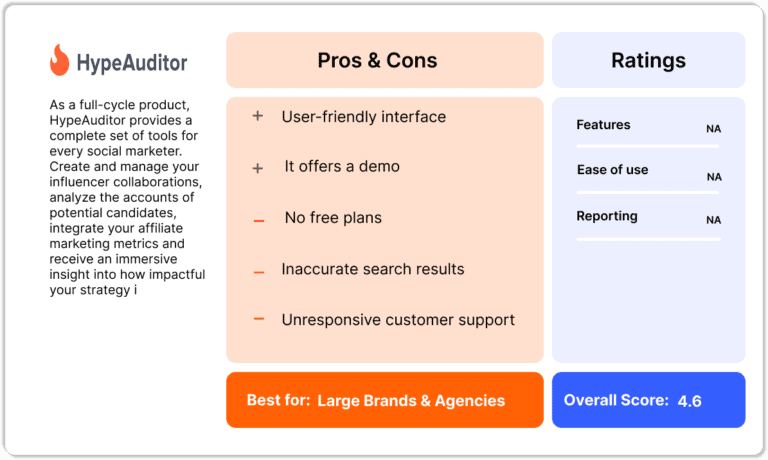 HypeAuditor Review in 2023: Pricing & Features + Best Alternative



Did you know that 1 in 4 marketers is leveraging influencer marketing in their business? With that being said, it's no surprise that platforms such as HypeAuditor have become invaluable tools for businesses looking to analyze and optimize their influencer marketing campaigns. 
HypeAuditor offers insights into influencer authenticity, engagement rates, and audience demographics, which might marketers make informed decisions. It also features various filters that brands can use to find influencers in their niche.
But, an important question remains: is HypeAuditor the best option for your business? That's what we're going to talk about here. We'll introduce you to this platform's features and pricing, and share what real users have to say about their experiences with HypeAuditor.
Let's dive in.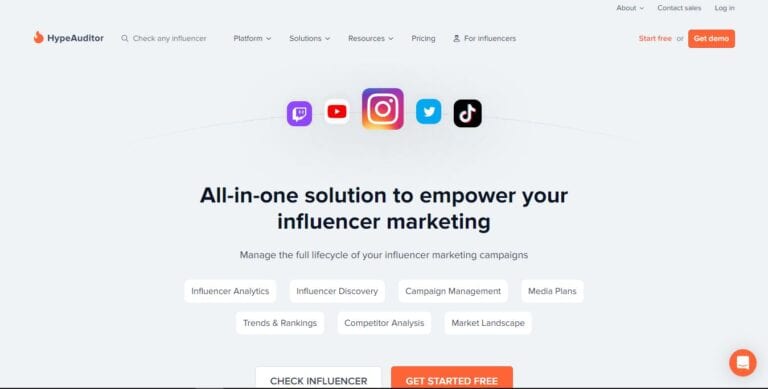 One of the differences between influencer marketplaces is their features. In order to make an informed decision and choose the best influencer marketing platform for your business, you need to have a clear understanding of the services they provide.
So, here are the key features of HypeAuditor:
Influencer Discovery:

HypeAuditor's influencer discovery tool helps you find potential influencers to collaborate with. It has a database of over 50 million influencers from different social media platforms. However, it's worth noting that the quality of influencers you discover can be hit or miss, and it heavily relies on the platform's database.
Also, according to some reports, the filtering option is not always accurate, and businesses might be unable to find their desired influencers. We'll take a closer look at this issue later.
Audience Demographics:

The platform provides insights into an influencer's audience demographics. It includes metrics such as location, age, gender, etc.

Fraud Detection:

One of the touted features is its ability to detect fake followers and engagement. 

Campaign management:

  HypeAuditor offers campaign management tools that allow brands and businesses to create, manage, and keep track of their

influencer marketing campaigns

on YouTube and IG.
Even though HypeAuditor is not a free influencer marketing platform, it offers a demo for users who want to try this platform before purchasing. 
If you want more details on their pricing structure, you have to contact HypeAuditor's sales team and schedule a call as there is no information regarding their prices on their website. 
In addition to that, you can attach additional add-ons to your plans, which naturally will cost you even more. According to numerous reviews on reputable websites, HypeAuditor's pricing is considered premium, making it less accessible for many businesses.
Now, it's time to hear what real users have to say about their experience with this tool.
What Real Users Say About HypeAuditor
According to this user, the filtering option doesn't work as expected, leading to influencers appearing in unrelated categories. This issue will result in a poor user experience, and brands will have to put in an unnecessary amount of time to sift through the unrelated influencers.
In addition to that, many users have reported that they failed to get a response from HypeAuditor's support team, which can be a huge drawback.
This user has also highlighted the inaccuracy of the insights, which can lead to brands making decisions based on flawed data, ultimately undermining their ability to make informed and strategic choices that drive success in their market.
According to this HypeAuditor user, the app fails to provide businesses with accurate search results, and customer support doesn't respond to any inquiries. 
Here's another review complaining about the removal of the free trial with no prior notice or explanation. In order to guarantee maximum results and steady progress, businesses plan their strategies carefully, and such incidents can disrupt their operations. And the unresponsive customer support makes it even worse.
So, what's the solution? How can businesses find the perfect platform that meets all their needs? In the following, we're gonna introduce you to the best HypeAuditor alternative, so don't miss out!
Ainfluncer:

Best Free Influencer Marketing Platform
Ainfluencer is your all-in-one influencer marketing marketplace, and it's powered by cutting-edge AI technology. In Ainfluencer, both influencers and businesses have no restrictions. 
If you're a brand, you can run as many campaigns as you want, receive proposals from as many influencers as you like while your campaign is running, and use all the platform's features for free.
Why Choose Ainfluencer
Transparency:

We believe in clear, honest communication. At Ainfluencer, we connect you directly with influencers, no middlemen involved!

Simplicity (DIY):

Say goodbye to complicated marketing campaigns. With Ainfluencer, you have the power to set up your own influencer collaborations in just a few simple steps.

End-to-End Platform:

From discovering the perfect influencers to negotiating, payment, and tracking your campaign's success, we've got you covered.

Escrow System:

Your payments are secure with our trusted escrow system, ensuring both brands and influencers get what they're promised.

Rating and Reviews:

Get insights into an influencer's track record and reputation before you collaborate. Choose the best fit for your brand.

Detailed Insights:

Dive deep into influencer metrics, demographics, and performance data to make informed decisions.
Ainfluencer is a game-changer, and it won't cost you a dime! We're a 100% free, end-to-end influencer marketing platform that focuses on Instagram and TikTok.
Here's How It Works
Discover the Perfect Influencers:

Search for influencers by niche, country, gender, and audience type. Find the ideal match for your brand.
Set Up Your Campaign:

In just a few clicks, you can create and launch your influencer marketing campaign. Reach out to over 500,000 influencers on Instagram and TikTok.
Sit Back and Receive Offers:

Once your campaign is live, influencers will start sending you proposals. Review and negotiate with them to create the perfect partnership.
Collaborate and Grow:

Pay your chosen influencers, and watch your influencer marketing campaign come to life!
Ainfluencer is designed with small to medium-sized brands and nano to micro-influencers (those with 5,000 to 1 million followers) in mind. It's the very first DIY influencer marketplace that's 100% free to use. But don't worry, larger and premium brands can make the most of it too!
Ready to experience the future of influencer marketing? Join Ainfluencer today and let your brand shine on Instagram and TikTok, hassle-free!
HypeAuditor offers a range of features that can be valuable for businesses looking to harness the power of influencer marketing. It provides tools for influencer discovery, audience demographics, fraud detection, and campaign management. 
However, as highlighted by real users in their reviews, there are some significant drawbacks to using HypeAuditor. Issues with the filtering option, unresponsiveness of the support team, and inaccuracies in the insights provided have raised concerns. Furthermore, the lack of transparency in pricing and the perception of premium costs may limit accessibility for many businesses. 
HypeAuditor is an influencer marketing platform that allows brands and influencers to connect and collaborate. Even though this platform is legitimate, there are some drawbacks that businesses need to know about before utilizing it.
HypeAuditor is a social media analytics and influencer marketing platform that provides users with insights and data on Instagram and YouTube accounts. It offers information about an account's audience demographics, engagement rates, and authenticity of followers, helping businesses and marketers assess the credibility and effectiveness of influencers.