Last Updated: September 12th, 2023
Founded in 2016, Intellifluence is an influencer marketing platform that helps brands and agencies streamline their influencer marketing process. Being a well-known name among influencer marketplaces, many businesses might decide to utilize this tool in their marketing strategies. It's important to note that Intellifluence can be expensive, especially when it comes to smaller brands. 
Even though it offers a free plan, it's too limited and only allows for 1 active user, 1 campaign, and 5 influencer pitches. Also, many reports show that there are too many unresponsive influencers on Intellifluence, which can lead to more complications.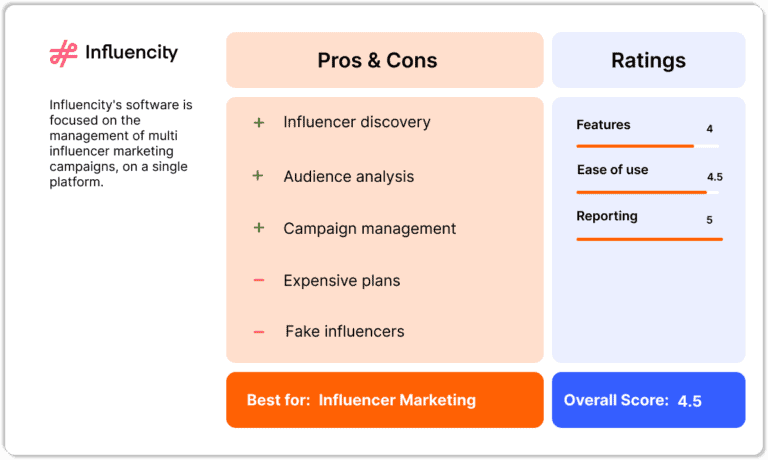 Influencity Review in 2023: Pricing & Features + Best Alternative



Influencity is an influencer marketing platform founded in 2014. Brands can use this tool to discover and collaborate with YouTube, Instagram, and TikTok influencers.
Back in 2014, the platform only provided 100 Twitter influencers. However, since then, it has expanded its database. But has it been successful in becoming a worthy influencer marketing platform? Not for those seeking the best free influencer marketing platform!
Even though Influencity offers a demo, there is no free plan for brands and influencers. Many users find their prices to be on the high end, which may not make it a good investment, especially when it comes to ROI. But are there any better solutions? Of course!
We know how important it is to find the best marketing platform for both brands and influencers. That's why we've written this review: to provide insight into Influencity so you can make an informed decision and to introduce you to the best alternative that will undoubtedly meet all your needs.
So, without further ado, let's start.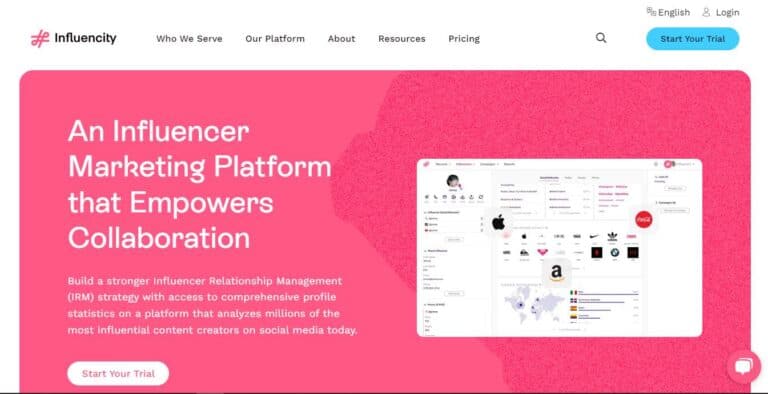 Influencer discovery: Influencity allows brands to find influencers who align with their niche. But there's a catch. After finding the right influencer, and only if you do, the only way to communicate with them is through email integration with the IRM tool.

Analytics: Like most influencer marketing platforms, Influencity also offers real-time influencer and post analysis. But it also lacks a very important feature: competitor analysis. So, if you work in a competitive niche, this platform might not be a suitable option.

Compliance and fraud detection: While Influencity claims to prioritize transparency and authenticity, the effectiveness of its fraud detection mechanisms can be inconsistent. 
Some brands have experienced collaborations with influencers who engage in fraudulent activities, raising questions about the platform's ability to safeguard against such practices. We'll elaborate more later.
Influencity offers 4 plans that users can choose from based on their needs and budget. But even the basic plan can be expensive for a smaller business. And it's important to note that none of these plans are free.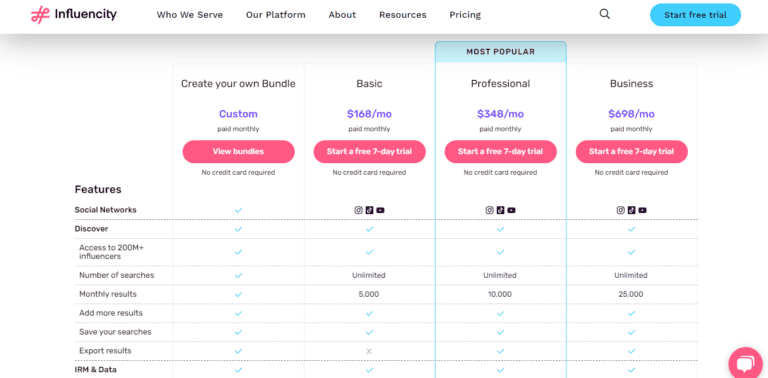 Let's take a closer look. 
Basic: for $168 per month, businesses can purchase this plan. Although it allows you to search for influencers and get 30 monthly analyses, it has far too many limitations. 
For example, there is no email integration with this plan, you can only create 1 list per month, and you won't access any reports or campaign management features.
Professional: This plan costs $348 per month and allows users to do an unlimited number of searches, export reports, and access 600 influencers in a campaign. 
Even with the professional plan, there are limitations that can easily be avoided by using the free influencer marketplace that we're going to introduce later.
Business: the business plan costs $698 per month and allows users to get 25,000 monthly results, 500 monthly analyses, and more. But it can be pretty expensive and not all businesses can afford this plan. Also, it's not wise to do so when there are better options with lower costs and more features.
Create Your Own Bundle: this customized plan allows users to choose their desired features and pay accordingly. So it can get quite expensive if you want good results.
What Real Users Say About Influencity
As we mentioned earlier, there are a few downsides when it comes to Influencity. For instance, there are many reports that show the authenticity of influencers on this platform is questionable. Take a look for yourself: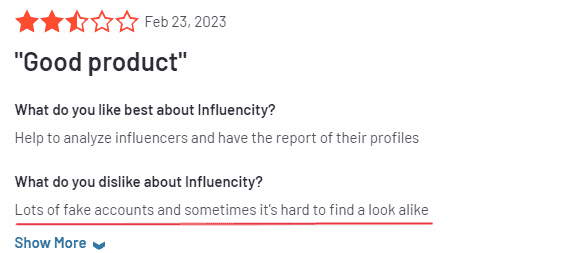 As you can see, this unhappy user encountered far too many fake accounts on their journey. This will lead to a significant amount of wasted time, and all your influencer marketing efforts can go in vain.
Here's another Influencity review on trusted platforms such as G2:
This user is also unsatisfied because of the fake engagement rates some influencers have on Influencity. There are also many accounts that haven't been active for a long time or have zero posts. Influencity fails to address these matters which is a huge disadvantage. 
Now that you're more familiar with this platform, it's time to introduce you to the best Influencity alternative! So, keep scrolling.
Ainfluncer:

Best Free Influencer Marketing Platform
Ainfluencer, a revolutionary end-to-end influencer marketing platform, is here to simplify and optimize the world of influencer marketing. Whether you're a brand looking to collaborate with influencers or an influencer seeking exciting partnerships, Ainfluencer is your go-to platform. The best part? It's 100% free!
Ainfluencer distinguishes itself from the crowd in several remarkable ways. Let's explore what makes it stand out:
1. No Fees, No Limits
At Ainfluencer, there are no hidden costs, and you'll never be charged for unlimited platform usage. Brands can enjoy full access to the platform without worrying about platform fees during their campaigns. 
Similarly, influencers can harness the platform's capabilities without ever incurring charges. This transparent and cost-effective approach sets Ainfluencer apart, making it ideal for businesses and influencers looking to maximize their ROI.
2. Effortless Collaboration
Ainfluencer primarily focuses on Instagram and TikTok, two of the most influential social media platforms today. Brands can effortlessly discover influencers that align with their niche, target audience, and location preferences. 
The platform allows you to filter influencers by criteria such as gender and audience type, making it easy to find the perfect partners for your campaigns.
3. Streamlined Campaign Setup
With Ainfluencer, setting up influencer marketing campaigns is a breeze. In just a few simple steps, you can launch your campaign and gain exposure to a vast network of over 500,000 influencers on TikTok and Instagram. 
Sit back and watch as influencers in your niche submit offers and proposals, giving you the freedom to choose the collaborations that align best with your brand's goals.
4. Unlimited Possibilities
Ainfluencer doesn't impose limitations on influencers or brands. As a brand, you can manage an unlimited number of campaigns, receive proposals from countless influencers as long as your campaign is active, and access all the platform's valuable features—all without incurring any fees.
So why use expensive and limiting platforms such as Influencity when there are far better solutions at zero cost? We hope that this article can help you make the best decision for your business so that you can flourish like never before!
Is Influencity the right influencer marketing platform for you? We've tried to answer this question by introducing Influencity, and discussing its features, pricing, and user reviews.
We have also introduced you to Ainfluencer, the best Influencity alternative, and explained how it can maximize your revenue and streamline your collaborations with zero cost. Now, the choice is yours!
Explore the future of influencer marketing with Ainfluencer – the ultimate free platform. Don't miss out on a better way to collaborate.
No, Influencity does not offer a free trial or a free plan for brands and influencers. Users are required to choose from one of their paid plans, and there is no option to test the platform's features without a subscription.
Selecting the ideal influencer marketing platform for your unique needs and budget involves a few key steps:
Identify Your Objectives:

Begin by defining your marketing goals and what you hope to achieve with influencer marketing. Are you aiming to increase brand awareness, drive sales, or promote a specific product or service?

Assess Features and Tools:

Compare the features and tools offered by various influencer marketing platforms. Look for functionalities like influencer discovery, campaign management, analytics, and reporting that align with your goals.

Consider Your Budget:

Evaluate your budget constraints and weigh them against the pricing plans offered by different platforms. Remember to account for any additional costs, such as influencer fees.
Read User Reviews: Investigate user reviews and testimonials to gain insights into the user experience and the platform's performance. Pay attention to feedback related to reliability, customer support, and ROI.