Last Updated: November 12th, 2023
Collabor8 is a platform connecting brands and social media influencers for online promotions. It acts as a matchmaking app, helping users find influencers based on location, follower count, and interests. However, the free version offers limited features, with full benefits accessible through paid memberships. User reviews suggest some cons, such as compatibility issues with certain devices and occasional slow performance. Collabor8 offers limited customization and relies on iTunes settings for cancellation, which may not be user-friendly.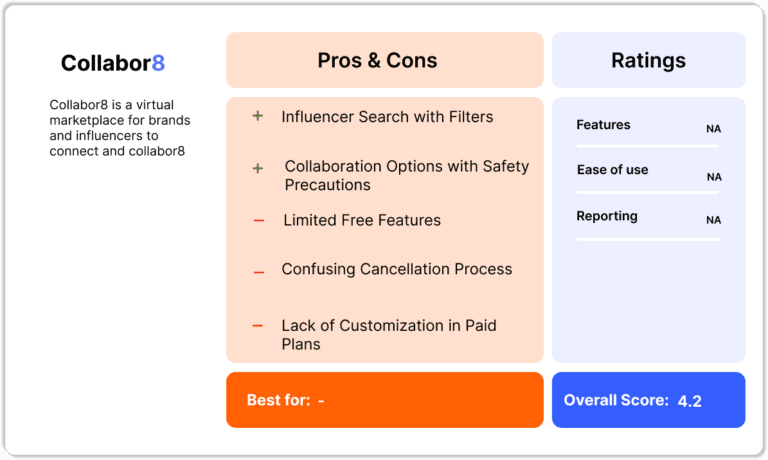 Collabor8 Review in 2023: Pricing & Features + Best Alternative

Collabor8 is like a meeting place for people who have brands or products and those who are social media influencers. This tool promises to help them work together to promote stuff online. 
This influencer marketing platform claims to be useful because it lets influencers talk, make deals, and handle money safely. People can also rate and review each other here. Collabor8 is a useful tool for connecting brand owners and influencers, but it comes with risks that you should be aware of. 
Always be cautious and read our complete review of Collabor8 features and go through all its shortcomings.
Now, let's get started!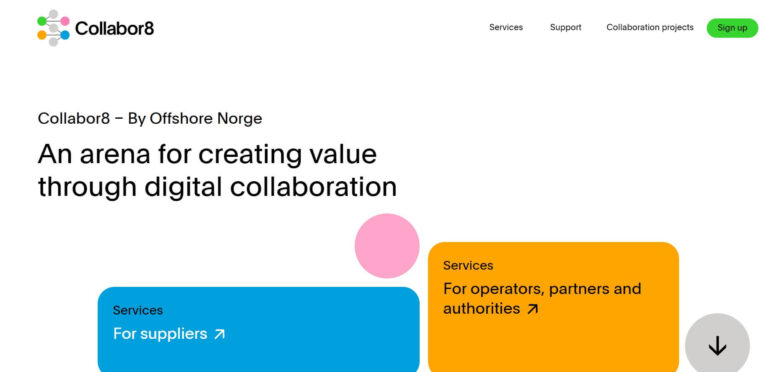 Collabor8 is a matchmaking app for brands and influencers. It helps them work together to promote stuff. But there are some things you might want to know about it:
#1 Influencer Search
You can look for social media influencers on Collabor8. You can use filters to find the right ones based on things like where they're from, how many followers they have, and what they're interested in. You can also chat with other people on the app to talk about possible collaborations.
While there is a free trial to use the app, the basic free features may be limited, and the full range of benefits may only be accessible through paid memberships. This can be a drawback for users looking for a completely free collaboration platform.
#2 Collaboration Options
You can ask strangers to collaborate with you but remember, not everyone you meet online can be trusted. In addition, you can chat with people on the app. However, online interactions can sometimes lead to misunderstandings or worse.
If you want to limit who can collaborate with you, there are two ways to do it. You can disable new collabs in your account settings or set a minimum followers requirement in your bio. For instance, if you prefer working with influencers with more than 10,000 followers, you can enter that number.
They offer different membership levels, like Standard and Gold, for unlimited collaborations. Gold members can even work with other brands and manage multiple accounts. You can use filters to find the best collaborations based on location and follower count. You can also set requirements for people who want to work with you.
#3 Collaboration Requests
The 'requests' tab is where you see people who want to work with you. If you like them and their style, you can start a collaboration by clicking the checkmark. Active collaborations can be found in the "collabor8" tab.
In the 'active' tab, you'll find collaborations that have been requested and accepted. You can communicate with these collaborators directly to discuss details like payment, trade, post type, giveaways, and more.
While Collabor8 has these features, always prioritize your safety and privacy when using any online platform. Be cautious about sharing personal or financial information and consider the potential risks involved.
Collabor8 offers different pricing options for its services, but it's important to understand them fully before deciding if they're right for you. Here's a breakdown of their pricing:
Trial (Free):

You can try Collabor8 for free. It lets you create an account and connect with others instantly. 

Standard ($4.99/Month): I

f you want to continue using Collabor8 after the trial, the Standard membership costs $4.99 per month.

Gold ($9.99/Month):

The Gold membership is priced at $9.99 per month. It allows you to collaborate with both influencers and brands.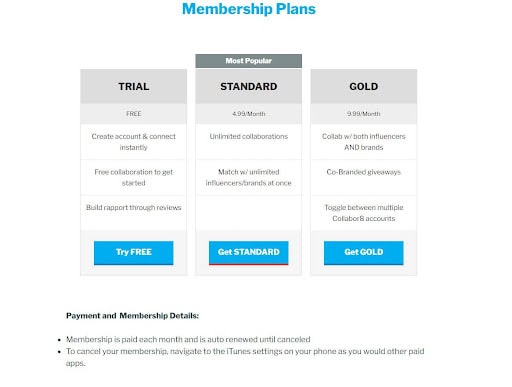 Collabor8 operates on a monthly subscription model, which means you have to pay regularly to access its features. Some users may prefer a one-time purchase or a less frequent payment schedule.
The memberships renew automatically until canceled. Users need to be diligent about canceling their membership if they no longer wish to use Collabor8, or they might be charged even if they're not actively using the service.
Moreover, The pricing information provided may lack details about potential additional costs or fees, such as transaction fees, which could be a concern for users looking for transparency in pricing.
If you think we're exaggerating, here are the collabor8 reviews from their users. Reviews from actual clients provide valuable insights into the reliability and trustworthiness of a service like Collabor8. 
Collabor8 Review: What Real Clients Say?
According to client reviews, Collabor8 does have some cons that are worth considering, and these observations align with what the platform claims.
some users have reported that Collabor8 is not very compatible with every device. This limitation could be inconvenient for users who rely on a variety of devices for their collaboration needs, as it may hinder seamless access and usability.
Look at the following comment:

The reviews also note that Collabor8 can sometimes work slowly. Slow performance can be frustrating, especially when users require quick access to collaboration opportunities or need to manage multiple tasks efficiently.
There's another comment in this regard:

Moreover, Collabor8 offers only two paid plans (Standard and Gold) without any customizable options. Some users may prefer more flexibility in choosing features according to their specific needs.
In addition, Collabor8's cancellation process relies on iTunes settings, which might be confusing or inconvenient for users who are not familiar with this platform or who don't use iOS devices.
Therefore, Collabor8 may not fully meet the specific needs of an individual or business. Different collaboration platforms offer various features, and an alternative might better align with the unique requirements of the user.
If you're looking for an exceptional alternative to Collabor8, Ainfluencer is the way to go.
Ainfluencer: The Best Collabor8 Alternative
Ainfluencer is a comprehensive influencer marketing platform designed to benefit both brands and influencers, and the best part is, that it's completely free and incredibly user-friendly. Whether you're a small business or a mega-brand, Ainfluencer has you covered. Here's why you should consider making the switch to Ainfluencer:
Ainfluencer Features For Brands
No Restrictions, No Fees: Ainfluencer

provides brands with the freedom to make offers, set up campaigns, and invite influencers without any limitations or platform fees.

Effortless Influencer Discovery:

Ainfluencer boasts an extensive database of TikTok and Instagram influencers, making it a breeze for brands to find the perfect match.

Seamless Campaign Creation:

Brands can create campaigns effortlessly, specifying their desired influencer type and brand image. Ainfluencer then connects them with the most suitable influencers.

Diverse Content Creation:

Ainfluencer offers four different collaboration options, allowing brands to collaborate with influencers on engaging videos and captivating imagery.

Intelligent Tools:

The platform offers intelligent tools that enable brands to identify the right influencers quickly.

Ratings and Reviews:

Brands can check ratings and reviews to gauge influencers' performance and reputation.

Past Collaborations:

Gain insights into an influencer's past collaborations to ensure they align with your brand's values and objectives.

Effortless Communication:

Ainfluencer incorporates chat features, making it simple for brands and influencers to communicate efficiently, from negotiating offers to handling payments.

Learn from Influencers:

Brands can access valuable insights about influencers' previous collaborations, endorsements, and their follower demographics, empowering them to make informed decisions.

Secure Payments:

Ainfluencer ensures payments remain secure until influencers fulfill their obligations, providing peace of mind to brands.

Issue Resolution:

In case of any disputes or problems, Ainfluencer offers a dedicated space for conflict resolution.
Ainfluencer Features For Creators and Influencers
Completely Free:

Influencers can use

Ainfluencer

's services at no cost and access numerous paying campaigns.

End-to-End Control:

Influencers can initiate offers, engage with brands, negotiate deals, and receive ratings, all within the Ainfluencer platform, without the need to share their social media credentials.

Stay Informed:

Ainfluencer keeps influencers updated about new offers and opportunities every week, ensuring they never miss out on potential collaborations.

Smart Insights:

Influencers receive valuable insights to help them choose campaigns that align with their audience and style.

Prompt Payments:

Ainfluencer prioritizes timely payments to influencers, ensuring they are treated fairly and professionally.

Efficient Inbox:

All messages and communication are conveniently organized in one place, simplifying influencer management.

Versatile Collaboration Options:

Influencers have the flexibility to select their preferred collaboration methods, whether it's content creation, sharing, promoting products, or a combination of these.
Why are you waiting then? Click the big blue button below to sign up on Ainfluencer for FREE and discover a world of opportunities for brands and influencers alike!
In conclusion, while Collabor8 has its merits, it's evident that there are limitations and challenges in the review and collaboration process. That's why it's crucial to explore alternatives like Ainfluencer. 
Ainfluencer not only offers a user-friendly platform for seamless collaborations but also provides a secure and efficient environment for both brands and influencers.
Yes, Collabor8 Influencer Marketing is considered safe for use. Our assessment is based on an analysis of over 615 User Reviews collected from both the App Store and the cumulative app rating, which stands at a solid 4.2/5.
Absolutely. Collabor8 Influencer Marketing is a completely legitimate app. Our determination is based on a thorough analysis of over 615 Collabor8 Influencer Marketing User Reviews, processed using our NLP (Natural Language Processing) machine learning system, which assesses whether users find the app trustworthy or not.
Yes, Collabor8 offers a mobile app that is compatible with Android, iPhone, and iPad devices.