Last Updated: November 12th, 2023
Onalytica was founded in 2009 and has established itself as a successful influencer marketing platform. Brands and agencies can use this tool to discover and manage influencers, manage their marketing campaigns, and get detailed reports on their influencer marketing efforts. But as with any other platform, there are some drawbacks that users need to know of before utilizing Onalytica. For instance, Onalytica is not as intuitive as its competitors, making it difficult to operate. Another disadvantage is that there are no in-app features for brands to contact influencers directly, which can lead to miscommunication and wasted time.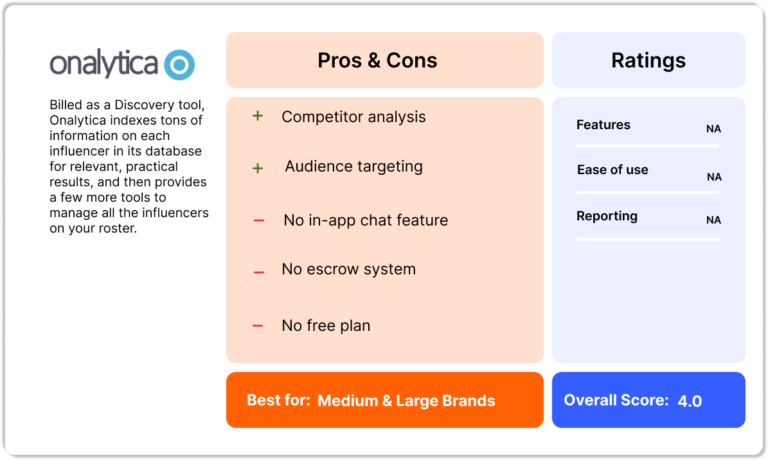 Onalytica Review 2023: Pricing & Features + Best Alternative
Founded in 2009, Onalytica is one of the established influencer marketing platforms that helps brands and influencers connect and form long-lasting partnerships. 
There are over 700,000 influencers in Onalytica's database, and brands can search through them based on different criteria. This software also offers some additional tools to assist brands with campaign management.  
Even though Onalytica is not among the best free influencer marketing platforms, some brands might consider using it for their business. But is it the best option? 
In this article, we'll take a closer look at Onalytica and elaborate on its features and services. Additionally, we will introduce you to the best free alternative to Onalytica, presenting a comprehensive set of tools and features designed to cater to the needs of both brands and influencers. Let's dive in.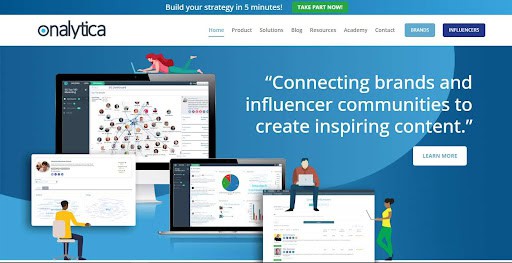 First things first, let's go over Onalytica's features. By understanding the services they offer, you can better understand whether this platform aligns with your influencer marketing strategies.
Discover Influencers:

Brands can search through over 700,000 influencers to find those who match their niche. There are 3 ways for users to find different

types of influencers

; first, they can do so by influencer topical focus. The other two ways are through influencer description or using Onalytica's content matcher feature

Insights:

Onalytica provides brands and agencies with reports and analytics to help them keep track of their progress and analyze the success of their

influencer marketing campaigns

. These reports include engagement rates, reach, amplification, etc.

Campaign Management:

Onalytica offers a campaign management feature, which allows brands to scale and manage their interactions with influencers.
One of the key aspects you should consider when choosing an influencer marketing platform is pricing. Businesses have a set budget for their marketing strategies, and utilizing influencer marketing is not cheap. That is unless you use a free platform.
Onalytica is not free, and even though they offer a demo, their plans are costly, especially for smaller businesses. 
There are no details about their pricing on Onalytica's website, and if you want to learn more, you have to get in touch. But it's already clear that it's going to be expensive. So, what's the alternative? Is there a better option that is cheap and more functional? 
The good news is that there is! But, we'll get to that later. For now, let's see what real users say about Onalytica.
What Real Users Say About Onalytica
One of the primary disadvantages of Onalytica is that there are no in-app features for brands to contact influencers directly. The only option is to use emails, and it's not always easy or mobile-friendly. This user pinpoints this issue in detail:

Another issue that most users mentioned is Onalytica's interface. According to reports, this software has a steep learning curve, and users find it to be not as intuitive as other similar tools. Let's take a look:

Now that you've gained a comprehensive understanding of this platform, including its features, pricing structure, and potential drawbacks, you are well-equipped to make an informed and final decision on whether Onalytica is the ideal tool for you.
If you're looking for an alternative platform with more advanced features and zero costs, make sure to continue reading because we have the perfect solution!
Ainfluencer: Best Onalytica Alternative
Imagine a platform where brands can effortlessly find their perfect influencer match without worrying about costly fees, and where influencers can explore endless opportunities while maintaining full control of their content and earnings. 
Welcome to Ainfluencer, the revolutionary 100% free, DIY influencer marketing marketplace that's changing the game for both brands and influencers.
The beauty of Ainfluencer lies in its core value: absolute freedom from fees. For both brands and influencers, this platform offers a world of possibilities without ever reaching a paywall.
Ainfluencer breaks away from conventional influencer marketing platforms by offering unlimited, forever-free usage. Brands can initiate and manage countless campaigns, connect with an extensive database of influencers, and unlock all of the platform's features without spending a dime. 
Key Features for Brands
Influencer List:

With over 500,000 influencers on TikTok and Instagram, Ainfluencer offers a growing list of potential collaborators, ranging from 5,000 to 10 million followers. The database continues to expand, with 10,000 new influencers joining every month.

Campaigns:

Ainfluencer simplifies campaign creation, enabling brands to specify their influencer requirements, ensuring they connect with the perfect match for their niche.

Content Creation:

Brands have the flexibility to engage influencers in various ways. They can co-create captivating content tailored to their vision, use influencers' platforms for content publication, enhance existing content through influencer promotion, or even engage in barter collaborations.

No Limits:

Ainfluencer offers brands unlimited opportunities, whether it's creating campaigns, inviting influencers, or enjoying any other platform features.

Smart Filters and Invitations:

Smart filters help brands narrow down their search, while the AI engine assists in sending targeted invitations based on campaign criteria.

End-to-End Communication:

Unlike Onalytica, Ainfluencer offers a built-in chat system for seamless communication, from receiving offers and negotiating deals to making payments and leaving reviews. 
Additionally, brands can access influencers' past collaborations, reviews, and audience insights, streamlining the collaboration process.
Key Features for Influencers
Influencers, regardless of their size and reach, have their fair share of advantages on Ainfluencer:
100% Free-to-Use:

Ainfluencer is a free platform, forever.

Unlimited Offers:

Reach out to as many paying brands as you wish, all without incurring any fees.

End-to-End Control:

Make unlimited offers, negotiate directly with brands, close deals, deliver, and receive ratings—all without sharing sensitive information.

AI-Driven Analytics:

Categorize campaigns based on your preferences with the help of AI-driven insights.

Regular Payouts:

Receive your earnings swiftly and consistently.

Escrow System:

Influencers can enjoy peace of mind knowing they'll be paid for their work with Ainfluencer's escrow system.

Streamlined Inbox:

Simplify your collaboration process by keeping everything in one place, from negotiation to completion.

Varied Collaboration Options:

Choose the collaboration type that suits your style and objectives.
Don't miss out on the free, game-changing platform that's shaping the future of influencer marketing. Join Ainfluencer now and embrace a world of endless possibilities!
Onalytica is a well-known name among influencer marketing platforms with features such as influencer discovery, campaign management, analytics, etc. 
It's important for brands to be familiar with a platform's services and pricing before deciding to use it in their business. That's what we wanted to achieve by writing this comprehensive Onalytica review.
In the end, if you want to unlock unlimited opportunities, connect with the perfect influencers, and take full control of your influencer marketing journey, make sure to sign up on Ainfluencer for free! 
Onalytica enables brands and influencers to connect and collaborate. It also helps brands activate and structure influencer campaigns globally.
Yes, Onalytica is a legitimate influencer marketing platform that offers features like influencer discovery, campaign management, and analytics. 
However, it's not free, and its pricing is considered expensive, especially for smaller businesses. Users have mentioned drawbacks, including the lack of in-app features for brands to contact influencers directly and a reportedly steep learning curve for the platform's interface.