Last Updated: September 12th, 2023
TRIBE is a well-known name among influencer marketing platforms that allows brands and influencers to collaborate. With features such as influencer discovery, campaign management, and community building, businesses might decide to turn to this tool to increase their brand awareness. But in reality, there are downsides to this platform that users might not know about. Many users have reported that the influencers on TRIBE lack authenticity and are not reliable. The accuracy of the reports regarding influencers' engagement rates is also questionable. Worst of all, TRIBE doesn't offer a free plan, so many users find it to be too expensive and not worth it.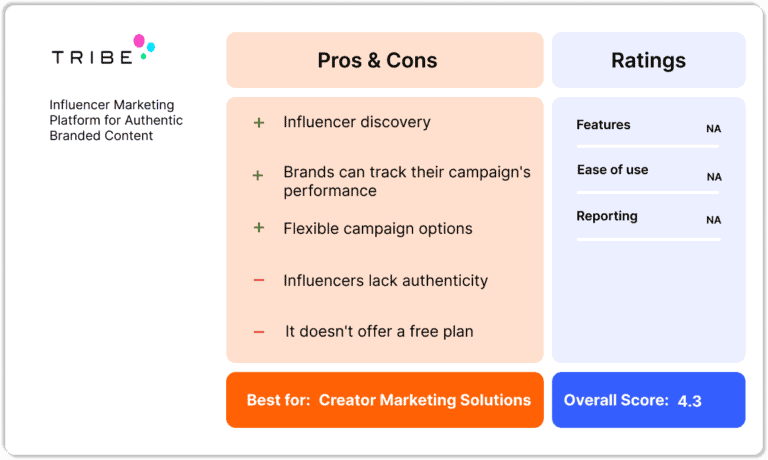 TRIBE Review in 2023: Pricing & Features + Best Alternative



Founded in 2014, Tribe is an influencer marketing platform that allows brands to increase their reach and visibility on TikTok, Pinterest, and Instagram. Brands can access a very limited number of creators on TRIBE and kickstart their influencer marketing strategies with some serious shortcomings.
By allowing brands to directly connect with influencers and manage their influencer marketing campaigns, many businesses decide to give this platform a try. But if you're looking for the best free influencer marketing platform, TRIBE might not be your best option. Because it's not free, and it's definitely not the best!
By signing up on this platform, brands can connect with the TRIBE team and go through the onboarding process. That is a bummer! You many have to wait days for their response. Then, they can create a brief, and describe their goals and the content they want.
After that, influencers can respond to the brand's campaigns, send their pitch, and wait for their approval to collaborate. Brands can sift through these offers and choose the ones that align with their goals.
In this review, we'll delve into this platform, go over its different aspects, and let you decide whether it's the right choice for your brand or not. And as a bonus, we'll introduce you to the best TRIBE alternative. So, let's start!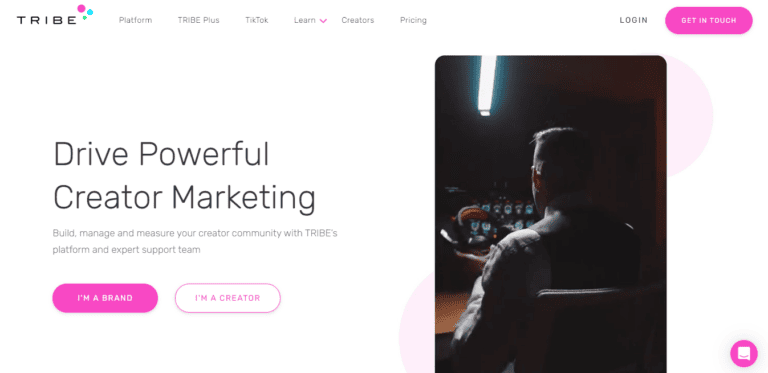 To better decide whether an influencer marketing platform meets your business goals or not, you need to have a clear view of its features and services. 
So, here are the key features of TRIBE:
#1 Influencer Discovery and Management
TRIBE boasts an influencer discovery and management system that permits brands to find influencers within specified criteria such as location, follower count, and engagement rate. 
While it simplifies the process of identifying influencers, its effectiveness may vary depending on the available influencers in its database. Also, many users are unhappy with the authenticity of suggested influencers. We'll provide further details later.
#2 Content Creation and Collaboration
TRIBE's content creation and collaboration system may seem efficient in theory. However, it primarily serves as a facilitator for brands to post campaign briefs and for influencers to submit content ideas. 
The actual quality and alignment of the content with the brand's objectives can be hit or miss, depending on the influencer's capabilities and understanding of the brief.
In many cases we looked into you may never get any offers unless you pay a lot of money to the platform.
#3 Campaign Performance Tracking
TRIBE offers tracking tools to monitor campaign performance. Brands can access metrics such as reach, engagement, and conversion rates in real-time. 
However, relying solely on these metrics may not provide a complete picture of a campaign's impact, as they may not always reflect meaningful consumer engagement or ROI.
#4 Content Rights and Ownership
TRIBE offers clarity regarding content rights, but it is essential for brands to read and understand the terms thoroughly. Ownership agreements may not always align with the brand's long-term content strategy, requiring careful consideration.
#5 Content Approval
B
rands can go over the content created by influencers and approve them before moving to the next steps. Doing so will allow brands to take control of the content that will be published.
This platform offers two distinct pricing plans that cater to the diverse needs of businesses – the TRIBE Plan and the TRIBE Plus Plan. Let's explore these two options to help you make an informed decision for your influencer marketing strategy.
The TRIBE plan is the basic solution for brands wanting to start with influencer marketplaces. It offers a pay-per-use or annual agreement. For more detailed information regarding their pricing, unfortunately, there is no straightforward answer.
In order to learn about their pricing, you should contact them, offer an overview of your business, and wait for their response. But be warned that it won't be cheap.
As for the TRIBE Plus plan, it's a customized solution that you can tailor based on your needs. For more information about this plan, just like the last one, you should get in touch with the TRIBE team and wait for their response.
What Real Users Say About TRIBE
While gaining insights about TRIBE's features directly from the source is valuable, hearing from users about their experiences with this platform offers a different perspective.
Let's take a look at one of TRIBE's recent reviews left by an unsatisfied user on Trust Pilot: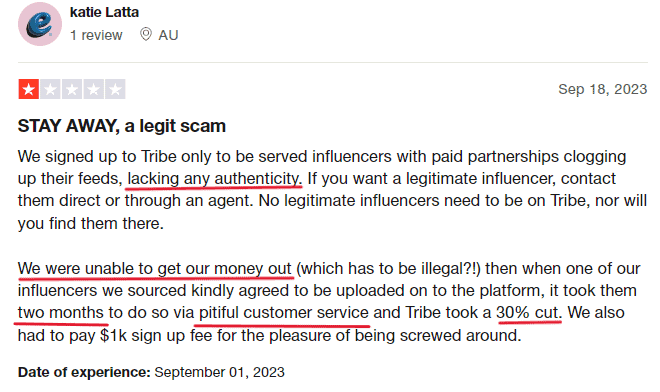 As you can see, this user is overwhelmed by the amount of illegitimate influencers sending their pitch. Most of the influencers on TRIBE lack the authenticity needed for a successful influencer partnership.
Aside from that, many users complain about the inaccuracies in influencers' reported engagement rates. Let's take a look:
So, make sure to consider these downsides if you want to continue with TRIBE. But if you want the best TRIBE alternative and are looking for an all-in-one free solution without any limitations and any fees during your entire usage, stick around! We've got you covered!
Ainfluncer: Best Free Influencer Marketing Platform
Ainfluencer is the game-changer in influencer marketing for brands and influencers alike! Imagine a platform that's 100% free, user-friendly, and designed to cater to everyone from smaller businesses to mega-brands. 
Why Choose Ainfluencer? Here's what makes it stand out:
Ainfluencer Features for Brands
Influencers List: Ainfluencer has an extensive database of influencers on TikTok and Instagram, ranging from 5,000 to 10 million followers. Brands can find the perfect influencer for collaboration and in their target niche easily.

Campaigns: Brands can effortlessly create campaigns, defining their influencer criteria and niche preferences. The platform's matching algorithm connects them with the most suitable influencers, streamlining the quest for the perfect partnership.

Content Creation: Ainfluencer offers brands four distinct avenues for collaboration with influencers. They can engage influencers for content creation, utilizing their creativity to craft captivating videos and images. 
Brands can also leverage the influencer's platform for content publication or enhance their existing content with an influencer's promotional power. For those seeking flexible arrangements, barter collaborations are on the table.
No Limits, Real free forever platform: Ainfluencer places no limits on offers, campaign creation, or invitations to influencers. This freedom ensures brands can explore, evaluate, and connect with influencers without constraints.

Smart Filters and Invites: Smart filters, such as influencer size, platform, gender, and country, simplify influencer discovery. Ainfluencer's AI engine sends smart invites based on campaign targeting, enhancing efficiency.

End-to-End Communication: Built-in chat features allow seamless communication between brands and influencers. From receiving offers and evaluating past work to making payments and leaving reviews, everything happens within this well-designed inbox.

Influencer Insights: Brands gain access to influencers' past collaborations, reviews, and audience insights. This information empowers brands to make informed decisions.
Ainfluencer Features for Creators and Influencers:
Ainfluencer welcomes micro, macro, and mega influencers with open arms. Over 30,000 global paying campaigns await influencers, ensuring a steady stream of opportunities.
Zero Cost: It's a 100% free platform for influencers, forever. There are no fees for accessing and applying to campaigns.

End-to-End Control: Influencers can make unlimited offers, negotiate directly with brands, close deals, deliver content, and receive ratings – all within the platform, without sharing sensitive information like social account passwords.

Real-time Updates: The Ainfluencer app keeps influencers updated on negotiations and offers a weekly digest of new deals, providing unparalleled convenience.

AI-Driven Insights: Advanced analytics help influencers categorize campaigns based on custom preferences, ensuring alignment with their personal brand.

Swift Payouts: Influencers receive their payouts promptly and regularly, thanks to the platform's reliable payment system.

Escrow System: Ainfluencer's escrow system offers peace of mind, guaranteeing that influencers will be compensated fairly for their work.

Streamlined Inbox: The platform's inbox consolidates all communication, making it easy for influencers to manage their collaborations with brands from start to finish.
Collaboration Options: Influencers have the freedom to choose the type of collaborations they prefer, whether it's content creation, publication, promotion, bartering, or a combination of these.
As an influencer marketing platform, TRIBE offers features for brand collaboration on social media platforms. However, it has limitations, including expensive pricing and concerns about influencer authenticity. 
As an alternative, Ainfluencer stands out as a free and user-friendly platform with a vast influencer network, campaign tools, and real-time communication. Whether you're a small business or a mega-brand, Ainfluencer provides a comprehensive platform to streamline your influencer marketing efforts. 
TRIBE's pricing plans can be quite expensive, and they don't offer a free option. Small businesses with budget constraints might find it challenging to use TRIBE as their influencer marketing platform. If you're looking for a more budget-friendly alternative, consider exploring other options.
Ainfluencer is highlighted as the best alternative to TRIBE in this article. However, readers might want to know what specific features or benefits make Ainfluencer stand out. 
Ainfluencer's unique selling points include its 100% free platform for influencers, extensive influencer database, and real-time communication tools for seamless collaboration. 
These features can make it a compelling choice for brands looking for a cost-effective and efficient influencer marketing solution.