Last Updated: November 12th, 2023

BuzzSumo is an influencer marketing platform offering essential tools for understanding social media trends and influencers. This tool offers services such as content search, trend analysis, influencer discovery, and social media monitoring.
However, BuzzSumo is not free, and their prices can be expensive. In addition to that, real user reviews underline some limitations, including occasional inaccuracies and a limited influencer database. As such, it's crucial for potential users to weigh the benefits against the costs before choosing BuzzSumo.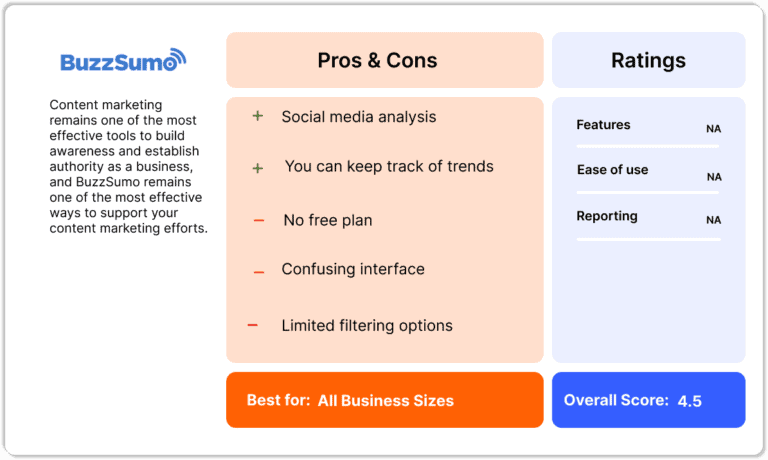 BuzzSumo Review 2023: Features & Pricing + Best Alternative
With the increasing popularity of influencer marketing in recent years, various platforms, including BuzzSumo, are competing for dominance in the market and trying to attract new customers. Meanwhile, businesses are faced with the challenge of selecting the ideal platform.
BuzzSumo is an influencer marketplace that provides insights and data about content performance and social media trends. It's designed to help businesses and individuals analyze their own content and track what's popular on various social media platforms. 
It helps users discover popular content, track competitors, identify influencers, set up alerts for specific keywords or brands, analyze backlinks, and measure the performance of content. 
However, there are some downsides to BuzzSumo that you should know of. So, if you're considering using BuzzSumo as your go-to tool, we recommend you read this article first so that you can make an informed decision.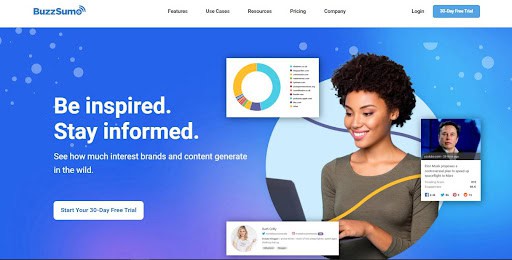 In order to better understand whether BuzzSumo is the right tool for your business, you should have a clear understanding of the features and services they offer.
So, without further ado, here are the key features of BuzzSumo:
Content Search:

BuzzSumo allows users to search for specific topics, keywords, or phrases. It then displays a list of the most shared content pieces related to the search query. This feature is useful for understanding what kind of content is popular and resonating with online audiences.

Trend Analysis:

With BuzzSumo, you can track the popularity of topics and content over time. This trend analysis helps users stay informed about the evolving interests and preferences of their target audience.

Social Media Monitoring:

BuzzSumo tracks the number of times content is shared on popular social media platforms like Facebook, Twitter, and Pinterest. It provides insights into which social networks are more active for specific topics, offering a glimpse into where audience engagement is strongest.

Influencer Discovery:

This feature helps users find influencers who have a strong online presence in a given niche. It can be beneficial for outreach efforts and collaboration, as it helps users find influencers who are discussing topics relevant to their business or content.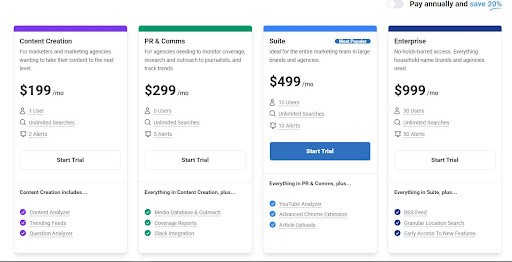 As you can see, BuzzSumo offers 4 plans:

The

Content Creation plan

costs $199 per month and is for a single user. It allows brands and agencies to conduct unlimited influencer searches and receive 2 alerts.

The

PR & Comms plan

costs $299 per month and in addition to 5 users and unlimited search, businesses can get 5 alerts.

Users can purchase the

Suite plan

for $499 per month, and get everything in the previous plans in addition to a YouTube analyzer, advanced Chrome extension, and article uploads.

The

Enterprise plan

costs $999 monthly and includes every feature BuzzSumo offers.
There are no free plans available in BuzzSumo, but users can access a 30-day free trial to test the platform before committing to a plan.
So far, you learned about BuzzSumo's features, pricing, and services. It's no secret that not every brand can afford this tool as the prices are high. But that's not the only reason you should reconsider using this platform. We'll tell you why.
In the following, we're gonna go over real users' reviews and learn about their experiences with BuzzSumo.
What Real Users Say About BuzzSumo
Nothing compares to hearing about some first-hand experiences from BuzzSumo's real users. And that's what we're going to do here.

This user explains that they had a hard time finding relevant and trending content because BuzzSumo's content search isn't always accurate.
One of the most important disadvantages of this tool is its high price. Businesses have a certain budget for their marketing efforts, and most of them won't be able to spend a huge amount on platforms such as Buzzsumo. 
Here's an unhappy user highlighting this issue on G2:

In addition to all that, there are reports that show the influencer discovery feature is not as functional as users expect it to be. And, the influencer database is not that extensive compared to similar tools. Let's take a look:

Now, you must be wondering: 'Which tool should I employ to maximize revenue while minimizing costs?'
Well, my friend, we have the perfect solution for you! So keep scrolling to learn more about the best BuzzSumo alternative in the market! It's the key ingredient in every successful influencer marketing strategy.
Ainfluencer: Best BuzzSumo Alternative in 2024
Ainfluencer is an end-to-end marketplace powered by AI. It effortlessly connects your products and services with thousands of Instagram and TikTok influencers. The standout feature of Ainfluencer? It's completely fee-free!
Here's what makes Ainfluencer a must-try:
Transparency:

You have direct communication with influencers, making collaboration a breeze.

Simplicity:

Do it yourself (DIY) in a few simple steps to set up your campaign and engage with over 500,000 influencers.

Escrow System:

Secure your payments and transactions, ensuring a hassle-free experience.

Rating and Reviews:

Get the inside scoop on influencers with detailed insights and reviews.

Unlimited Usage:

No limitations for brands or influencers. You can manage unlimited campaigns, receive endless proposals, and access all features without paying a dime.
But what else does Ainfluencer bring to the table? Let's dive into the features:
For Brands
Influencer List:

Access a vast list of over 500,000 influencers on TikTok and Instagram, from small to big, and growing daily.

Campaigns:

Easily set up your campaigns and find influencers that match your criteria.

Influencer Invites:

Reach out to as many influencers as you like to make your campaign stand out.

Smart Filters:

Refine your influencer search with filters like size, platform, gender, and country.

Smart Invites:

Let Ainfluencer's AI engine send invites based on your campaign targeting.

End-to-End Chat:

Use the built-in chat feature to streamline the entire collaboration process, from negotiations to payments and reviews.

Influencers' Past:

Explore influencers' past collaborations, reviews, and audience insights.
For Creators and Influencers
It's Free:

Ainfluencer is 100% free to use, forever.

Endless Opportunities:

Reach out to paying brands with over 30,000 global campaigns available.

Direct Negotiations:

Make unlimited offers, negotiate directly with brands, close deals, and get rated, all in one place.

Security:

You'll never have to share your social media account passwords or sensitive data.

Stay Informed:

Get regular updates on your negotiations and new deals.

AI-Driven Analytics:

Categorize campaigns based on your preferences with the help of AI.
BuzzSumo offers a range of valuable features for those looking to delve into influencer marketing and content analysis. Its content search, trend analysis, social media monitoring, and influencer discovery tools can provide essential insights for businesses and individuals. However, the pricing structure of BuzzSumo is relatively high, making it less accessible for smaller businesses.
Real user reviews highlight some limitations of BuzzSumo, including inaccuracies in content search, high pricing, and a somewhat limited influencer database. These factors may cause potential users to reconsider whether it's the right fit for their needs.
BuzzSumo is a tool for content research and social media analysis, helping brands and agencies find popular content, track competitor performance, and discover influential trends and influencers in their niche.
No, BuzzSumo is not a free tool. In fact, their prices are considered expensive, especially for smaller businesses.