Last Updated: November 12th, 2023
Julius is an influencer marketplace that provides users with the necessary features to start and manage their influencer marketing campaigns. This platform was founded in 2017 and offers services such as influencer discovery, campaign management, and analytics reports. According to Julius users, the influencer discovery feature doesn't always provide accurate results, and the in-app chat feature is not always responsive. In addition to that, Julius requires an annual payment, which can be inconvenient to some users. 
Julius Review 2023: Features & Pricing + Best Alternative
Influencer marketing has been around for a while now, and there are many marketplaces competing with each other to be the best. Julius is one of the famous influencer marketing platforms offering data-driven solutions for brands and influencers to connect and form partnerships.
Founded in 2017, this influencer marketplace offers more than 50 filters brands can choose from to find their ideal influencers. It offers features for influencer discovery, campaign management, analytics, and more. 
But is Julius the best tool for influencer marketing? Or, is it just another big name among others? Are there any better alternatives to this platform that are free and more functional?
Well, you're about to find out! So, keep reading to learn more about Julius' features and pricing. We'll also introduce you to the best Julius alternative.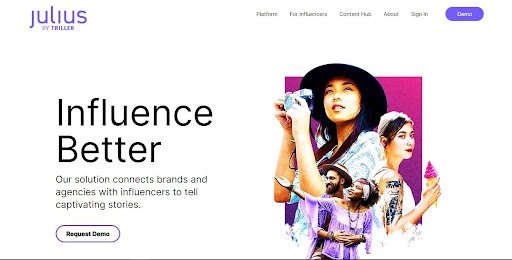 In order to better understand whether Julius is a good solution for your business, you need to have a clear understanding of its features. So here they are:
Influencer discovery:

Julius prides itself on its extensive search facility, providing users with an overwhelming number of influencer-specific filters. Even so, many users have stated that the search results are often inaccurate, suggesting influencers that don't match their criteria. 

Campaign management tool:

Julius offers relatively new features for brands to help them manage their

influencer marketing campaigns

more easily. Users can keep track of their content's status, contact influencers, and so on.

Reports:

users can access different reports on influencers such as their followers, engagement rate, engagement, etc.

Comprehensive dashboard:

Inside Julius's dashboard, you'll see something like a social media feed. It shows you when new influencers join, when brands and influencers team up, and it also shares news related to the industry.
Unlike other search platforms, using Julius requires an annual payment; there's no option for monthly payments. The exact fee can vary from case to case, so we can't provide precise numbers. However, we can assure you that it won't be cheap.
Regardless of the number of users, every subscription includes full access to the platform, unlimited messaging, custom influencer lists, and a dedicated account manager available on-demand for guidance and assistance.
But is it really a good bargain? Especially when there are far better platforms with more features and zero costs! But we'll get to that later. Next, we're gonna go over some of the Julius reviews left by real users.
What Real Users Say About Julius
In the following, we have compiled some reviews left by real users on legitimate websites such as G2. After all, nothing compared to first-hand experience.
As you can see, this user also highlights one of the main disadvantages of Julius: the inaccuracy of search results. It can be a big nuisance and wastes a lot of time going through influencers who don't match your interests.
Here's another review:
Being able to go over influencers' previous partnerships can be a huge advantage. It helps you make an informed decision and work with influencers who have a good history. Unfortunately, Julius falls short in offering this crucial feature, a deficiency that becomes even more concerning in light of reports regarding fake influencers on the platform.

There are also reports showing that the in-app chat feature is not as functional as users expect it to be. Having to do your own research in order to obtain the contact information of influencers is time-consuming, and it's another downside of using Julius.

This user actually has a great point. There are far better platforms that offer better features with lower costs, and we're gonna introduce you to the best one!
Ainfluencer: Best Julius Alternative in 2023
Ainfluencer is a 100% free end-to-end influencer marketing platform focused on Instagram and TikTok. The best thing about Ainfluencer is that we promise you won't need to spend your money to make the most of our platform, whether you're a brand or an influencer. 
Yes, you heard it right – unlimited, everlasting usage at absolutely no cost. It's a deal that's changing the game for countless businesses and influencers. Unlike Julius, you can also view influencers' past partnerships and decide whether you want to collaborate with them.
Our strengths lie in transparency, direct communication, simplicity (DIY), an escrow system, ratings and reviews, and in-depth insights on influencers. These features combine to provide exceptional value for all our users.
Explore the limitless possibilities of influencer marketing with us – join Ainfluencer today and experience the future of collaboration.
Julius is an influencer marketing platform founded in 2017 that offers a range of features including influencer discovery, campaign management, analytics, and a comprehensive dashboard. 
However, it's worth noting that some users have expressed concerns about the accuracy of search results and the absence of crucial features such as the ability to review influencers' past partnerships. 
Moreover, Julius operates on an annual payment basis, which may not align with the preferences of all users. These factors raise questions about its value in comparison to alternative platforms.
Unlike Julius, Ainfluencer is completely free and empowers users to make informed decisions by allowing them to review influencers' past partnerships. With its promise of unlimited, cost-free usage, Ainfluencer presents an attractive option for those seeking a more cost-effective and feature-rich influencer marketing solution in 2023. 
Join Ainfluencer today to explore the future of influencer collaboration.
No, Julius does not offer a free plan. If you want an all-in-one solution with zero costs, consider using Ainfluencer.
Ainfluencer is a free influencer marketing platform that allows users to review influencers' past partnerships, offers transparency, direct communication, a DIY approach, an escrow system, ratings and reviews, and in-depth insights on influencers. These features make it a cost-effective and feature-rich alternative to Julius.