Last Updated: November 12th, 2023
Founded in 2017, Affable.ai is an influencer marketing platform that helps marketers find the right influencers to work with. Affable.ai is an influencer marketing platform that helps marketers find the right influencers to work with. It provides a search engine, powered by AI, to help you find creators across Instagram, TikTok, and YouTube. However, it seems like it can not be the best option for influencer marketing. Here is a sum of its pros and cons: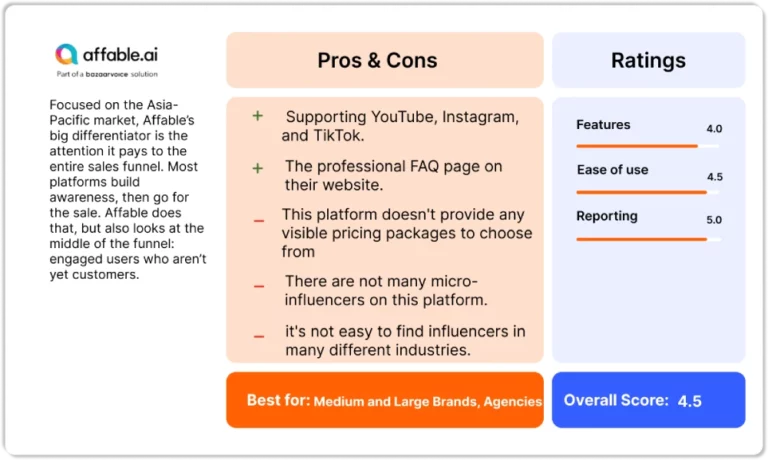 Affable.ai Review in 2023: Pricing & Features + Best Alternative



Back in 2017, Affable.ai started its work as an influencer marketing platform that helps marketers find the right influencers to work with. This influencer marketing platform focuses on growing brand customers and increasing brand awareness by connecting you with influencers.
Your niche social media influencers have followers that are interested in your content, so by collaborating with them you can tap into their customers and grow your name. Affable.ai provides targeting tools that help you find your collaboration match based on different criteria. Their search engine is powered by AI which makes this process much faster.
Once you find the creators, you can view their profile to check the details of their audience, engagement metrics, and cost of collaboration. No matter if you want to run campaigns or sponsorships, you can streamline the entire process on the platform. Affable.ai supports influencers across Instagram, TikTok, and YouTube.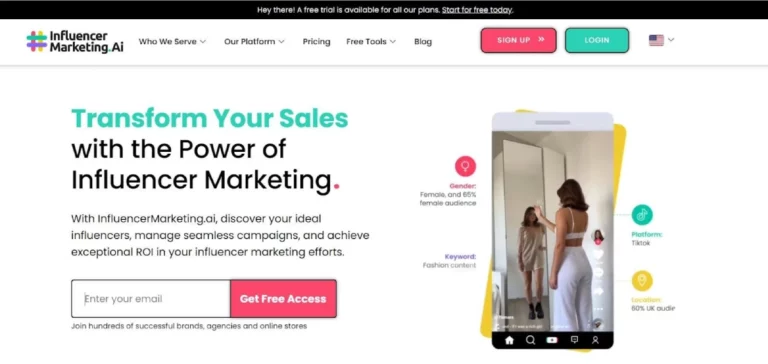 This platform claims to provide everything you need for brand collaborations in one place. Let's see what it offers:
1. Find Influencers
There are more than 20 advanced filters such as age, gender, location, interests, engagement rate, content, etc. These filters can help you find influencers whose followers match your desired demographic.
2. Manage Collaborations
Instead of manually managing your relations with influencers, you can use Affable.ai automation tools to handle finding influencers, tracking profiles, fetching contact details, and organizing communications. To help you speed up the communications, you can also use the pre-ready email templates and auto-response features.
3. Track Campaigns
If you decide to run influencer campaigns, you can access all influencer-generated content in one place and monitor influencer feeds and campaigns with automated tracking. Then, you can export influencer stories and content into user-friendly spreadsheets and PowerPoint files for detailed analysis and reporting.
4. Measure Performance
To gain visibility into the effectiveness of your influencers, you can track and measure the ROI of your influencer marketing campaigns to ensure your budget is well-spent.
Unfortunately, Affable.ai doesn't provide any visible pricing plans on their website and you need to book a demo. However, we can see the different packages and features included in each of them. Let's what they offer:
BASIC
This service supports only one user and only one social media channel (Instagram). You can run one campaign per month, and access 200 influencer reports and 200 influencer outreach per month. 
PRO
This package is perfect for small businesses and allows up to three users and three social media channels. You can run unlimited campaigns, and access 400 influencer reports and 400 influencer outreaches per month. Also, you have an account manager to help you and can export influencer profiles as CSV/PDF files.  
ENTERPRISE
If you are a professional brand, you will probably need more tools and features, and this plan is for you. Up to ten users can use this plan and connect to four social media channels. 
Using this service you can run unlimited campaigns, access unlimited influencer reports, and 2000 influencer outreach per month. Additional features are your dedicated account managers and competitor trend-monitoring tools. 
What Real Users Say About Affable.ai
One of the best ways to find out if a service is working great or not is by checking what its customers say on trusted reviewing websites such as G2. Let's read some of the Affable.ai reviews on G2:
According to the reviews, unfortunately, some users have issues finding influencers using this tool. For example, this user has recently shared a review that he can not find and collaborate with the influencers he wants. Also, there are some glitches in the app.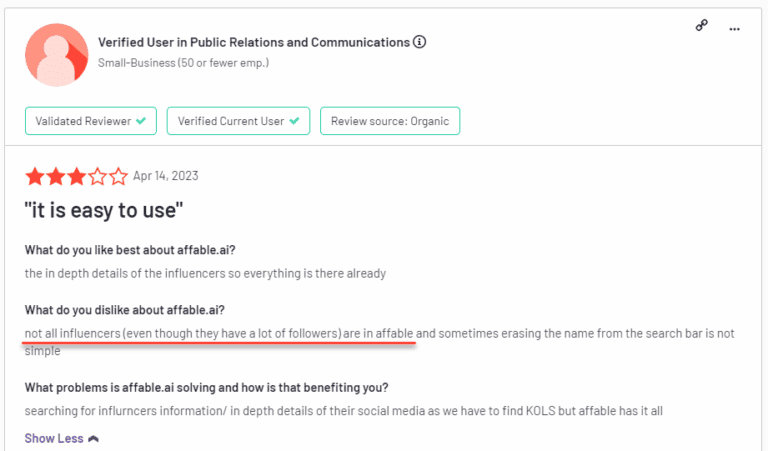 But that's not all! Here's another user saying it's not easy to find micro-influencers and creators with smaller audience sizes. If you contact their support team they will do it manually, but it can take your time.
Other than the issues with the list of influencers, we can see many reviews of platform glitches and bugs. Also, the cost of their plans can be very high, especially for those adding different channels.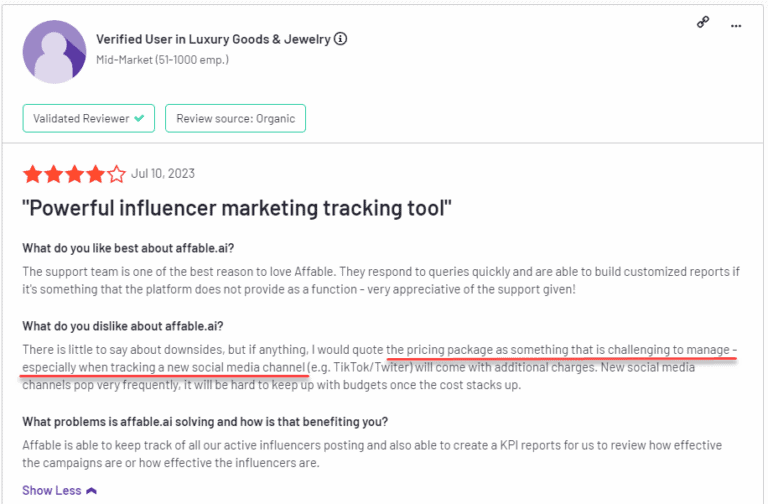 Ainfluncer:

Best Free Influencer Marketing Platform
Based on the reviews from customers who have used Affable.ai, it seems that their plans may be too expensive for small businesses. Additionally, the list of influencers provided by the platform may not be complete, and it can be challenging to find micro-influencers. Therefore, we aim to create a better tool that anyone, regardless of their budget, can benefit from.
Ainfluencer is a 100% free end-to-end influencer marketing platform focused on Instagram and TikTok. The marketplace is where brands can discover influencers by niche, country, gender, audience type, and many other criteria to invite for collaborations. Using Ainfluencer, in a few simple steps you quickly set up your campaign and get exposed to over 500,000 influencers on TikTok and Instagram. 
With this tool, you don't need to pay anything for finding influencers in your niche. As a brand, you can manage unlimited campaigns, get proposals from an unlimited number of influencers for as long as your campaign is still live in the marketplace, and get all the values and features of the platform literally for $0 fees.
Collaborating with social media influencers is an effective way to reach your potential audience and get more customers. Affable.ai is one of the tools that can help you find creators in your niche easily but it comes with some cons such as high pricing and a limited list of creators. 
In this article, we've told you everything you need to know about Affable.ai and introduced you to the best alternative, Ainfluencer. 
Nisarg Shah is the CEO and co-founder at Affable who has had 1 past job as a Cohort Member at Entrepreneur First. Today his company has over 60 members in 11 different countries. 
If you want to use this service to find your influencer match, choose a plan based on your needs and use the filtering tools to find your collaboration match. You can use the in-app chat tool to contact them and make the payments. 
This platform is totally safe to use and you don't need to be worried about your personal details or getting banned from your social media account, However, it still asks for your passwords; So it's recommended to change it once you stop using Affable.