Last Updated: November 12th, 2023
IZEA is one of the known names in the field of influencer discovery that was founded in 2006 under the name 'PayPerPost'. This platform connects brands with influencers or creators in different niches and helps them run better collaborations. Although IZEA has its pros such as a large pool of creators (more than 650,000 influencers) across all major social media platforms, it also has its cons.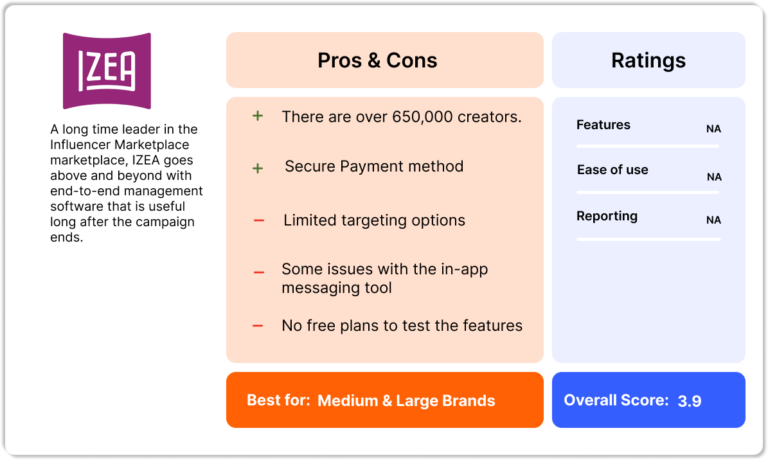 IZEA Review in 2023: Pricing & Features + Best Alternative



In 2006, IZEA started its work as one of the first steps in influencer marketing under a different name 'PayPerPost'. This platform is used to connect bloggers to brands that want their names to appear on search results. 
Today, with the rise of social media platforms, IZEA's main focus is on major social media platforms such as  Instagram, TikTok, YouTube, Facebook, Twitter, Twitch, Snapchat, Pinterest, Blog, and LinkedIn. It connects brands with influencers or creators in different niches and helps them run better brand collaborations. 
Other than that, you can set up and launch influencer-based campaigns in the app. So, why not explore the IZEA influencer tool and see how it works for you? In this review, we are going to check IZEA's features and pricing together, read customers' reviews, and introduce you to a better alternative.
Let's start with IZEA Features and check what it offers. 
1. Creator Marketplace
As we previously mentioned, IZEA is mainly an influencer marketing platform that connects brands and businesses in its creator marketplace. There are over 650,000 creators on IZEA across Instagram, TikTok, YouTube, Facebook, and Twitter. These influencers are only categorized into 6 different niches: Lifestyle, Fashion, Beauty, Entertainment, Family, and Travel. 
This can be the biggest cons of this platform since the industry of influencers is limited to only 6 categories. With the help of different targeting filters such as age, gender, location, etc, you can limit the list of suggested creators and find your best match. Then, you can view each user's profile and their cost of collaboration. 
2. Managed Services
If you don't have much time to manage your social media accounts and run campaigns, IZEA managed service is what can help you. This plan connects you to a dedicated account manager who will help you with running your campaigns, planning a winning growth strategy, and everything that can help your business grow. 
3. IZEA Flex
If you want all the creator marketplace features plus some advanced tools to monitor the latest trends in your niche and check how your competitors are performing, IZEA Flex is what you need. This feature provides all the tools to find and collaborate with influencers as well as: 
Link tracking tools to measure the success of your campaigns,

Trend discover tools,

ContentMine with the help of AI helps content creation much easier,

And many other tools for signing contracts, scheduling your social media content, analyzing your performance, etc.
Based on your needs, you can try IZEA or IZEA Flex. If you only like finding creators in your niche and find your collaboration match, the IZEA plan is better for you, and here is how much they cost: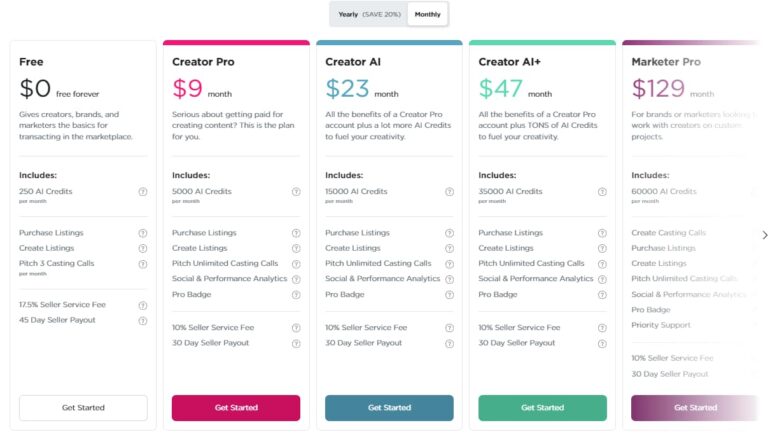 Free: Gives creators, brands, and marketers the basics for transacting in the marketplace.

Creator Pro: $9 month – Serious about getting paid for creating content? This is the plan for you.

Creator AI: $23 per month – All the benefits of a Creator Pro account plus a lot more AI Credits to fuel your creativity.

Creator AI+: $47 per month – All the benefits of a Creator Pro account plus TONS of AI Credits to fuel your creativity.

Marketer Pro: $129 month – For brands or marketers looking to work with creators on custom projects.
IZEA Flex Pricing
For those needing campaign management tools, automation, AI content creation, and analytic tools, IZEA flex plans suit you more. Here is how much it costs
Starter Plan: $165/ month – 1+ User Seats, 1 Integration (Shopify or Google Analytics), 50 Tracking Links/month, 250 Content Pieces/month, 3 Active ShareMonitors, and Up to 1,000 Contacts.

Power Plan: $600/ month – 3+ User Seats, Unlimited Integrations, Unlimited Campaigns, Unlimited Tracking Links, Unlimited Content Pieces, Unlimited Active ShareMonitors, and Unlimited Contacts.
What Real Users Say About IZEA
One of the best ways to find out if IZEA is legit and how it claims is by reading customers' reviews. Let's see what people say about IZEA:
According to customer reviews, working with the campaign management tool takes work, especially if you want to run multiple campaigns.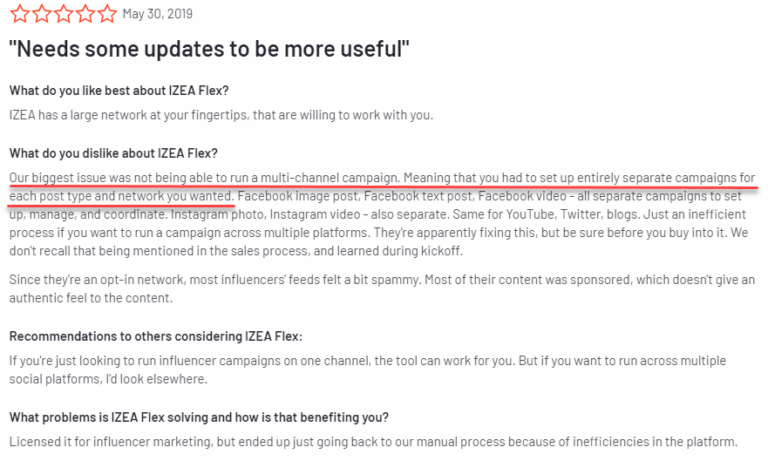 Another problem with IZEA is that there are many spam accounts signed up as influencers. So you might get scammed after paying them.  For example, look at this review which also mentions the influencers' profiles are mostly spammy.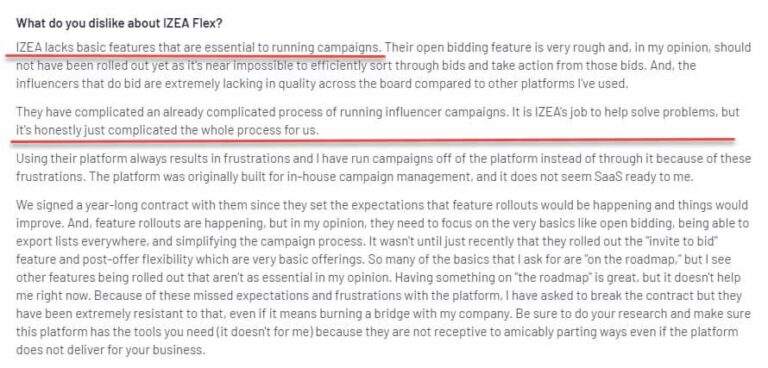 Ainfluncer:

Best Free Influencer Marketing Platform
One of the main problems with IZEA is that there are only six categories of creators. So if you are looking for fitness influencers, art influencers, etc, you can't find anything. That's why we want to introduce you to a better alternative that is completely free. 
Ainfluencer is a 100% free end-to-end influencer marketing platform focused on Instagram and TikTok. In the marketplace, brands can discover influencers by niche, country, gender, audience type, and many other criteria to invite for collaborations. No matter what niche and industry you are in, you can definitely find creators on Ainfluencer. 
As we are writing this article, Ainfluencer has a list of over 500,000 influencers on TikTok and Instagram. Influencers with followers ranging from 5000 to 10 million people. So if you are looking for influencers across different niches, sign up on Ainfluencer for free now.
Ainfluencer Features
Smart Filters:

Brands can narrow down their search for influencers using a great set of filters such as the size of influencers, their platform, gender, country, and more than 20 criteria. 

Influencer Invits:

Brands can send invitations to all influencers for free. You have no limit in terms of discovering and evaluating the influencers in your niche and sending invites. 

Chat:

Both brands and Influencers sides can use the built-in chat Inbox within the marketplace to receive offers, negotiate them, make payments, and discuss any matters around their collaborations.

Campaigns:

Brands can create a campaign in a few simple steps and launch their presence and quest for influencers and their criteria in the Ainfluencer marketplace. 
Finding influencers to collaborate with is not difficult anymore; Influencer marketing platforms such as IZEA made it easy to find creators in your niche using targeting filters. However, it comes with some cons such as high pricing, spam accounts, etc.
In this article, we took a look at IZEA features, pricing, and reviews. After that, we introduced you to a better alternative, Influencer. With Ainfluencer you can find your best influencer match for free and run multiple campaigns.