Last Updated: November 12th, 2023
Popular Pays is an influencer marketing platform founded in 2013. With a database of 100,000 social media influencers, it helps brands and agencies to connect and collaborate with the right individuals. This tool offers features such as content and campaign management, influencer discovery, analytics, and content library. However, there are some drawbacks that users need to be aware of. For instance, many users have reported that the authenticity of featured influencers is questionable, and the pricing can also be high. In addition to that, users stated that the interface of Popular Pays is not intuitive, and the database is not as extensive as similar tools.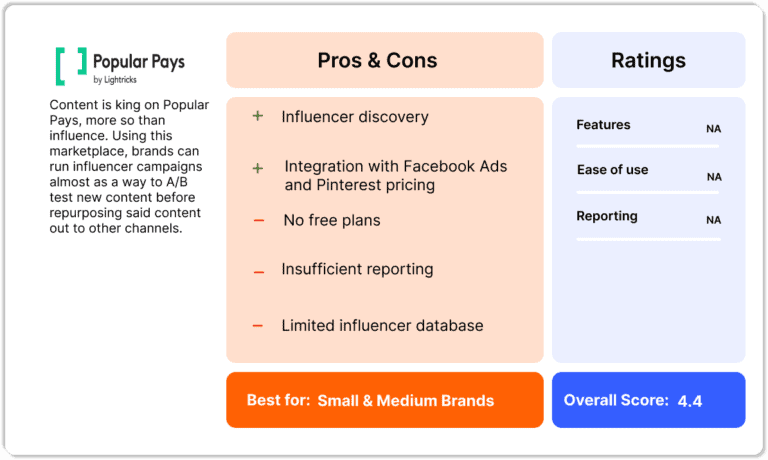 Popular Pays Review 2023: Features & Pricing + Best Alternative
Influencer marketing has proven to be an effective strategy for brands and agencies to promote their businesses. As a result, numerous influencer marketing platforms, like Popular Pays, have emerged and are competing to dominate the market. Therefore, it's important to conduct thorough research before choosing any platform to work with. 
Popular Pays is an influencer marketplace founded in 2013. In its early stages, it was a platform for Chicago businesses and local influencers to barter posts for products. Now, it has a database of 100,000 influencers, and brands can connect and collaborate with them.
By offering features such as campaign and content management, analytics, and influencer discovery, it can be an interesting option to consider. But is it your best bet? Probably not.
In this Popular Pays review, we're going to elaborate more on this platform, go over its features, pricing, and services, and explore what real users say about their experience with this tool. In the end, we'll also introduce you to the best Popular Pays alternative. 
Let's begin our journey!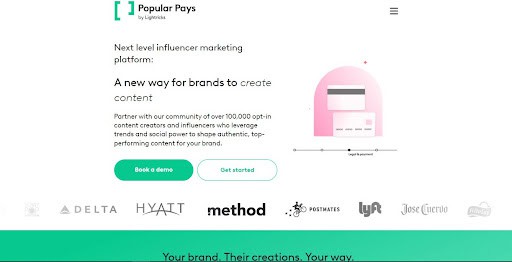 As a brand, it's important to pay attention to what influencer marketplaces provide in terms of features and services, as well as how much they cost. Popular Pays, like most influencer marketing platforms, offers a set of features that allow businesses to enhance their influencer marketing strategies.
Let's take a closer look:
Influencer discovery:

Popular Pays offers a database of over 100,000 social media influencers. Brands can use different filters such as location, demographics, age, etc to find influencers that align with their goals.

Campaign management:

this feature allows brands to create briefs, input their preferred criteria, and include qualifying questions to better find the right candidate. Brands can also track shipment status and track pending content.

Manage relationships:

users can create lists of preferred influencers, label them, and invite them to their campaigns. If you already have a list of influencers, you can import them on Popular Pays.

Content library:

this feature lets brands and businesses aggregate all the final content in one place and keep track of them. Users can also search through them using the creator handle or content type.
Popular Pays lacks transparency regarding its pricing on their website. This absence of pricing details can prove inconvenient for potential users who are interested in assessing the cost-effectiveness of Popular Pays for their specific needs. To obtain more information about their pricing, users are encouraged to reach out to their sales team directly.
However, it's worth noting that Popular Pays typically offers two main pricing plans:
Suite Plan:

The Suite Plan provides access to all the tools and features that Popular Pays has to offer. This plan is suitable for users who require a comprehensive set of tools for influencer marketing and content creation. But, users should know that this plan is not cheap, and smaller businesses might not be able to afford it. If you want a cost-effective solution, you'll have to reconsider.
Single Buy Plan:

The Single Buy Plan, on the other hand, limits users to activating only one campaign at a time. This plan is more suitable for those who have a single, specific influencer marketing project and do not require the full range of tools and features available in the Suite plan.
As you can see, there are no free plans available in Popular Pays, and to determine whether it's worth it to invest in this tool, we're going to see what real users say about this platform. So, keep scrolling!
What Real Users Say About Popular Pays
There are some drawbacks with Popular Pays that users need to know about in order to make an informed decision. For example, one of the main disadvantages of this platform is that there is no in-app chat feature for brands to contact influencers directly.
Users need to contact their target influencers through Threads, which can be inconvenient for some.

Many reviews also state that the interface is not as user-friendly or intuitive as some competitors, and the pricing can be high.

This user highlights the fact that there are no free plans available in Popular Pays, and they are also not happy with how the sales team handles the customers.
In addition to that, the influencer's database is not as extensive as similar platforms, making it hard to find the right influencers all the time.

As evident from this user's feedback, they have expressed their frustration, highlighting their inability to achieve even a single successful campaign. The worst part is that they were unable to cancel their subscription, a subscription they weren't even aware of in the first place.

The authenticity of influencers is a crucial factor when it comes to influencer marketing platforms, and apparently, Popular Pays falls short in addressing this essential aspect.
Here's another review pinpointing this issue:

Now that you're familiar with Popular Pays, its pricing features, and drawbacks, and the feedback from their users, you must be eager to discover a more cost-effective alternative that can better meet your needs.
Ainfluencer: Best Popular Pays Alternative
Ainfluencer is not your average influencer marketplace; it's a groundbreaker in the world of Instagram and TikTok collaborations. Powered by AI, this platform is designed to revolutionize how brands connect with influencers and bring transparency and simplicity to influencer marketing.
Imagine a place where you can effortlessly match your product or service with thousands of Instagram and TikTok influencers. No more guesswork or endless searching; Ainfluencer's advanced AI system does the heavy lifting for you. It's the ultimate hub for influencer marketing, and here's why you should be excited:
Transparency:

At Ainfluencer, you get direct communication with influencers through the in-app chat feature. No middlemen, no hidden agendas. You're in control, making the process crystal clear and trustworthy.

Simplicity:

This is influencer marketing made easy. You can set up your campaign in just a few simple steps and watch the magic happen. No need to be an expert; Ainfluencer is your DIY influencer marketing partner.

Escrow System:

Your payments are secure, thanks to our built-in escrow system. You only release the funds when you're satisfied with the influencer's performance.

Rating and Reviews:

Want to know how an influencer performs? Check out their ratings and reviews from previous collaborations. It's like having your own influencer Yelp at your fingertips.

Detailed Insights:

Ainfluencer provides you with in-depth insights into influencers. You'll have all the data you need to make informed decisions and ensure the perfect match for your brand.
Ainfluencer is designed with small businesses and micro-influencers (those with 5,000 to 1 million followers) in mind. In fact, it's the very first 100% free-to-use influencer marketplace. It's your opportunity to collaborate with influencers, whether you're a startup or an established brand.
So, why wait? Join Ainfluencer and start making meaningful collaborations today. Your success in the world of Instagram and TikTok influencer marketing begins here!
The influencer marketing landscape has evolved significantly, and Popular Pays, with its database of 100,000 influencers and a range of features like influencer discovery, campaign management, and content library, offers an interesting option for businesses looking to enhance their influencer marketing strategies. 
However, the lack of pricing transparency and some user feedback regarding the platform's interface, pricing, and customer support may pose challenges for potential users.
As you consider your influencer marketing needs, it's crucial to weigh the pros and cons of Popular Pays carefully. Additionally, the platform's limited influencer database and issues with campaign success and subscription management are aspects to be aware of. 
No, Popular Pays is not a free influencer marketing platform. This tool doesn't offer a free plan and users should subscribe to be able to use their services and features. For more information regarding their pricing structure, users should reach out to the Popular Pays sales team.
Popular Pays typically offers two main pricing plans: the Suite Plan, which provides access to all features, and the Single Buy Plan, which limits users to one campaign at a time. However, pricing details are not available on their website, so users need to contact their sales team for more information.