Last Updated: September 12th, 2023
Tagger claims to be a social media research and analytics tool, but it has some significant drawbacks. The platform's slow performance in fetching influencer profiles can be frustrating for users. While it offers an extensive database of historic posts, there are occasional bugs that disrupt the user experience. 
Moreover, Tagger's wide range of features can be overwhelming for newcomers, leading to a steep learning curve and increased complexity. Users have expressed a desire for a more automated content tracking feature, as the platform relies on influencers to opt in for coverage tracking.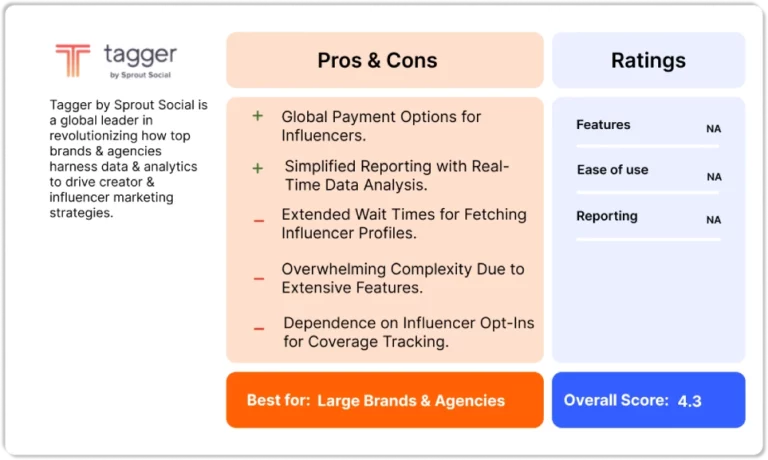 Tagger Review in 2023: Pricing & Features + Best Alternative



Tagger claims to be a comprehensive research and analytics tool designed to help users gain insights into their social media presence and optimize their marketing strategies. 
Unlike other influencer marketing platforms that primarily focus on influencer data, Tagger takes a different approach by emphasizing social listening to provide a deeper understanding of the social landscape. But how can you trust it without knowing all its aspects? Go ahead and read the complete Tagger review before diving in headfirst!
Now, let's get started!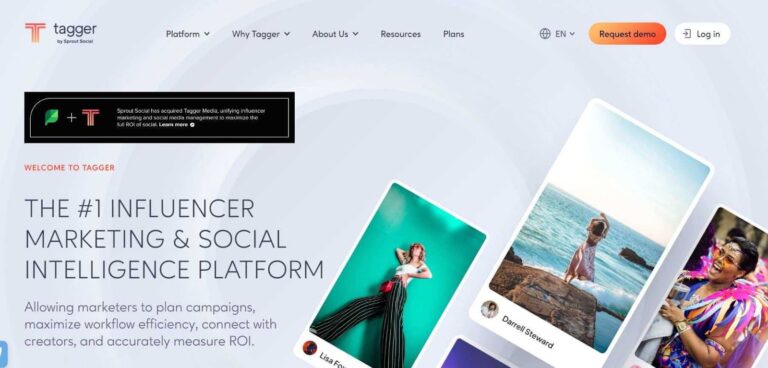 Tagger positions itself as a versatile tool for social media research and analytics, with a particular emphasis on social listening and understanding the broader social conversations related to a brand.
Now, let's dive into its features!
1. Research & Discover
Tagger claims to offer several key features designed to assist users in influencer marketing and social media research. Here are some features to assist you in this regard:
a) Search with Signals
Through 'Signals,' users have the capability to analyze social content, posts, and profile data, enabling them to formulate effective marketing strategies and closely monitor discussions relevant to their brand. 
Furthermore, this tool promises to offer the ability to access critical data points, allowing marketers to craft strategies based on trends within the Creator Community. 'Signals' distinguishes itself by providing real-time social data, facilitating the monitoring of target audiences across various platforms, and tracking brand mentions. 
One of the significant drawbacks of Tagger is the extended full time required for fetching influencer profiles. Users may experience frustration as they have to wait for an extended period before gaining access to influencer data. 
b) Creator Profile Discovery
According to their claims, Tagger provides a wide array of search filter options, numbering in the thousands, which aid users in pinpointing relevant creators effectively. 
Apparently, users can gain access to an extensive database of historic posts, exceeding 11 billion records, enabling them to delve into historical social media content for valuable insights. 
Moreover, the platform offers over 50 filters and reporting features, enhancing its research capabilities and empowering users to analyze data more comprehensively.
It's fair to share that there are occasional bugs present on the platform, although they aren't typically critical issues, they can still be frustrating. 
c)
Curate Brand Ambassadors with Sync
With 'Sync,' you can effectively catch the attention of influencers through its customizable landing page feature. This functionality allows users to create landing pages tailored to their specific needs, making it particularly useful for establishing ambassador programs. 
Additionally, 'Sync' facilitates the collection of important creator details, which can be invaluable for brand ambassador initiatives, content collaborations, and influencer campaigns. 
2. Campaign Management
Tagger positions itself as a tool that simplifies marketing campaign management, especially in the context of influencer marketing. It offers modular customization, collaboration features, comprehensive CRM functionalities, and global payment options.
The platform emphasizes the following features:
Workflow Management: Tagger helps users manage their marketing workflow efficiently. It allows for seamless collaboration with various stakeholders, such as brand partners, agencies, creators, and content writers, to plan and execute influencer campaigns at scale.
Modular Activation: Tagger offers a modular activation tool that enables users to customize their workflow. This feature allows users to configure their workflow according to their specific needs, including features like Creator CRM, post-planning tools, and pacing dashboards.
Versatile CRM Platform: Tagger's platform claims to be comprehensive and versatile. It offers functionalities such as connecting, hiring, and activating creators for campaigns, engaging with creators through messaging, sharing profiles and campaigns with collaborators, contract submission and signing, content review and approval, and managing lists of current and potential creator partners.
Campaign Status Overview: Tagger provides users with a top-down view of their campaign's status in terms of budget, approvals, outreach, and hiring.
Global Payment: Tagger claims to facilitate payments to creators in any currency around the world.
Another significant Tagger's drawback is that it offers such a wide range of features and capabilities that it can be overwhelming for users who are trying to learn how to utilize the entire product. 
The extensive functionality of Tagger can make it challenging for newcomers to grasp and harness all of its potential, potentially leading to a steeper learning curve and increased complexity in its usage.
3. Analyze and Measure
Tagger claims to offer a solution that simplifies the reporting process for creator and campaign data, promising accurate and real-time reporting.
a) Measure with Report Builder
The platform allows users to track performance over time and view engagement by platform. According to their claims, it aims to deliver data that is easy to visualize, enabling users to measure and report ROI effectively. 
Tagger also promises to provide tools for campaign performance monitoring, key insights, and metric measurement, all within its platform. It emphasizes streamlining the reporting and analysis process for users.
b) Affiliate & Link Tracking
Tagger offers an affiliate solution that claims to be flexible and versatile. They emphasize their ability to cater to various campaign requirements, including tracking traffic, conversions, and sales. The platform allows users to customize their approach to affiliate marketing, giving them control over their strategies.
One of Tagger's highlighted features is its link-tracking tool, which appends UTM parameters and platform pixels to links. This functionality enables users to gather essential performance data, which can then be imported into analytics tools like Google Analytics. 
Additionally, users can create audience retargeting pools on platforms such as Facebook Ads Manager and Google Ads using this data.
There's a big downside! Tagger relies on influencers to opt in or sign up for coverage tracking, which can be a limitation. A more automated approach would provide a more comprehensive view of a brand's profile without relying on influencer participation.
You may also consider what its costs are. Let's jump right into it!
It's not clear at all, and you must request pricing information if you want to make a purchase. Tagger offers a flexible pricing structure designed to accommodate a wide range of brand needs.
This approach allows users to tailor their product suite according to their specific requirements, making it an attractive option for businesses of various sizes and marketing goals.
What Real Users Say About Tagger
Some users have reported encountering bugs within the Tagger platform. While these issues are not described as critical, they can still be frustrating and disrupt the user experience. It's important to note that no software is entirely bug-free, but these bugs are worth considering.
Here's a user's feedback in this regard:

Moreover, the clients have expressed a desire for a more automated content tracking feature. Specifically, they wish for a functionality that would automatically track all mentions and coverage of a brand's profile without relying on influencers to sign up. 
There's also another drawback that will make you switch to other similar tools.
Some users have reported that Tagger can be a bit slow when running on their laptops. This might result in delays or slower performance when using the platform.
 Here's a user's comment that proves our claim:

Regrettably, when considering these limitations, Tagger emerges as an unreliable platform for fulfilling its intended features. Are you in search of alternatives to Tagger? In that case, we have an alternative tool to recommend that addresses all of Tagger's deficiencies. Ready?
Following comprehensive research on various influencer marketing platforms competing with Tagger, we've identified Ainfluencer as a top-notch and cost-effective alternative in the market. 
Keep reading to discover more about these robust solutions!
Ainfluncer:

Best Free Influencer Marketing Platform
Ainfluencer serves as a comprehensive marketplace for brands seeking collaborations with influencers across diverse niches such as fashion, beauty, and music. In our modern digital landscape, where influencers wield significant influence, Ainfluencer provides a straightforward and cost-free avenue for brands to engage with them.
Ainfluencer Features for Brands
No Costs:

Collaboration with influencers has never been more accessible – Ainfluencer is entirely free for brands, so you can partner without breaking the bank.

Direct Communication:

It enables you to engage directly with influencers, manage campaigns, and negotiate deals all within the user-friendly platform.

Smart Filters:

You can find your ideal influencers using filters like size, platform, and gender, and invite as many as you need for your campaigns.

End-to-End Solution:

Ainfluencer's built-in chat ensures a smooth collaboration journey, from initial offers to secure payments – it's your one-stop-shop for influencer partnerships.

Safe Payments:

Rest easy knowing Ainfluencer's Escrow system guarantees the security of your payments while ensuring influencers are duly compensated.
Ainfluencer Features for Influencers
Free to Use:

Regardless of your follower count, Ainfluencer is entirely free for influencers, providing equal opportunities for all.

Access to Campaigns:

It enables you to connect with a variety of campaigns and monetize your passion.

Unlimited Offers:

You can make limitless offers, negotiate deals, and set your prices, all conveniently through Ainfluencer.

Safe and Convenient:

It safeguards your social media accounts – Ainfluencer never requires you to share your passwords.

AI Analytics:

You benefit from AI-powered analytics to categorize campaigns based on your preferences, ensuring a seamless influencer journey.

Regular Payments:

Ainfluencer ensures prompt payments for your hard work.
Why Ainfluencer? Let's find out!
Ainfluencer's Core Values
Access to the Right Influencers:

Tap into their extensive database to discover the perfect influencers for your brand.

In-depth Analytics:

You can dive into influencers' niches, audiences, and past experiences to make informed choices.

Effective Campaign Management:

It helps you easily run successful campaigns with Ainfluencer's intuitive tools.

Limitless Walkthroughs:

You'll receive all the guidance you need to navigate the influencer marketing landscape.

Secure and Convenient:

It conducts unlimited offers, negotiations, and payments securely within the app.

DIY Campaigns:

It enables you to set your campaign preferences your way for maximum customization.

Boost Visibility:

You'll effortlessly increase brand awareness through influencer partnerships.

Responsive Support:

You can expect top-notch customer support whenever you require assistance.
No matter your industry, Ainfluencer simplifies the process of finding and collaborating with the right influencers. They ensure authenticity, provide collaboration history, and guarantee secure payments until your campaign goals are met.
Join Ainfluencer today and set your brand on the path to marketing success! Sign up now and watch your marketing goals become a reality.
While Tagger offers a range of valuable features, it's important to consider potential limitations and user feedback, such as occasional bugs and performance issues on certain devices.
For those seeking an alternative, Ainfluencer emerges as a robust solution, offering an all-in-one influencer marketplace for brands and influencers alike.
Tagger is a multifaceted digital marketing research tool that offers a range of services. These services include influencer search and discovery, campaign management, an influencer marketplace, and third-party analytics.
Tagger's capabilities extend beyond traditional influencer platforms, making it a robust solution for digital marketing research.
Tagger does not publicly disclose its pricing plans on its website. To obtain detailed information about their pricing structure, you will need to contact Tagger directly. 
Typically, Tagger operates as a Software as a Service (SaaS) company, which means users are required to pay a subscription fee for access to their services. It's worth noting that Tagger primarily caters to larger businesses and may not be cost-effective for smaller enterprises.